Products You May Like
There are different paths to beating your opponent in a football match. You can outrun them, and you can outmuscle them. You can out-will them, and you can outwit them. All of the above are probably more satisfying to a coach whose job is to prepare, condition and motivate his players. After all, it shows they've done their job well.
From a neutral's perspective, the most pleasing is when the margin between defeat and victory is down to technique (maybe with a smattering of smarts and a dollop of street). That's the treat the Champions League fairy brought out this week in the form of Luis Suarez and Robert Lewandowski, two men who have defined the Gold Standard for center-forward play over the past decade.
Both popped up with moments of extreme aesthetic pleasure — twice, in Suarez' case — and both turned the tide for their respective teams. Both have been coping with the winged chariot of time galumphing at their back, each in his own. (And, to be fair, Lewandowski better than Suarez.) But above all, both reminded most of us about why we fell hook, line and sinker for the beautiful game. Before we learned about rivalries and tifo, about tactics and defending, about movement and pressing systems, there was the simple unadulterated bliss of a forward scoring a goal in the most spectacular way.
Let me refresh your memory.
Bayern and Spurs are deadlocked at 1-1 with Tottenham having the upper hand. A minute from half-time, Lewandowski squares to receive a throw-in down the right flank, just outside the Spurs box. In one motion, he flicks the ball over the head of his marker, Jan Vertonghen, spins past him and crosses it into the area. It's the sort of playground move you expect to see in five-a-side cages accompanied by a grim soundtrack.
Spurs fail to clear, the ball caroms between white and red, Lewandowski sprints to the edge of the box and somehow, twisting his body like Stretch Armstrong, creates enough space between himself and Vertonghen to rifle a shot in the bottom corner with enough power to beat Hugo Lloris.
Predatory? Yeah, just a little. More like red-eyed robotic condor swooping down from 80 feet to steal the baby and the dingo.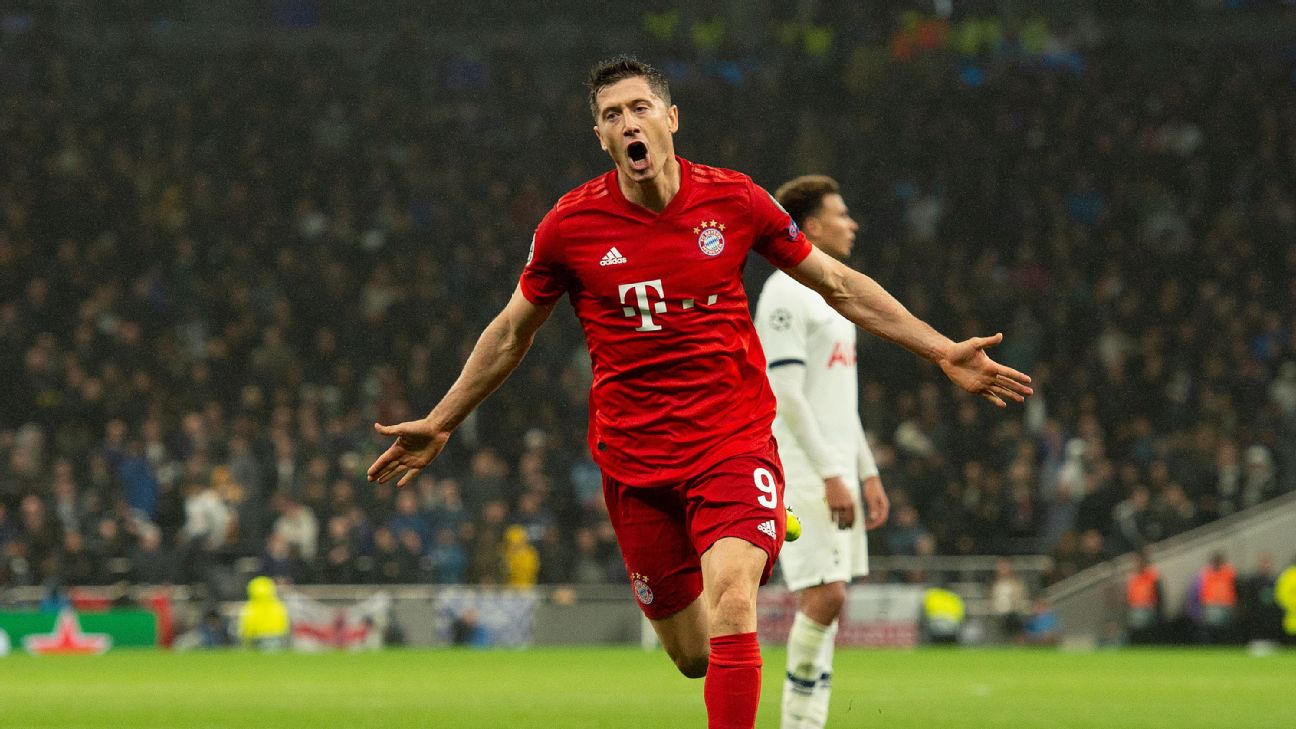 Twenty-four hours later, it was Suarez's turn. Barcelona were a goal down at the Camp Nou having been outmuscled and outplayed by Antonio Conte's Inter. There was just over half an hour on the clock. Lionel Messi did what he does, ghosting into the box down the right, attracting Inter defenders like a guy in a mascot costume at a toddlers' birthday party before laying it back for Arturo Vidal.
Even as Messi was dancing around in the box for what felt like an age, Suarez was ghosting away from the Inter center-backs, carving out a a patch of solitude at the edge of the box. He met Vidal's square cross with the sweetness of a marshmallow, winding up his right leg and using his body for extra torque, falling to the ground as he hit it. You just felt he knew he scored even before he landed.
And the second? With five minutes to go, Messi again scooting forward, beating one defender, then another, then the first guy again and playing a basic square ball to Suarez, who had taken up a position at the very top of the D, marked by Diego Godin.
Now, Godin isn't just an off-the-shelf defender. He's tough, he's experienced and he's mean. He and Suarez have faced each other plenty of times, hundreds of times if you count training sessions with the Uruguayan national team (between them, they have nearly 250 caps). Fifteen years at the highest level means Godin has seen it at all… but maybe not what Suarez was contemplating.
He squared up to receive the ball as if he was going to shield it or play a first-time pass, but instead let it run across his body before poking it into space with the defeat of precision-weighted touches. Just far enough that Godin could forget about getting to it (or him), just near enough for it to sit up for the inevitable finish that flew past Samir Handanovic in the Inter goal.
– Erling Haaland loves Zlatan, eats like Ronaldo and scores like both
– What if David Moyes had stayed at Man United?
– Gnabry leads our Champions League TOTW
Between the two of them, three goals of the sort that get you off your backside. (Lewandowski, of course, scored another in garbage-time at White Hart Lane, though it doesn't rank with the others.) What those two share, of course, is tremendous basic technique, coupled with a spatial awareness that has only refined itself over time.
I asked Gianluca Vialli, himself a top-drawer striker at Sampdoria, Juventus and Chelsea in his playing days, about being a aging center-forward, particularly since conventional wisdom has it that a forward's productivity nosedives once you get into your thirties.
"You lose stamina, quickness, speed and agility, that's true," he told me. "But you still have your technique. That doesn't go away — in fact, maybe it even improves over times. And, in other ways, you're actually stronger. There's experience and understanding, of course. But also you're own mindset.
"When you're young and breaking through you're fearless because you don't know any better. When you're at the peak of your powers, you sometimes feel the weight of responsibility. You can have a bit of angst about making the wrong decision. By the time you're in your thirties, that's gone. You're comfortable with who you are and what you can do, and there's a certain tranquility and calmness that comes over you. That helps you in key moments."
You wouldn't ordinarily put Suarez and "calmness" in the same sentence but you get what he means. After more than 1400 games as professionals, these two know what they can and can't do.
This is, if you will, Suarez and Lewandowski 2.0, or maybe 3.0 because if you think back to their early careers, they were different players. They were driven by intensity, work rate and athleticism. Think of Lewandowski pin-balling around the frontline in Jurgen Klopp's high octane Borussia Dortmund, or Suarez playing like a man possessed by the Berzerker at Ajax or in his early stages at Anfield, covering every blade of grass with hyper-charged intensity.
Those days are gone and there's an economy to the way they both play. It doesn't mean that they are equally productive or that their 30s have followed a similar arc. Lewandowski (who, lest we forget, is 18 months younger than Suarez) scored 40 goals last season for Bayern and already has an incredible 14 in 10 appearances. He remains unchallenged as the offensive terminus for his club and carries an enormous load.
Suarez's tally has gone down every season since he hit 59 in 2015-16, settling at 25 last year. Mixed in with his highs are plenty of lows, though, to be fair, playing alongside Messi papers over a lot of cracks.
Yet both are, in their own way, what a modern striker should be once the physical skills begin to wane. Sometimes when folks lose their eyesight due to illness, for example, the other senses kick it up a notch and sharpen up. Both showed this week what that can look like: technical ability does not deteriorate and, if anything, becomes more fine-tuned. Vision, creativity and self-belief only become stronger. And you can end up dispensing the kind of magic they treated us to this week.