Products You May Like
In last year's Copa Libertadores, Brazilian team after Brazilian team crashed out of the competition showing an excess of caution.
There is no chance of that happening this time around with Flamengo. Since the mid-year appointment of Portuguese coach Jorge Jesus they have been swashbucklingly bold and on Wednesday confirmed their place in the Copa final with a 5-0 hammering of compatriots Gremio.
The worrying thing for next month's opponents, defending champions River Plate of Argentina, is that the best football played by Flamengo in this tie did not come in this thrashing in front of a joyously packed Maracana. It came in the first half of the first leg, in Gremio's stadium in Porto Alegre.
That game finished 1-1, but Flamengo had three goals disallowed and did enough to come back with an emphatic victory.
Gremio's hope was that Flamengo had missed their chance to kill off the contest. For nearly half of the game in the Maracana, that hope looked justified. Gremio had some injury problems — they were without both Luan and Jean Pyerre, their first choice playmakers. But this is essentially the same side, with the same identity and model of play that was playing in the semifinal of the Libertadores for a third consecutive year.
– Vickery: Boca Juniors' Carlos Tevez gamble fails to pay off
Experience was on their side. If they could hang on, draw Flamengo's sting, then the nerves which were so palpably present might hamper Flamengo and work in Gremio's favour.
And although the hosts had most of the play, Gremio came closest to taking the lead. The usually excellent Everton Ribeiro made a rare mistake, giving the ball away deep in his own half. Gremio's star left winger Everton fired across the face, and it seemed that midfielder Maicon much score. Flamengo left-back Filipe Luis did a wonderful covering job. Maicon could not find the space to get off a clean shot, and the danger passed. But the tension on the Maracana crowd persisted — at least for a while.
And then, in less than half an hour, Flamengo ran riot. Between the 43rd and 72nd minutes they scored five times. Every time serious questions could be asked about the Gremio defence. A series of elementary errors were made. The key point, though, is the way the mistakes were forced, and the manner in which Flamengo took advantage. The secret of this Flamengo side — one of the most refreshing things to happen to club football in South America for years — is that they pose question after question, threat after threat.
The front four — strikers Gabriel and Bruno Henrique backed up by attacking midfielders Everton Ribeiro and Giorgian De Arrascaeta — are so fluid, exchanging positions, opening up pockets of space, continually stretching the opposing defence with both physicality and subtlety. The midfield duo, Gerson and Willian Arao, offer hard work, talent and versatility. And the attacking approach is made possible by the high defensive line, commanded by the Spanish centre-back Pablo Mari.
The 26-year-old was signed from Manchester City, who had parked him on loan at Deportivo La Coruna. Given City's defensive problems this year, they could have made a mistake letting him go, because he has been a vital part of the Jorge Jesus jigsaw. Without his capacity to play in and organize a high line, the team would be stretched out and vulnerable, with a gaping hole in front of the defence. The steadiness of the Spaniard allows the two veteran full-backs, Rafinha and Filipe Luis, to spend more time in the opponent's half than in their own, constructing the play from the back.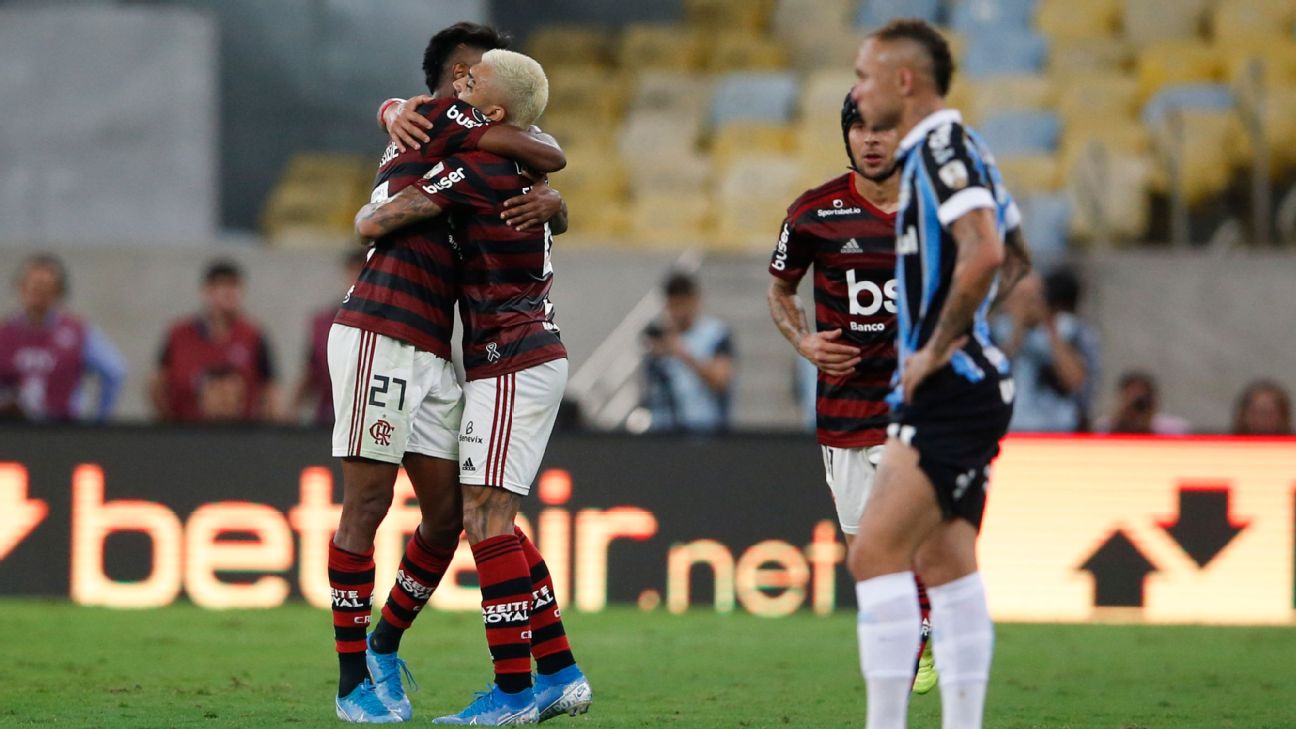 This collection of talents tore Gremio to sheds. First Gremio midfielder Michel gave the ball away, Bruno Henrique powered forward, found Gabriel and continued his run to score with a tap in when Gabriel's shot was pushed out.
The vital moment came just after half-time. =Gremio captain Pedro Geromel was caught in possession and Flamengo forced a corner. The ball was half cleared towards the back of the penalty area, where Gabriel made good ground and swiveled to volley home a magnificent goal. Now Gremio were really in trouble. At the start of the game the away goals rule meant that they would have to score once. Going a goal down did not change that. Going two down would force to dig themselves out of a very deep hole.
They had done so earlier in the competition, recovering well after a disastrous start to the group phase, and then finding two goals in the quarterfinals away to reigning Brazilian champions Palmeiras when they seemed down and out.
Now, though, they collapsed.
Geromel lunged into a foolish tackle on Bruno Henrique and conceded a penalty, calmly tucked away by Gabriel. And then the centre-backs got into the act. Mari and then Rodrigo Caio took full advantage of dreadful marking to glance home from set pieces — and the Maracana, just a few minutes earlier so edgy was now in full party mode.
Flamengo are through to their first final since 1981 — an absurdly long wait for a club of their size. And after the exuberant and emphatic nature of their semifinal triumph, they will widely be seen as favourites. It will be fascinating indeed to see what the astute Marcelo Gallardo and his River Plate team can do to stop them.