Products You May Like
There's a case to be made that no team needed the international break more than Napoli. It represented a chance to escape the tension around the club, cool off and decompress. But now it is back to reality, with embattled club set for a crunch weekend matchup with fellow strugglers AC Milan (stream live 11/23 at 12 p.m. ET on ESPN+ in U.S.+). The owner, Aurelio De Laurentiis, is in Hollywood working on film projects but he is still said to be deliberating on what action to take against the players for the mutiny after the draw with Red Bull Salzburg on Nov. 5.
Formally in detention after the 1-1 draw at the San Paolo, the team was expected to board a bus bound for the training ground where players and staff would remain until after the following weekend's game against Genoa. Napoli coach Carlo Ancelotti, who a day earlier stuck up for the players and voiced his disapproval at the club's decision, respected the orders from on high and spent the night at Castel Volturno. Disappointingly, his team did not follow. The solidarity he had shown them went unreciprocated and, one by one, the players got in their cars and went home.
Reconciling everyone involved presents a major challenge. Napoli's 13 internationals fly back not knowing whether the club intends to follow through on a thinly veiled threat to "protect" itself and take legal action against them in the aftermath of that night.
Elif Elmas, the promising North Macedonia midfielder signed from Fenerbahce in the summer, was reprimanded by the club for breaking ranks and talking to local media at the weekend. The 20-year-old neither criticised the club nor gave a fly-on-the-wall account of what happened in the dressing room after the Salzburg game. All he did was say there's still an awful long way to go this season and Napoli must not be ruled out for the title. Positive words unnecessarily admonished, particularly when a number of his teammates have taken to Instagram or spoken to the regional press in the meantime.
In some respects it may come as a surprise to the players to still see Ancelotti taking training as they report back and begin their preparations for two colossal road games against Milan and Liverpool. Resignation would have been understandable considering De Laurentiis undermined him by going on the radio to announce the team would be punished with a "constructive" ritiro after the loss at Roma. An act like that can diminish a coach in front of his players and look what happened. While Ancelotti defended them, they left the appearance of abandoning him. Perhaps it was a heat of the moment thing amid reports of a heated exchange between some of the players and De Laurentiis' son, Edoardo, who paid a visit to the dressing room.
But the existence of fractures between him and elements of the squad have been inferred from the insubordination. Ancelotti has questioned the application of his captain, Lorenzo Insigne, who in turn admits they've had "fall-outs" over the last year. The Neapolitan was left in the stands for the 0-0 draw at Genk along with Faouzi Ghoulam and has never looked entirely comfortable with the armband strapped to his bicep. Heavy weighs the crown of being the hometown kid and while being named captain is obviously a major honour, Insigne doesn't seem completely at ease in the role. The loss of big characters like Pepe Reina and Marek Hamsik last season is being felt. While it's true some of the players were strong enough to lead a mutiny, Napoli generally give the impression of a side lacking strong leadership on the pitch.
The atmosphere around the team is tempestuous and it goes beyond attendance numbers. Fiorentina are averaging bigger crowds even though their ground is 25 percent smaller than the San Paol, and a one-club, well-supported town like Naples should be seeing higher gates (Napoli rank sixth in attendances so far this season). The situation was similar last year when the going was good and hasn't really been the same since Maurizio Sarri left. The difference now is the mood. The mutiny achieved something of a miracle in making the ultras and De Laurentiis agree on something for the first time in years; the players had shown a lack of respect for the shirt.
The decision to go ahead and hold the first open training session since they last won a trophy (under Rafa Benitez) 48 hours after the mutiny exposed the team and coaching staff to the contempt of 300 or so supporters. While midfielder Allan trained under chants of "mercenaries" and "go to work" his house was burgled with his wife, seven-months pregnant, inside. An investigation was launched by the local magistrate's office to establish whether there was any truth to claims the home invasion served as a warning following reports of his alleged role in the mutiny.
So far no link between that and another incident later in the week when Piotr Zielinski's car was broken into while his wife walked the dog has been proven.
"Contrary to what I've read on the internet, I'm not afraid of living in my city," Insigne's wife, Jenny insisted, "I'm Neapolitan and proud of it." Her comments came after she saw stories circulate about her and other wives and girlfriends apparently fleeing the city. "I always go and see my parents," she added, "It's a non-story."
When it comes to a sense of belonging, that felt by adopted Neapolitans like Kalidou Koulibaly and Dries Mertens remains as strong as ever. The issue here is altogether different. Mertens and Jose Callejon are approaching the final six months of their contracts and look no closer to agreements over extensions. Come June, Arkadiusz Milik, Zielinski and three others will also be entering the last year of their current deals. A lot needs sorting out and that's even before we get to what's been going on with Napoli on the pitch.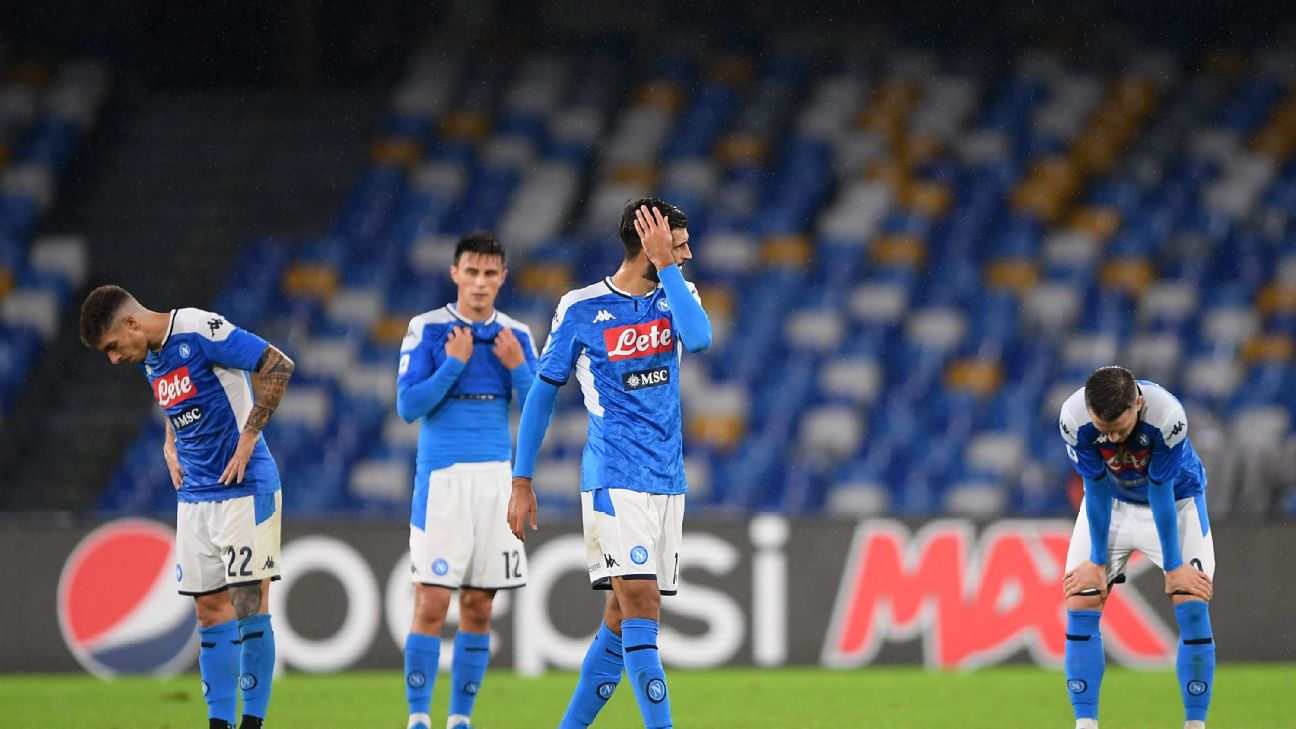 No team has regressed more in Serie A than them and this in the year when Ancelotti said second place was no longer enough. Instead they find themselves seventh, nine points worse off than at this time last year, 13 adrift of Juventus and five short of Cagliari who occupy the final Champions League berth. In 2019 as a whole Napoli's record is only good enough for fifth, which, in an oft-forgotten stat, reflects their place in the wage bill pecking order and offers a reminder of just how much Sarri and Ancelotti had this team punching above its weight. Napoli, it must be said, are also entitled to feel they've been more than a bit unlucky. They've hit the woodwork nine times and bad refereeing decisions, particularly in the Atalanta game, provide some truth to those arguing the team has gotten less than it deserves.
They have in 15 or 20-minute spells played some outstanding football this season, coming back from 3-0 down to 3-3 against Juventus (only to lose to a stoppage time own-goal from Koulibaly), laying siege to Atalanta in the first half, then Roma for a quarter of an hour before the interval. Their inability to capitalise and make the most of when they're on top continues to frustrate. While Napoli appear to have tipped the balance from one extreme to the other — 4-3 thrillers to 0-0 bore draws — the chances keep coming; only Atalanta having created more. It's just that Ancelotti's team doesn't take them, as highlighted in the 1-0 loss to Cagliari, who allowed 30 shots on goal but scored from their only shot on target. Where's the killer instinct?
So far this season consistency has only come from goalkeeper Alex Meret and Mertens. After playing beside Raul Albiol for years, Koulibaly has suffered from the chopping and changing next to him. Allan can screen the defence by himself but this limits his contribution in other areas. Fabian has, at times, looked sensational though his universality means he rarely starts one game in the role he finished the last game. Insigne delights and disappoints. Milik, while back scoring again now, seemed for a time destabilised by injury, not to mention all the speculation surrounding a bid for Mauro Icardi (now pivoting to interest in Zlatan Ibrahimovic) and the arrival of Fernando Llorente.
Ancelotti will need all his wisdom and diplomacy to turn this around and stop the season from drifting. On Saturday, they head to his old club Milan for a game that's tempting to frame as a competition to see who is in the midst of a bigger crisis. Both desperately need a win to turnaround their respective seasons. On Saturday each will get their chance.