Products You May Like
Liverpool boss Jurgen Klopp was being asked about Pep Guardiola by reporters at UEFA HQ just as his great Manchester City rival appeared behind him…
The Toe Poke Daily is here every day to bring you all the weirdest stories, quirkiest viral content and top trolling that the internet has to offer, all in one place.
Jump to: Diego Costa has got whole Atletico squad calling Trippier 'Rooney' | Messi models slick new Argentina kit | Barcelona release new away jersey inspired by Catalan roots
The great and the good of the management world were congregated in Nyon, Switzerland this week as UEFA held its annual Elite Coaches Forum.
Mere hours after going toe-to-toe in the Premier League, both Liverpool manager Jurgen Klopp and Manchester City coach Pep Guardiola momentarily put aside their rivalry to attend the event.
Unsurprisingly following his team's 3-1 win the previous day, Klopp was in a jovial mood as he arrived at the UEFA headquarters, joking with reporters as Guardiola sauntered in directly behind him.
When asked if he spoke to the City boss, Klopp replied "of course we spoke, why shouldn't we speak?" before, upon seeing his big rival appear behind him, ducking out of sight as he hastily whispered: "Pep Guardiola is coming!"
An ingenious way to both cut short an unwanted interview while also given the press pack exactly what they want. Well played.
"Pep Guardiola is coming!" 🤣

Liverpool manager Jurgen Klopp was left confused when a reporter asked him if he had spoken to the Manchester City boss at a UEFA coaches' conference…🤪 pic.twitter.com/En6OFiWNef

— Sky Sports Premier League (@SkySportsPL) November 12, 2019
Arsenal's Unai Emery, Real Madrid's Zinedine Zidane, Napoli's Carlo Ancelotti, ex-Juventus boss Max Allegri, current Juve coach Maurizio Sarri, Paris Saint-Germain's Thomas Tuchel and Ajax's Erik ten Hag were all in attendance.
Indeed, Ancelotti shared an impressive "team photo" from the event of a line-up that boasted over 37 league titles and nine Champions Leagues (among various other honours) between them.
It is an honor to participate in UEFA's Elite Coaches Forum every year.
Good to talk to colleagues about new developments and our passion.

È un onore partecipare ogni anno al Elite Coaches Forum della UEFA.
Bello parlare con i colleghi dei nuovi sviluppi e della nostra passione pic.twitter.com/X6bbdP8080

— Carlo Ancelotti (@MrAncelotti) November 11, 2019
Much like every year, the assortment of managers met to share perspectives on their methods, the current state of play in European football, and coaching in general.
Conversation flowed from the off, with Allegri grilling Klopp over hair care secrets, Sarri attempting to pinch a cigarette from Garcia, Emery pretending to look interested and Ten Hag wearing the heck out of a mustard yellow roll neck.
Some of Europe's top coaches are sharing their insights and experiences at UEFA HQ in Switzerland this afternoon… pic.twitter.com/Tlb2GZDbkv

— UEFA (@UEFA) November 11, 2019
Klopp told reporters at the event that he would like to see UEFA consider making some essential changes to VAR despite seeing his Liverpool side benefit from several generous calls against City the previous evening.
"VAR can be improved, it can. It will never be 100% accurate, everybody knows that," the Reds boss said. "But there are a couple of things that are not right. With VAR, handball, offside, it is clear we have to keep on improving.
"There were good ideas from UEFA about how we can sort things from the referees, so everybody is in on it. There is still space for mistakes. These things are done by human beings and none of us is perfect. Nobody is asking for perfection, you just want to have the right decisions."
Diego Costa has got whole Atletico squad calling Trippier 'Rooney'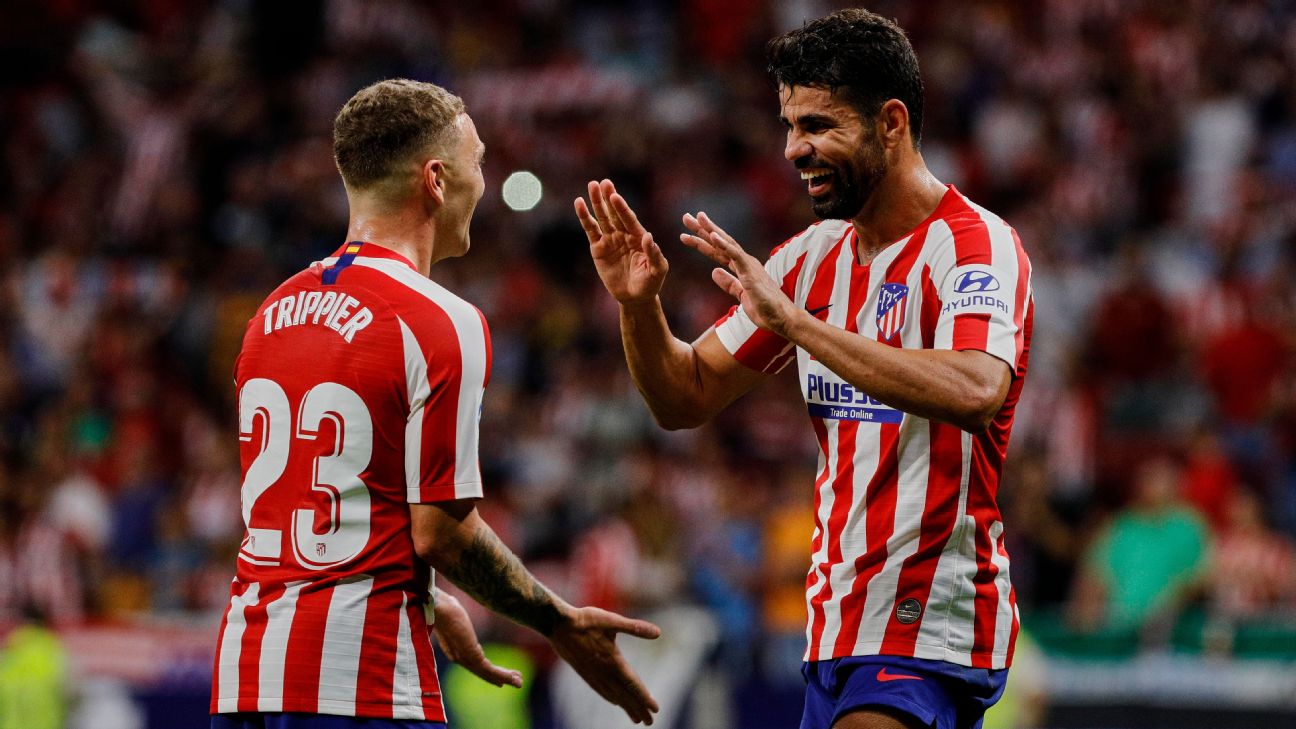 It's been several weeks since he first complained, but it looks like Kieran Trippier is still being ridiculed by Diego Costa at Atletico Madrid. The former Tottenham defender first revealed last month that Costa had nicknamed him "Rooney" on the very first day he arrived in the Spanish capital.
While Trippier is thoroughly enjoying his start to life as an Atletico player, it seems Costa hasn't relented with the name-calling, with the beleaguered right-back informing The Guardian that, if anything, things have got worse — now they're all at it.
"It's just because I'm the only English player here and Rooney's the only one he's heard of; it could have been anything," Trippier said. "Diego just calls me that because it's the first name that came into his mind. And everywhere I go, they shout Rooney. When I warm up, everyone's shouting it. Everyone. I have Diego to thank for this."
You'll just have to hang in there, Kieran — for the next three or four years or thereabouts.
Let's face it, there are far worse things he could have been called, especially with Diego Costa on the prowl.
Messi models slick new Argentina kit
Nada nos une más que estos colores 🇦🇷

¡Estamos listos para defenderla! 💪 pic.twitter.com/YMTdcVA1O0

— Selección Argentina 🇦🇷 (@Argentina) November 11, 2019
Argentina have been furnished with a brand new away kit with Lionel Messi roped in on modelling duty.
The suave navy shirt will serve as the Albiceleste's change strip for the 2020 Copa America, which they are set to host next summer.
The jersey features a "hand-painted" design similar to those adorning the Euro 2020 kits for the likes of Germany, Spain, Russia and Sweden released earlier this week.
Barcelona release new away jersey inspired by Catalan roots
Wherever we are from.
For so many years we have felt it.
And for 120 years, it's deep within us.#HoPortemDins ❤ pic.twitter.com/CCpOe8eu8R

— FC Barcelona (@FCBarcelona) 12 November 2019
With an international break looming, Barcelona have seized the opportunity to reveal their new fourth kit.
Inspired once again by the Senyera flag of Catalonia, the shirt is predominantly yellow with red diagonal stripes across the chest and blue trim — the traditional colours of the region.
"It is an honour to wear the flag, the four stripes, on the shirt," said Barca defender Sergi Roberto, who appears in the promo video.
According to Sport, Barca plan to give their new Senyera shirt a debut outing when they travel to play Atletico Madrid at the Metropolitano on Dec. 1.