Products You May Like
Jump to: Manchester City | Chelsea | Tottenham | Arsenal | Manchester United 
In the run-up to the January transfer window, we're ranking some of the best and worst signings by the Premier League's elite clubs over the past decade.
We looked at every arrival from the 2009-10 season onward — though only permanent deals count, so no loans or promotions from the youth team (sorry, Marcus Rashford) — and whittled down each list to five .
There's no magic formula to decide how they rank; it's purely how we think fans (having asked a few ourselves) would place them. No doubt you will agree with some and disagree with others!
*Goals and appearance data is all competitions.
LIVERPOOL'S BEST
Bought for: £29m from Hoffenheim
Appearances: 210; Goals: 69
Just edging out Philippe Coutinho (who signed for £8.5m and was sold to Barcelona for £142m five years later), Firmino is here because of his importance to Jurgen Klopp's team. Defending from the front, linking play, scoring goals … he does it all. 
Bought for: £75m from Southampton
Appearances: 90; Goals: 8
He might no longer be the world's most expensive defender (it's now Harry Maguire at £80m), but arguably Van Dijk is the world's best. In fact, £75m actually seems like a bargain given how much he has affected a Liverpool back line that has also benefited from the arrival of Alisson and Andy Robertson.
Bought for: £22.8m from Ajax
Sold for: £75m to Barcelona
Appearances: 133; Goals: 82
Few knew how good a signing this was at the time, but the Uruguay international has become one of the best strikers in the world. He completely changed Liverpool's attack and the club stuck by him through thick and thin before he was sold for a massive profit.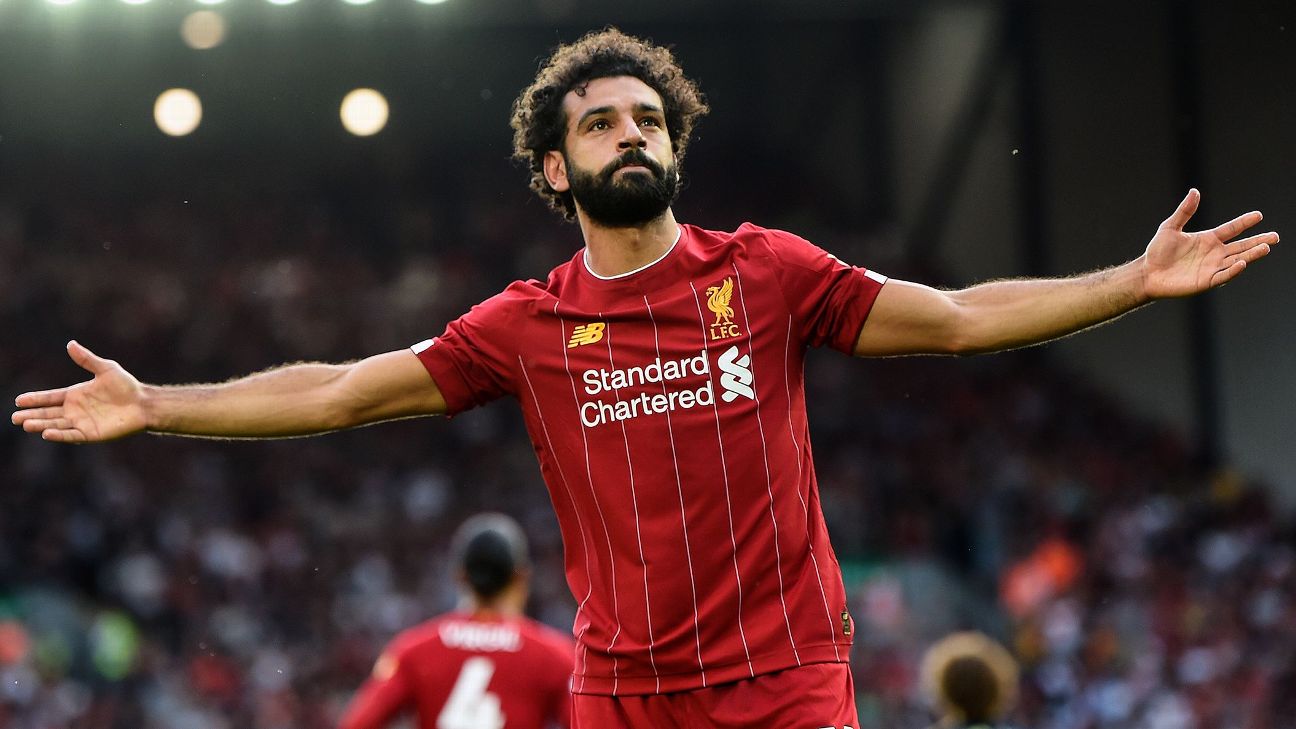 Bought for: £34m from Roma
Appearances: 121; Goals: 80
It was a bit of a gamble to spend so much on a player who flopped at Chelsea just a few years earlier, but Liverpool saw Salah's potential. He repaid that faith with 44 goals in 52 games in his first season and hasn't looked back since.
Bought for: £34m from Southampton
Appearances: 140; Goals: 70
The Senegal winger has blossomed since the arrival of Salah and is arguably more important than the Egypt star. This was another gamble, given Mane had only two seasons in the Premier League under his belt, that has come off.
LIVERPOOL'S WORST
5. Loris Karius, 2016-
Bought for: £4.7m from Mainz
Appearances: 49
Few fans knew much about Karius when he made the move to Liverpool, and it was a surprise that he claimed the No. 1 spot. But a meltdown, which cost Liverpool the 2018 Champions League final against Real Madrid, put paid to the goalkeeper's Anfield career.
Bought for: £7m from Nacional
Sold for: £2m to Sunderland
Appearances: 24; Goals: 2
Highly rated when he first arrived, the Uruguayan defender failed to win over the fans with lumbering performances, then suffered a knee injury that kept him out for much of the 2013-14 season. Not much has changed since he moved to Sporting CP.
3. Christian Benteke, 2015-16
Bought for: £32.5m from Monaco
Sold for: £27m to Crystal Palace
Appearances: 42; Goals: 10
A few years back there was something about Liverpool signing big strikers who really didn't work out. Benteke was not the first (see later) but he might be the last after a poor season saw him sold within the year. Though the Reds did manage to recoup most of what they paid.
2. Alberto Aquilani, 2009-12
Bought for: £20m from Roma
Sold for: Free to Fiorentina
Appearances: 26; Goals: 2
Aquilani was meant to be the long-term replacement for Xabi Alonso but lasted only a year before heading to Juventus on loan, then Fiorentina for free. Injuries played their part, and the Italian midfielder later revealed: "Maybe I should have stayed, but I wanted to come back to Italy for family reasons."
Bought for: £35m from Newcastle
Sold for: £15m to West Ham
Appearances: 58; Goals: 11
Losing hero Fernando Torres to Chelsea and making Carroll the most expensive British footballer at the time goes down as one of the worst deals in Premier League history. OK, Torres didn't fare much better in London, but Carroll was a disaster and struggled badly with injuries and Liverpool's style of play.
---
MANCHESTER CITY'S BEST
Bought for: £35m from Benfica
Appearances: 110
The Brazil international has provided an answer to the question: Can signing a good goalkeeper make a team better? He is also a defender and a playmaker with the ball at his feet, who can deliver wonderful assists from deep. The fact he is three players for the price of one is why Yaya Toure misses out on the top five.
Bought for: £55m from Wolfsburg
Appearances: 187; Goals: 42
Much like Salah, it's incredible to think that Chelsea had De Bruyne but let him go. The Belgium international is now arguably the finest attacking midfielder in world football and has taken the Premier League by storm, breaking Mesut Ozil's record for the quickest 50 assists (in just 123 matches; Ozil took 141).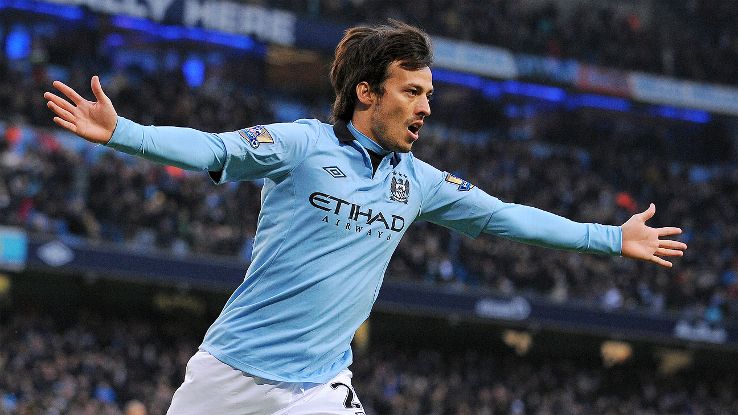 Bought for: £26m from Valencia
Appearances: 395; Goals: 70
One of the finest creative players of his generation, Silva is top-class and has given the past decade to helping City become among the best around. He'll likely leave next summer when his contract expires and will do so as a club legend.
Bought for: £44m from Liverpool, 2015
Appearances: 208; Goals: 83
After all the hassle it took to prise Sterling away from Liverpool, he really had to deliver. Thankfully for City, he did. Still only 24, the winger has years ahead of him to get even better, which is a worrying thought for the rest of the league.
Bought for: £38m from Atletico Madrid
Appearances: 352; Goals: 244
The 31-year-old is already City's record scorer by some margin and, with 173 in the Premier League to his name, could catch second-place Wayne Rooney (208) on the all-time league list. Who knows, perhaps Alan Shearer's seemingly impossible mark of 260 could also be in danger. 
MANCHESTER CITY'S WORST
Bought for: £22m from Fiorentina
Sold for: £11m to Inter Milan
Appearances: 44; Goals: 11
He had so much potential, but Jovetic never settled in England and was unhappy about the arrival of fellow striker Wilfried Bony (more on him later). "The manager has killed me with this decision," Jovetic said as he walked out the exit door, back to Serie A.
4. Jack Rodwell, 2012-14
Bought for: £12m from Everton
Sold for: £10m to Sunderland
Appearances: 25; Goals: 2
One of England's top prospects a decade ago, Rodwell's career was hampered by injuries, and even though he was the youngest to represent Everton in Europe, he failed to make 100 appearances before moving to City. Two injury-hit seasons at the Etihad saw him struggle.
Bought for: £17.5m from Blackburn
Sold for: Free to Malaga
Appearances: 24; Goals: 4
One of the first big outlays for City owner Sheikh Mansour, the Paraguayan striker did not deliver. He wasn't the only striker to fail at City — Jo or Robinho could have easily made this list in his place if not for the fact they joined in 2008 — but he was a poor signing.
2. Wilfried Bony, 2015-17
Bought for: £28m from Swansea
Sold for: £12m to Swansea
Appearances: 46; Goals: 10
Having signed Aguero, finding a capable backup was never going to be easy. City thought that Bony could fill the role after after the Ivory Coast international scored the most goals of any Premier League player in 2014, but he struggled terribly and soon moved on for a big loss.
Bought for: £42m from FC Porto
Sold for: Free to Valencia
Appearances: 79; Goals: 0
Mangala was the most expensive defender in British history at the time, but was criticised for below-par performances and gradually slipped out of the side. Incredibly, he signed a new contract in March 2019 but was allowed to leave a few months later for nothing.
---
CHELSEA'S BEST
Bought for: £30m from Barcelona
Sold for: £7m to Monaco
Appearances: 198; Goals: 22
Arsenal fans still shudder when they think of their former captain in the blue of Chelsea, but only one team made the effort to land the midfielder when he left Barcelona. Fabregas' vision and creativity led Chelsea to two titles and two cups.
Bought for: £32m from Atletico Madrid
Sold for: £57m to Atletico Madrid
Appearances: 120; Goals: 59
Arsenal fans also shiver when they think of Costa, but for a different reason. The wrecking-ball striker dovetailed well with Fabregas, but his aggression and combative nature set him apart from peers. His goal record speaks for itself, but he was worth a lot more to the club.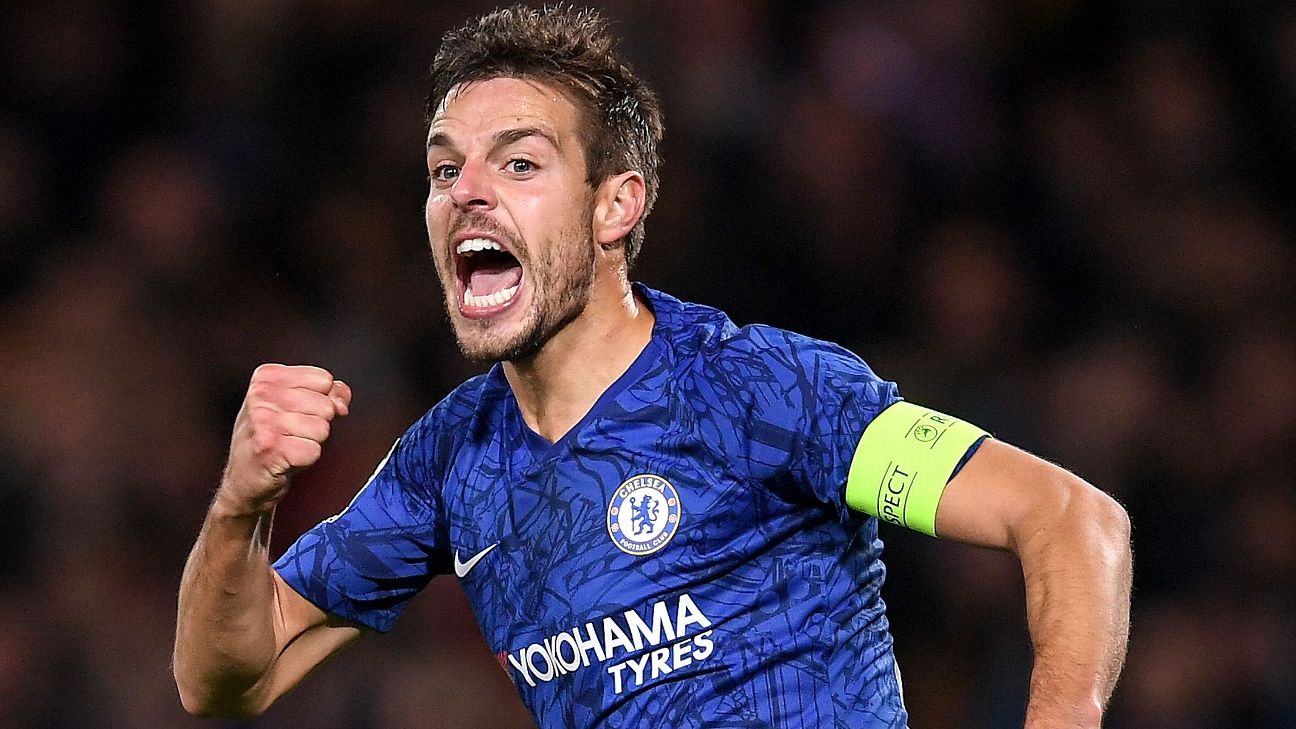 Bought for: £6.5m from Marseille
Appearances: 353; Goals: 10
"Dave" (because nobody can pronounce his name) was signed as a utility full-back but has gone on to become one of the club's best. He missed only two Premier League games in four seasons and was given the highest praise from former boss Jose Mourinho dreamed of a team with "11 Azpilicuetas."
Bought for: £30m from Leicester
Appearances: 149; Goals: 10
Kante won the most unlikely of league titles with Leicester (2016), then bagged another with Chelsea (2017) before the FA Cup (2018), World Cup (2018) and Europa League (2019) completed his collection. Probably the hardest worker in football, the midfielder will run until his can't run anymore (which is never).
Bought for: £32m from Lille
Sold for: £89m to Real Madrid
Appearances: 352; Goals: 110
Hazard's public desire to join Real Madrid tarnished his legacy somewhat but he was still arguably one of the best the Premier League has ever seen. A regular at the individual awards ceremonies, the Belgian winger was a world-class player who made Chelsea tick.
CHELSEA'S WORST
Bought for: £6.5m from Fluminense
Appearances: 27; Goals: 3
Curiously, the Brazilian winger is still a Chelsea player despite spending the past four years on loan at various clubs. He's probably suffered by not shining in one particular position, but angering China during a preseason tour didn't help his standing, either.
Bought for: £7m from Werder Bremen
Sold for: £3m to Olympiakos
Appearances: 16; Goals: 1
Highly rated when he first arrived at the club, the German midfielder barely made an impact in his first season and it was downhill from there. Loan spell after loan spell followed until Chelsea cut their losses. He's now at Red Star Belgrade.
Bought for: £40m from Monaco
Appearances: 43; Goals: 3
One of the cornerstones (along with Fabinho and Kylian Mbappe) that saw Monaco win the Ligue 1 title in 2016-17, Bakayoko was snapped up by Chelsea to become the club's second-most-expensive signing. But he didn't settle and poor form led to loan spells away.
2. Alvaro Morata, 2017-19
Bought for: £60m from Real Madrid
Sold for: £58m to Atletico Madrid
Appearances: 72; Goals: 24
It seemed like Morata would be a dream signing when he netted 10 goals before Christmas in his first season, but his form plummeted. Chelsea were at least able to recoup almost all their outlay in selling him back to his boyhood club, Atletico.
1. Fernando Torres, 2011-15
Bought for: £50m from Liverpool
Sold for: £3m to AC Milan
Appearances: 172; Goals: 45
The worst of the worst. Torres had made himself arguably the finest striker in the league at Liverpool, but a British-record transfer fee heaped pressure on his shoulders and he never hit double figures Premier League again. Not only one of Chelsea's worst buys, but one of the worst ever seen in England.
---
TOTTENHAM'S BEST
Bought for: £11.5m from Southampton
Appearances: 165; Goals: 6
Tottenham went unbeaten at home in their final year at White Hart Lane because of Alderweireld's partnership with Jan Vertonghen. The Belgian defender is a class act, and it was surprising no other club snapped him up for £25m this summer when a clause in his contract would have allowed it.
Bought for: £12m from RKC Waalwijk
Appearances: 285; Goals: 10
Six years of service and almost 300 appearances make Vertonghen a club legend. However, he has won only two Eredivisie titles (with Ajax) and two Dutch Cups (also with Ajax) in his career, which seems unfair given his quality.
Bought for: £12.5m from Ajax
Appearances: 291; Goals: 68
Tottenham fans might not love Eriksen now he's seemingly running down his contract to land a summer move to Real Madrid, Barcelona or Juventus, but the Denmark playmaker has been vital. A creative force like few others, £12.5m was an absolute bargain and he more than repaid that.
2. Dele Alli, 2015-
Bought for: £5m from MK Dons
Appearances: 193; Goals: 55
The biggest bargain of them all. Liverpool almost signed him, but Tottenham won through and turned the young midfielder into an England international. After scoring 18 Premier League goals from midfield in 2016-17, Alli's star has waned a little, but he's still one of the best around.
Bought for: £22m from Bayer Leverkusen
Appearances: 203; Goals: 75
Sorry if you were expecting Harry Kane, but as a youth product he doesn't count! Instead you get Son, whose speed and finishing  have made him a force to be reckoned with. The South Korea international signed as the most expensive Asian player ever, and if he were to be sold, he would easily double the record.
TOTTENHAM'S WORST
Bought for: £26m from Valencia
Sold for: £10m to Villarreal
Appearances: 76; Goals: 16
The striker dubbed "Bobby" by fans didn't hit the net with any kind of regularity. Soldado admitted to overanalysing everything and had his fair share of bad luck, but his form was poor. Unlike some others on the "worst" lists, he still had the respect of many supporters because of his work rate.
4. Bongani Khumalo, 2011-15
Bought for: £1.5m from SuperSport United
Sold for: Free to SuperSport United
Appearances: 0; Goals: 0
The South Africa international did not play a single competitive game for the club in 4½ years. That says it all. He's not higher up only because he barely cost anything.
3. Federico Fazio, 2014-16
Bought for: £8m from Sevilla
Sold for: £2.5m to Roma
Appearances: 32; Goals: 0
A defender who seemed to struggle with the pace of the Premier League, Fazio started OK but then fell victim to injury and never got going again. He later claimed chairman Daniel Levy wanted him gone after a year.
2. Clinton N'Jie, 2015-16
Bought for: £8.3m from Lyon
Sold for: £5m to Marseille
Appearances: 14; Goals: 0
Having barely made an impact, due in part to the fact he missed four months of his only season with a knee injury, N'Jie left to return to France in 2016. Tottenham made some of the money back on the winger, but fans never took to him.
Bought for: £17m from AZ Alkmaar
Sold for: £5m to Monterrey
Appearances: 42; Goals: 6
Tottenham have signed their fair share of poor strikers, but after Grzegorz Rasiak and Sergei Rebrov long before 2009, you'd think they would have learned. Having starred in the Eredivisie, Janssen couldn't translate that form and fell out of favour quickly under Mauricio Pochettino. He's now in Mexico.
---
ARSENAL'S BEST
Bought for: £15m from Malaga
Sold for: Free to Villarreal
Appearances: 166; Goals: 29
Many wondered if the 5-foot-6 Cazorla could succeed in England but, after beginning life at Arsenal as a winger before moving to fill the creative void left by Cesc Fabregas in midfield, he became one of the league's best. A gruesome Achilles injury ruined his final years at the club.
Bought for: £9m from Lorient
Sold for: £4.6m to Bordeaux
Appearances: 353; Goals: 27
Nobody had really heard of Koscielny when Arsene Wenger plucked him from Lorient after one season in Ligue 1, but he proved a bargain over the next decade. Sadly for Arsenal fans, he soured his legacy by going on strike to force through a move to Bordeaux and immediately trolled his former club.
3. Alexis Sanchez, 2014-18
Bought for: £32m from Barcelona
Sold for: Free, swap for Henrikh Mkhitaryan with Man United
Appearances: 166; Goals: 80
Another to have tarnished his legacy — by running down his contract and eventually moving to Manchester United for nothing — Sanchez was nevertheless a force to be reckoned with at the Emirates as a tireless forward who turned out to be a bargain buy from Barcelona.
Bought for: £56m from Dortmund
Appearances: 78; Goals: 50
Arsenal have been searching for a new Thierry Henry (if there can ever be such a thing) since the Frenchman's exit in 2007, and Aubameyang is the closest they have come. He has a pedigree like few others and, in early November, bagged his 50th goal in just his 78th appearance.
Bought for: Nominal fee from Barcelona
Appearances: 186; Goals: 7
Around the same time that Arsenal lost Cesc Fabregas to Barcelona in 2011, they signed a 16-year-old right-back from Camp Nou. Bellerin arrived as an unknown but has proved himself since making his league debut in 2014 and, still only 24, is one of the first names on the team sheet.
ARSENAL'S WORST
Bought for: £4m from Sevilla
Sold for: Free to Bastia
Appearances: 39; Goals: 2
When Squillaci arrived he took the No. 18, previously held by defenders Mikael Silvestre and Pascal Cygan, so Arsenal fans should have figured he wouldn't amount to much. The Frenchman didn't perform too poorly in his first season but his form fell off a cliff in his second, compelling the club to sign Per Mertesacker.
Bought for: £17m from Deportivo
Sold for: £4m to West Ham
Appearances: 21; Goals: 7
Perez caught the eye at Deportivo La Coruna in 2015-16, and although Wenger viewed him as a backup, he still parted with almost £20m to get the striker. The Spaniard lasted one season then went back to Deportivo on loan before being sold to West Ham for a big loss.
Bought for: Free from Auxerre
Sold for: Free to Toulouse
Appearances: 15; Goals: 1
Four seasons, 20 appearances and one goal sums up the contribution of Sanogo in an Arsenal shirt. It seems harsh to put him high up here, as the French striker was only 20 when he signed after one good season playing for Auxerre, but injuries and dull loan spells saw Arsenal cut their losses.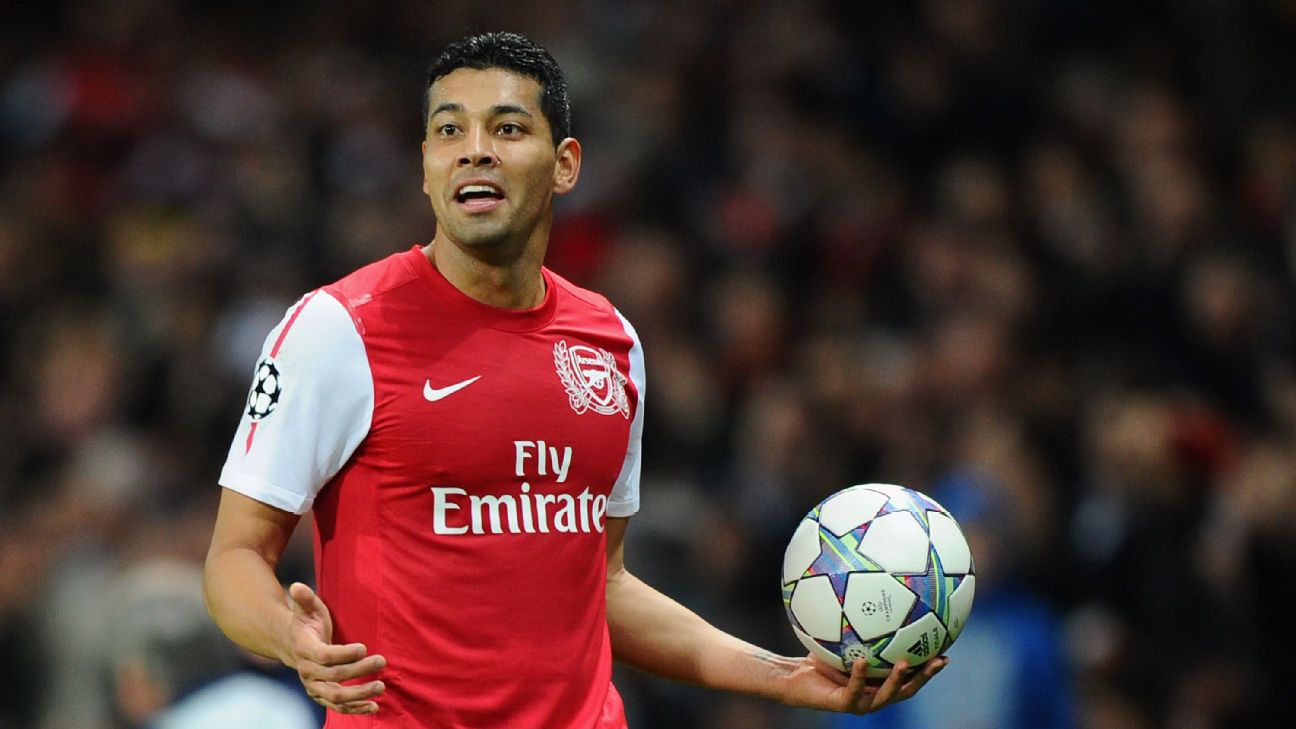 2. Andre Santos, 2011-13
Bought for: £5m from Fenerbahce
Sold for: Free to Flamengo
Appearances: 33; Goals: 3
Arsenal's 2011 saw a host of misfits signed, but the Gunners thought they were landing the new Roberto Carlos when Santos pitched up. The Brazilian left-back was almost immediately an unmitigated disaster, and poor positioning saw him axed after 18 months.
1. Park Chu-Young, 2011-14
Bought for: £6m from Monaco
Sold for: Free to Al-Shabab
Appearances: 7; Goals: 1
Nobody has really known why the South Korea international never got a chance to prove himself. Arriving from Monaco after scoring 12 goals in 2011-12, the striker played seven times for Arsenal before leaving on a free transfer in 2014. He eventually got his career back on track with a move to FC Seoul.
---

MANCHESTER UNITED'S BEST
Bought for: £89.3m from Juventus
Appearances: 141; Goals: 31
Sir Alex Ferguson didn't make many mistakes, but letting Pogba leave for Juventus in 2012 was probably his biggest. The midfielder came back four years later for a then-world-record fee and, although his form can be inconsistent, is still one of the best in the Premier League on his day.
Bought for: £37.1m from Chelsea
Appearances: 230; Goals: 45
Signed by David Moyes, the versatile midfielder went on to reach double figures for goals in three consecutive seasons from 2014 through 2017 and, although his influence has waned since he passed the age of 30, Mata is still an important creative force at Old Trafford.
Bought for: £36m from Monaco
Appearances: 184; Goals: 53
United made Martial the world's most expensive teenager at the time, with a fee that could rise to £58m, and while he's not reached the heights many fans would have expected, he has scored more than 50 goals for the club, is still only 23 and has plenty to offer.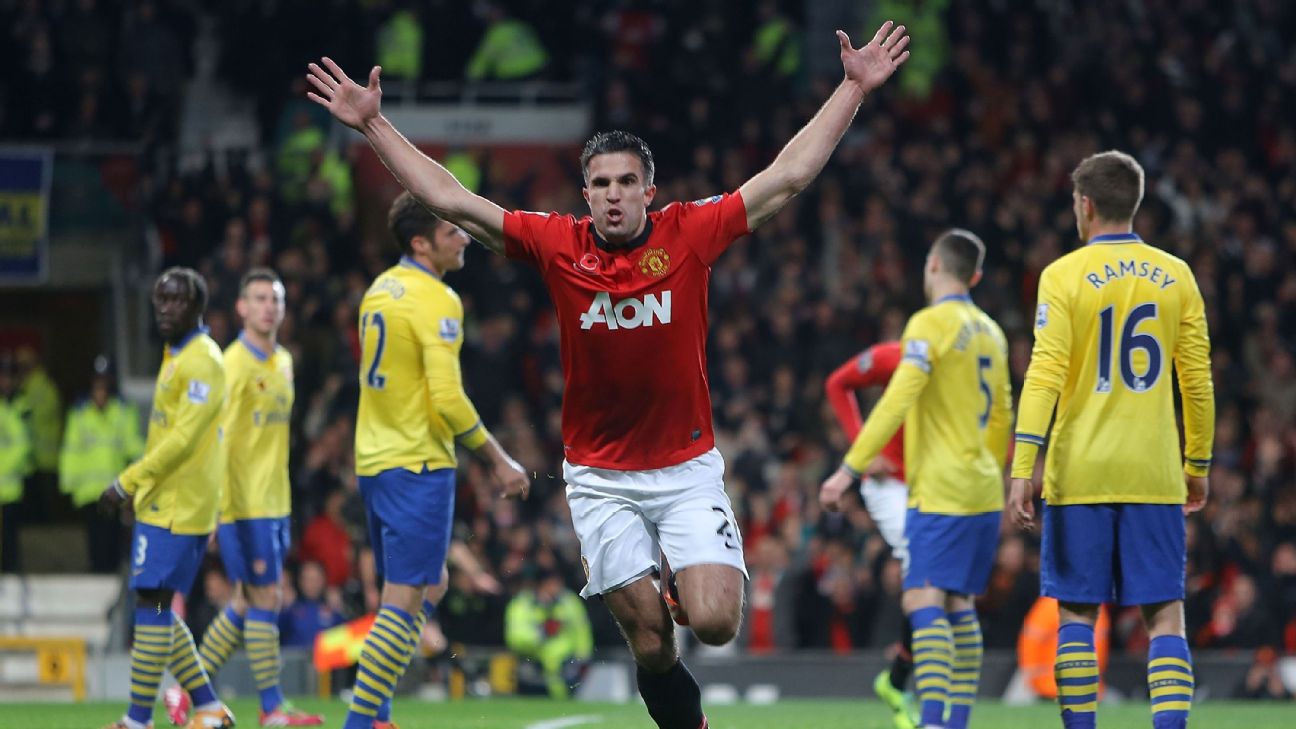 2. Robin van Persie, 2012-15
Bought for: £24m from Arsenal
Sold for: £3.8m to Fenerbahce
Appearances: 104; Goals: 58
If you could sign a player from your rivals for £24 million and then immediately win the title because of his 30 goals, you would. This is exactly what happened with Van Persie and, though his injury issues came back to haunt him, he was a brilliant piece of business by Ferguson.
1. David De Gea, 2011-
Bought for: £18.9m from Atletico Madrid
Appearances: 375
When a goalkeeper has his own hashtag (#davesaves), you know he's done OK. De Gea is one of the best in the world and, despite him almost leaving for Real Madrid and stalling over a new contract, United fans can barely remember the timid 20-year-old who arrived eight years ago.

MANCHESTER UNITED'S WORST
Bought for: £25m from PSV
Sold for: £15m to Lyon
Appearances: 52; Goals: 7
Like Wilfried Zaha before him, Depay was heralded as a game-changing signing but left as a failure. His off-field lifestyle and personality seemed to cause issues at the club that his performances on the pitch, under Louis van Gaal and Jose Mourinho, could not fix.
4. Fred, 2018-
Bought for: £52m from Shakhtar Donetsk
Appearances: 38; Goals: 1
The Brazilian midfielder arrived with a massive price tag but has not lived up to expectations and seems unable to settle in the Premier League. It would be a surprise if he were still a United player in another year's time.
3. Bebe, 2010-14
Bought for: £7.4m from Vitoria
Sold for: £2.4m to Benfica
Appearances: 7; Goals: 2
"Sometimes you have to go on instinct and sometimes you have to trust your staff as well. This was a first for me," Ferguson said about not actually seeing the Portuguese winger play before. He never made that mistake again as Bebe was a complete flop, despite all the hype.
2. Angel Di Maria, 2014-15
Bought for: £59.7m from Real Madrid
Sold for: £44m to PSG
Appearances: 32; Goals: 4
Signing the classy Argentine winger from Real Madrid shouldn't have been a gamble, but Di Maria never settled in Manchester and left after a year. The pressure of the No. 7 shirt told, as did playing in a different position under Van Gaal.
1. Alexis Sanchez, 2018-
Bought for: Free, swap for Henrikh Mkhitaryan with Arsenal
Appearances: 45; Goals: 5
The Chile international was a shadow of his Arsenal self in Manchester, unable to turn around his poor form and injuries. His reported £350,000-a-week wages caused issues in the dressing room and United sent him on loan to Inter, having lost their patience after 18 months.