Products You May Like
England coach Gareth Southgate has said Raheem Sterling's emotions "ran over" in his clash with Joe Gomez, labelling the situation "difficult".
Sterling will not be considered for England's Euro 2020 qualifier against Montenegro after an altercation with his England teammate on Monday.
A day after Liverpool beat Manchester City 3-1 at Anfield, where the pair confronted each other towards the end of the match, both players became involved in another exchange when the England squad convened at the national training centre at Burton upon Trent.
Southgate told a news conference: "Raheem [Sterling] explained that for a brief moment his emotions ran over. It would be correct to say that's not the same for Joe [Gomez].
"It is important to always be as fair as possible on any decision I make. Quite the number of our senior players have been active in discussions.
"That is an important process. I am the manager and certain decisions are my responsibility. The group has been very mature dealing with a difficult situation.
"As emotions calmed yesterday, I am very impressed the players worked through collectively. I had to make some difficult calls — that's the end of discussion.
"It's not for me to discuss the details of the incident. In the end I have to find the right solution for the group. You try to be fair at all times dealing with the players.
"I have made the decision and it was appropriate for moving forward. Raheem is a very important player for us but I feel it was the right.
"I consult very closely with all of the players, in particular the senior players. They have a very good understanding of how we have worked over the years. We are a united group and now we have to turn our focus on to the football."
A statement from the English Football Association on Monday said Sterling would miss the match against Montenegro at Wembley on Thursday "as a result of a disturbance in a private team area at St. George's Park today. He will remain with the squad."
Southgate added: "We have a hugely important qualifier on Thursday night. We are drawing a line under it and moving forward as a team.
"I love all of my players. We are a family and all families have disagreements. The most important thing is to work through them.
"Our focus is now to move forward. It was crucial to me that everyone in the group is ready to move forward. That is why everyone is part of the squad."
- Euro 2020: Who will reach the finals?
– Euro 2020 qualifying: All you need to know
Sterling released a statement on his Instagram account late on Monday night confirming the altercation with Gomez and said that both had moved on from the incident.
"First and foremost everyone knows what that game means to me!" Sterling wrote.
"Everyone knows that I am not that way inclined and more to the point. Both Joe and I have had words and figured things out and moved on.
"We are in a sport where emotions run high and I am man enough to admit when emotions get the better of me. We move this is why we play this sport because of our love [of] it.
"Me and [Gomez] are good we both understand it was 5-10 second things and it's done we move forward and not make this bigger than it is.
"Let's get focus on our game on Thursday."
Sterling has been in exceptional form for England, scoring eight goals and providing five assists during Euro 2020 qualification.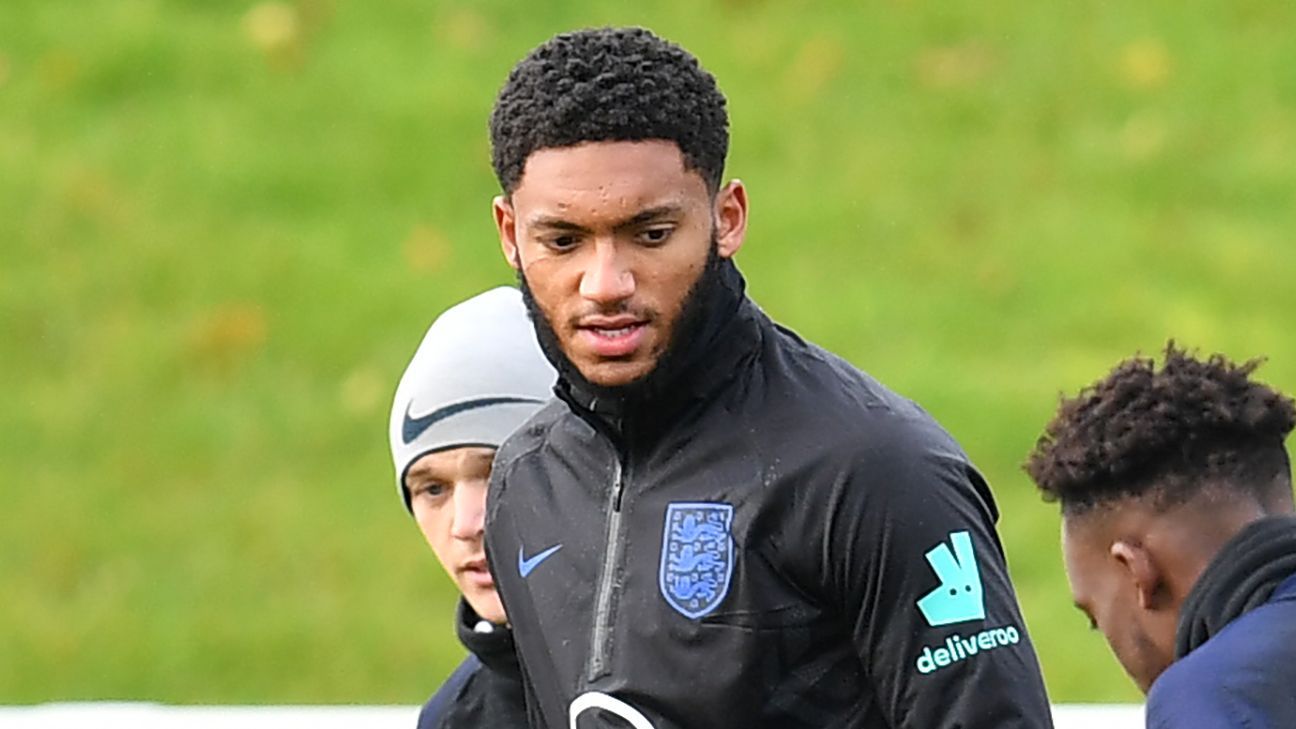 Last season, he was named Footballer of the Year by the Football Writers' Association after scoring 25 goals in all competitions as City won a domestic treble of the Premier League title and the two Cup competitions.
For England, Sterling has scored 12 goals in 55 games. Southgate's men, who top Group A with 15 points from six matches, face Kosovo on Sunday, three days on from the match with Montenegro.