Products You May Like
The Toe Poke Daily is here every day to bring you all the weirdest stories, quirkiest viral content and top trolling that the internet has to offer, all in one place.
Jump to: Maradona coaches from pitchside throne | Ref gives Kaka yellow card, takes quick selfie | Ribery finally gets new FIFA 20 game face
Lionel Messi underlined his indisputable greatness once again for Barcelona when he brought up yet another astonishing career milestone in Tuesday's 5-1 drubbing of Real Valladolid.
The Argentina captain scored two goals and assisted another two in the match, the ninth time he has done so in La Liga in the last decade. In effortlessly tucking away Barcelona's third goal, Messi scored the 50th direct free kick of his senior career in all competitions (44 with Barca, six with Argentina).
🎯 – Most direct free-kick goals since the start of 2012/13 in Europe's top five leagues

27 – Lionel Messi (+1)
15 – Miralem Pjanic
12 – Hakan Çalhanoglu
11 – Andrea Pirlo
10 – Daniel Parejo
10 – Cristiano Ronaldo
10 – Aleksandar Kolarov#BarçaValladolid #ForçaBarça

— Gracenote Live (@GracenoteLive) October 29, 2019
As things stand, nobody has scored more free kicks than Messi since the start of the 2012-13 campaign, with Miralem Pjanic the next on the list with 15 to his name. By comparison, Messi has 27 — 17 of them coming since the start of the 2016-17 season.
Having failed to convert a single free kick (from 29 attempts at time of writing) since joining Juventus, it's perhaps not overly shocking to learn that Cristiano Ronaldo has scored just 10 set pieces since August 2012.
Cristiano Ronaldo has missed all of his free kicks for Juventus. pic.twitter.com/w7yN1Rwugb

— ESPN FC (@ESPNFC) October 26, 2019
Even more remarkable is the fact that Messi's haul of league goals from free kicks in the past five seasons is more than any single club playing in Europe's top five leagues. That's right: no Premier League, La Liga, Serie A, Bundesliga or Ligue 1 CLUB has scored more free kicks than Messi in the last five years.
20: Messi
15: Juventus
13: Roma, Paris Saint-Germain, Lyon
12: Bologna
11: Real Betis, Monaco
10: Levante, Napoli
Just when you think he's peaked, the little genius goes and bulldozes down yet another mind-boggling career record.
Here's to the next 50 free kicks!
– ESPN fantasy soccer: Sign up now!
– Barca ratings: Messi 10/10 in otherworldly outing
– Messi's debut, 15 years on, by those who were there
Diego Maradona coaches from pitchside throne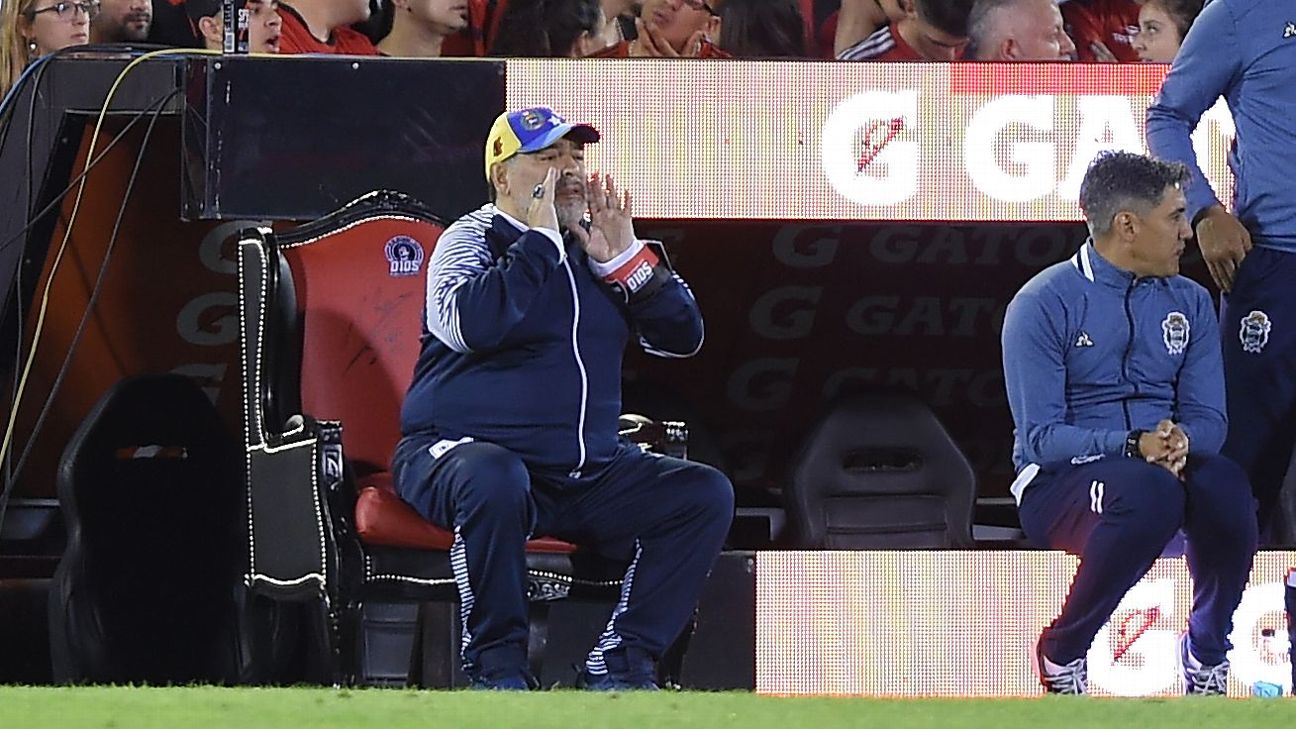 We all know that Diego Maradona enjoys god-like status in Argentina, but Newell's Old Boys took it to new heights on Tuesday.
The Albiceleste legend, now coach of Gimnasia La Plata, was welcomed by his former club Newell's with a special prematch presentation which included his very own chair on the sideline from which to coach from.
Diego Maradona, ladies and gentlemen.

Managing on a throne while sipping on an energy drink called 'Speed.'

His Gimnasia team climbed off the bottom of Argentina's Superliga with a 4-0 win at Newell's Old Boys 👑 pic.twitter.com/tQerlzhOAK

— ESPN UK (@ESPNUK) October 30, 2019
It was kind thought from the hosts, given that Maradona is still recovering from a knee operation he had in July. The warm welcome didn't end there either — the Newell's players got in on the action by gifting Gimnasia a much-needed 4-0 win.
The victory lifted Maradona's side off the bottom of the Argentine Superliga table, proving that Argentina's football god may just have another miracle left in him!
- Maradona's unveiling at new club got pretty wild
– 'Diego Maradona' movie revisits god in devil's disguise
Ref gives Kaka yellow card, takes quick selfie
An hilarious moment during the peace game in Israel, as the referee pulls out a yellow card to Kaká and then takes a selfie with him, while Rivaldo is laughing 🙂 #Kaká pic.twitter.com/qYGIoMaVe8

— Netanel Dahan (@NetanelDahan) October 29, 2019
The stars were out in force as a team chock full of Brazil legends took on Israel in a special "Peace Match" exhibition in Haifa on Tuesday night.
Brazil ultimately won 4-2 but the game was perhaps most notable for the usually mild-mannered Kaka being shown a yellow card.
The ref on duty saw fit to book Kaka in the second half but couldn't resist the temptation to grab a cheeky post-caution selfie with the former Ballon d'Or winner.
The likes of Rivaldo, Ronaldinho, Roberto Carlos and Bebeto all played their part as the Selecao emerged victorious in front of 20,000 fans at the Stadium Sami Ofer.
– Bale admits to not knowing who UK Prime Minister is
– Xhaka tantrum not most shocking thing in this picture
– Football in The Vatican? World's weirdest leagues
Franck Ribery finally gets new FIFA 20 game face
Played #FIFA20 with my kids not long ago. 🕹
Hey @EASPORTSFIFA…Who is this guy? 🤔🤨🤣 pic.twitter.com/fjCBjO4FOx

— Franck Ribéry (@FranckRibery) October 17, 2019
It looks like Franck Ribery has succeeded in his quest to have his FIFA20 likeness improved after complaining that his original in-game model was some way wide of the mark.
After struggling to recognise himself, Ribery was irked to the point of taking up the issue with EA Sports directly earlier this month.
It would appear that the Fiorentina winger's complaint has now been addressed, with a brand new and altogether more accurate re-model being added into the game.
@FranckRibery You're new fifa 20 player face😯 pic.twitter.com/HbDqyFbELt

— TLM (@Ferrari500TR) October 29, 2019
That's better. Much better.