Products You May Like
The Toe Poke Daily is here every day to bring you all the weirdest stories, quirkiest viral content and top trolling that the internet has to offer, all in one place.
Barcelona's 3-0 win at Eibar on Saturday was, on the face of it, as regulation a result as you could expect for a game involving one of La Liga's two giant clubs against… well, against most other teams in the division.
However, the match at the Ipurua stadium did create a bit of history as it was the first match in which Barcelona's front three of Lionel Messi, Luis Suarez and Antoine Griezmann all scored together in the game.
– ESPN fantasy soccer: Sign up now!
– Luck Index: United worse than 6th last season?
– All the new 2019-20 kits for Europe's top clubs
It's a great landmark for the trio who, like all the best front threes these days, have their nickname based on their initials. But how quickly did "MSG" (as in Madison Square Garden or Mono-Sodium Glutomate, depending on your preference for iconic New York City venues or Chinese food) achieve the feat compared to a few other celebrated attacking triumvirates of recent years?
Messi-Suarez-Neymar: 8th game played together
The much-vaunted "MSN" may have won the Champions League in their first season together, but it took them eight matches of sharing the pitch before they all got on the scoresheet. Ironically they did it on Dec. 10, 2014 in a 3-1 win against PSG, a team Neymar would join for a world-record €222 million in 2017 and then unsuccessfully agitate for a move back again two years later.
Messi-Suarez-Griezmann: 5th game played together
⏰ It's all over!
⚽⚽⚽ A goal each for Griezmann, Messi and Súarez…
👏 Long may this form continue!
🔴🔵 #EibarBarça (0-3) pic.twitter.com/xKC0Nv26SV

— FC Barcelona (@FCBarcelona) October 19, 2019
Griezmann opened the scoring and had a hand in both of the other goals in the 3-0 win at Eibar on Oct. 19, 2019. It was only the fifth time the trio had played together, mainly due to Messi missing the first month of the season through injury.
Bale-Benzema-Ronaldo: 4th game played together
The name of "BBC" may have been a bit of a stretch, using at it did initial Cristiano Ronaldo's first name instead of his surname, but their four Champions League triumphs in five seasons is an undeniable feat of brilliance. Ronaldo, Gareth Bale and Karim Benzema. The signs were there when they scored all the goals in a 7-3 win over Sevilla (Gareth Bale 2, Karim Benzema 2, Ronaldo 3) on Oct. 30, 2013 — only the fourth occasion they all shared the pitch together.
Firmino-Salah-Mane: 1st game played together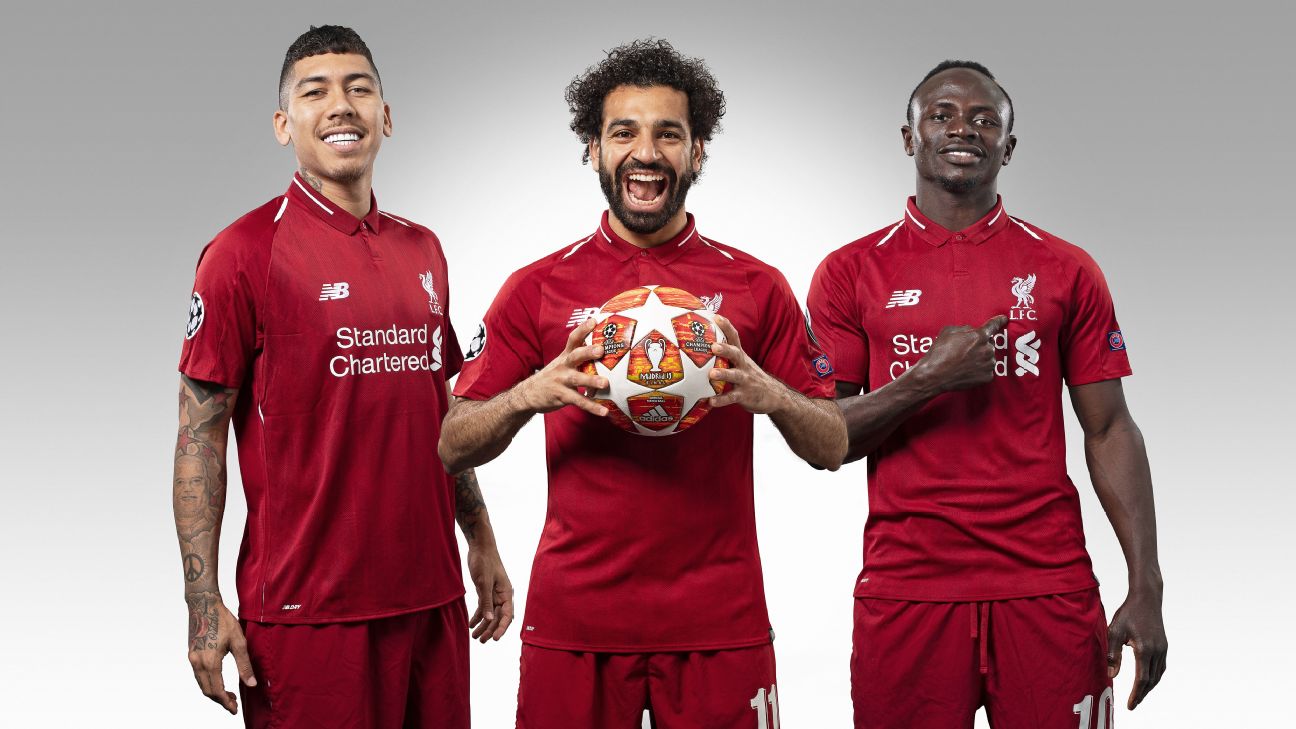 It doesn't get more emphatic than this. On Aug. 12, 2017, just 57 minutes into his Liverpool career, Mohamed Salah scored on his Liverpool debut to join new teammates Sadio Mane and Roberto Firmino on the scoresheet in a 3-3 draw at Watford. Just under two years later, they were all lifting the European Cup together. It's just a shame their initials aren't more conducive to a catchy nickname. The best we could think of is "FSM" ("Flying Spaghetti Monster," anyone?). And as for some fans online dubbing them "The Red Arrows"… sorry, but it's a no from us.