Products You May Like
The Toe Poke Daily is here every day to bring you all the weirdest stories, quirkiest viral content and top trolling that the internet has to offer, all in one place.
Jump to: Ronaldinho among PSG greats honoured in graffiti
Matteo Guendouzi succumbed to hubris on Sunday afternoon as Arsenal played out a largely self-inflicted 2-2 draw against bottom-of-the-league Watford.
The 20-year-old midfielder goaded his opponents by making a "2-1" gesture while being booed by the home fans at Vicarage Road as he was being substituted.
*✌️✌️ pic.twitter.com/9nG2esFxfa

— Watford Football Club (@WatfordFC) September 15, 2019
Sure enough, it wasn't long before the Hornets pulled a goal back to secure themselves a much-needed point, leaving the Gunners — and Guendouzi in particular — looking rather foolish.
So, prepare to cringe as we foist upon you several more examples of arrogance and conceit to have taken place on (and just off) the pitch in recent years.
– ESPN Champions League fantasy: Sign up now!
– Luck Index: Were Man United worse than 6th?
– All the new 2019-20 kits for Europe's top clubs
Raul Jimenez (Wolves)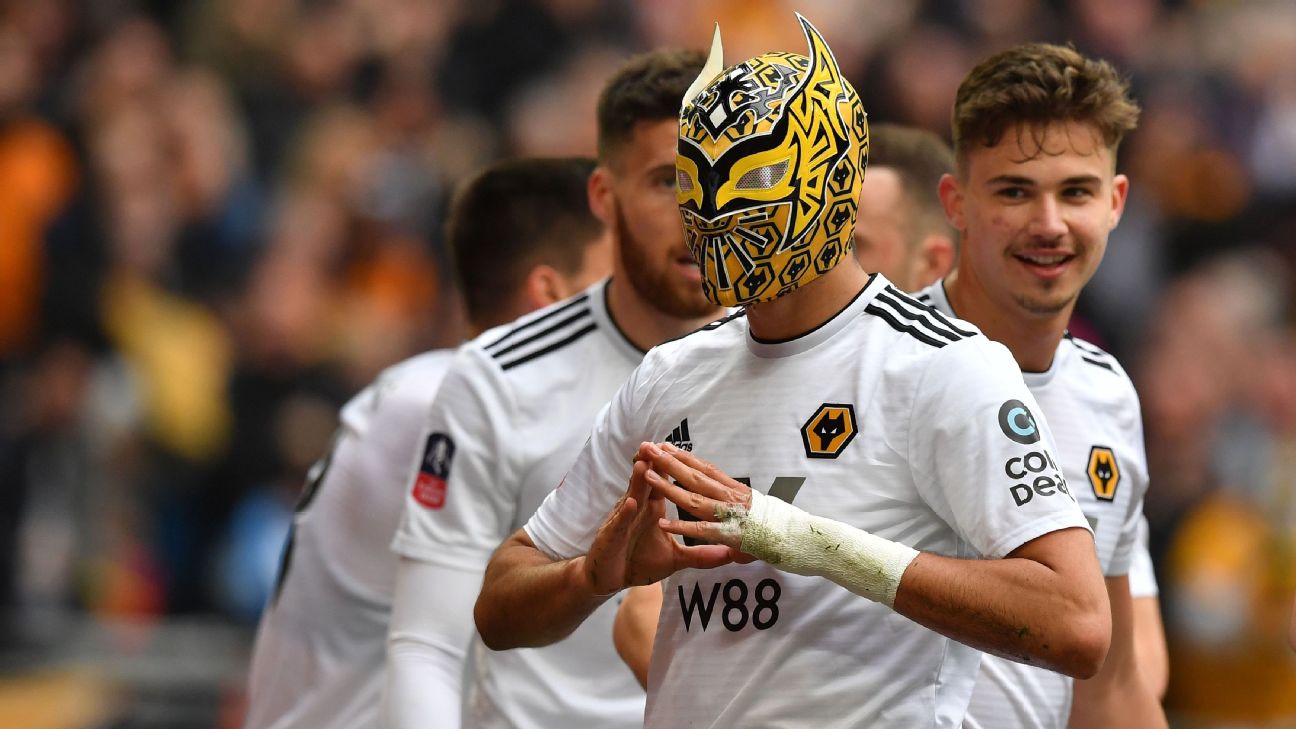 As if the perils of celebrating too early haven't already been witnessed several hundred times over in football, Wolves striker Raul Jiminez still fell foul in last season's FA Cup semifinal against Watford.
With little over an hour played, the Mexico forward put Wolves 2-0 up at Wembley and then launched into an elaborate celebration routine that included donning a club-branded Lucha Libre wrestling mask.
Sadly, everything fell apart for Jiminez and Wolves as Watford came roaring back, inspired by a brilliant cameo from substitute Gerard Deulofou. The former Barcelona winger scored twice either side of Troy Deeney's 94th-minute penalty to snatch a 3-2 win in extra time for the Hornets.
Deeney didn't hold his tongue after the final whistle either, lambasting Jimenez for his premature celebration: "I'm glad he put that mask on. He can wear it out now he's a loser."
Layvin Kurzawa (France)
An even better photo. The French teasing the Swedes after their 89th minute goal that put them through at the time pic.twitter.com/fFZxVEfsxR

— Julien Laurens (@LaurensJulien) October 14, 2014
Trailing 2-0 coming into the second leg of the playoff, Sweden's under-21 side needed something special to overturn France's lead and thus qualify for Euro 2015.
By the 71st minute, the Swedes had battled back to lead 3-2 on aggregate only for Layvin Kurzawa to score in the 87th minute and nudge Les Bleus narrowly ahead again on away goals.
Despite the precarious nature of the scoreline, Kurzawa chose to celebrate by mocking Sweden by waving his opponents goodbye with a cocky "farewell" salute.
This soon backfired when Oscar Lewicki scored again for the Swedes in the 90th minute to wrap up a dramatic 4-3 win that sent his side through to the finals at France's expense.
As a final act of comeuppance, Sweden then celebrated their brilliant comeback by marching around the stadium saluting their own fans.
Jermain Defoe (Tottenham)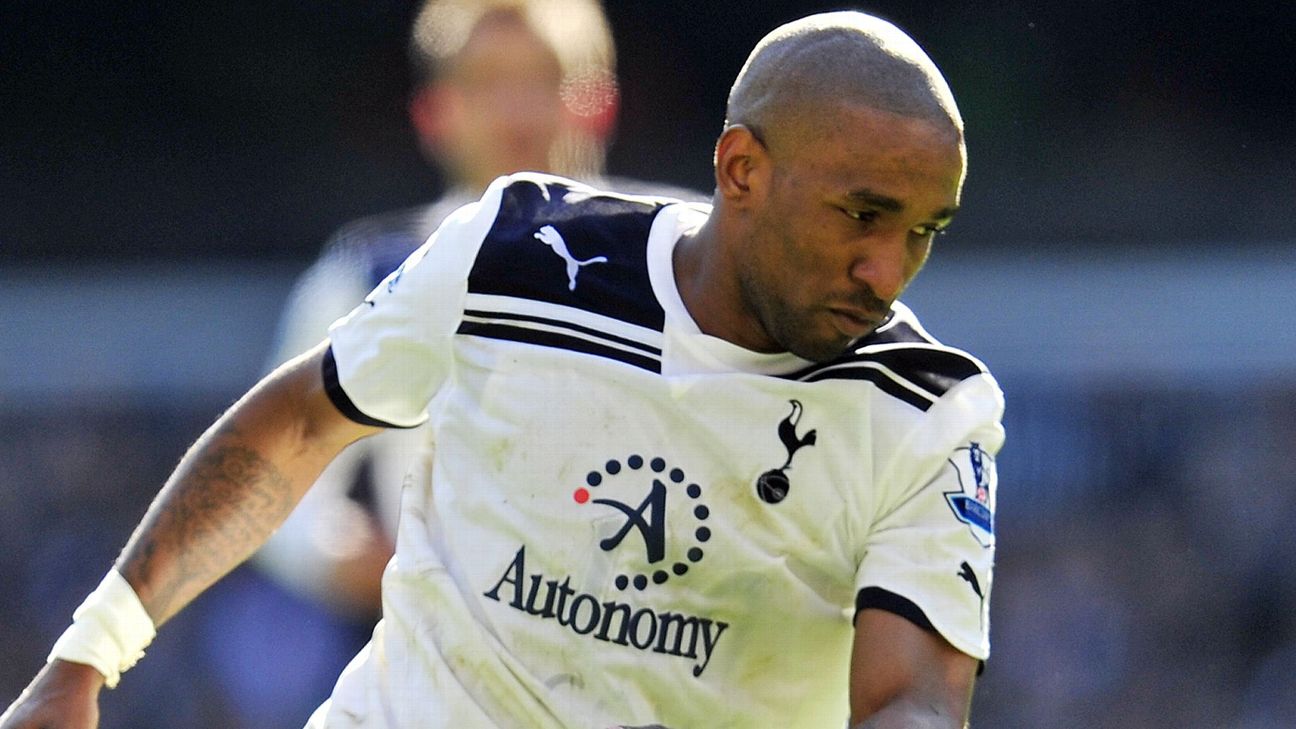 Defoe had a special celebration prepared as he chased his 100th Premier League goal back in 2011.
However, the surprise was somewhat ruined by the fact that the "100 goals" shirt he planned to reveal when he reached the milestone was clearly visible under his white Tottenham jersey when he took to the field against West Ham. The game ended 0-0 and the shirt had to go in the wash.
Defoe was then benched for the following game and then found himself stuck on 99 goals for over a month before he finally find the net again to bring up his century — though the cursed shirt was not worn for the occasion.
"It has been on my mind, a lot," Defoe admitted afterwards. "I think especially the West Ham game. I had the T-shirt on and then I missed a couple of chances. I suppose it's been noticeable, the waiting."
Martin Demichelis (Argentina)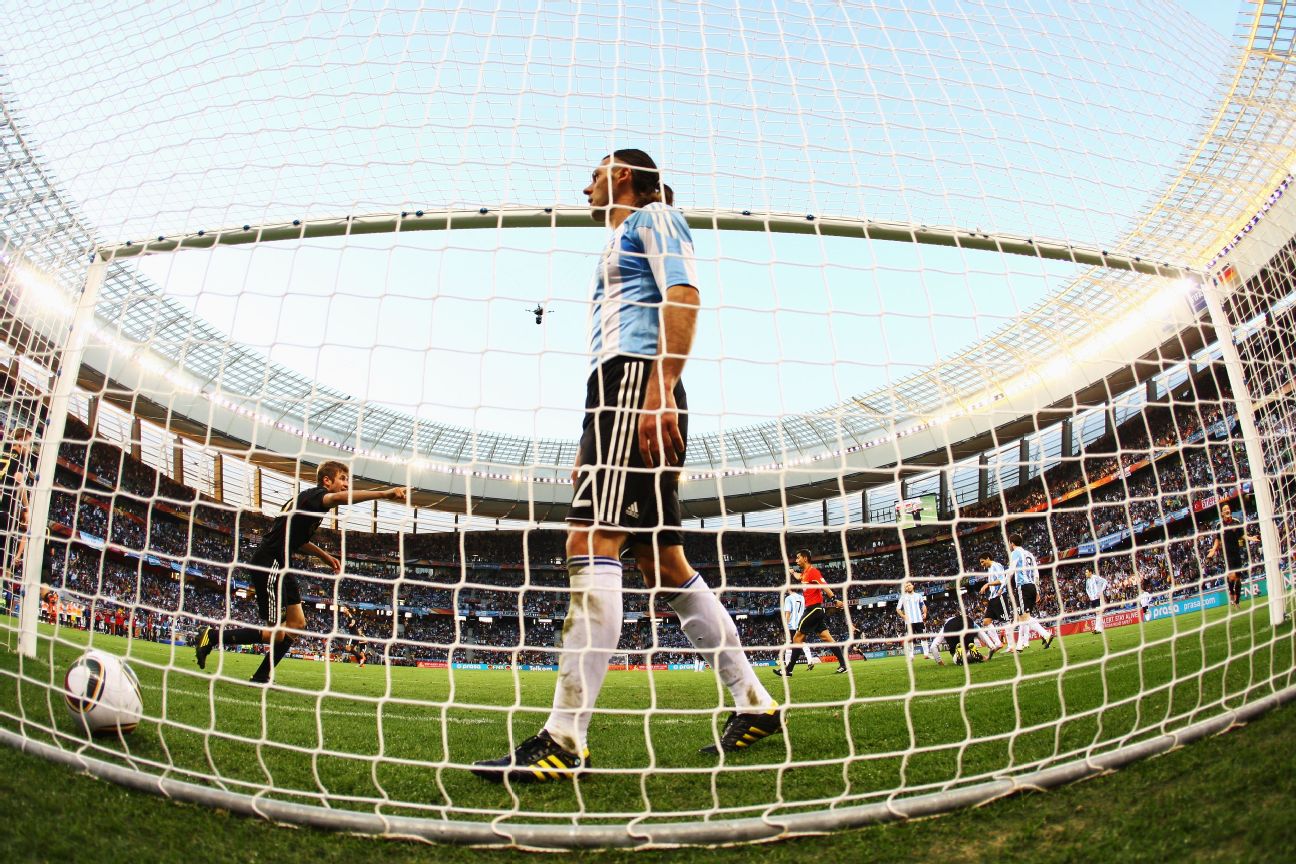 As Argentina geared up to face Germany in the quarterfinals of the 2010 World Cup, defender Martin Demichelis found himself facing criticism for his recent lapse in form.
Instead of taking it on the chin, the Bayern Munich man instead chose to deflect attention by aiming a cheap jibe at John Terry after England's infamous 4-1 capitulation against Die Mannschaft in the previous round.
"Seeing the way Terry played against Germany, if I was Terry I wouldn't be able to go back to my country," Demichelis declared.
With Demichelis anchoring their back four, Argentina promptly lost 4-0.
Bild (Germany)
Hier die offizielle Aufstellung von Italien, heute Abend. #italy #italien# #deutschland #em #em2012 #germany #bild pic.twitter.com/OhkPSGEJ

— post_bote_ (@post_bote_) June 28, 2012
Before the Euro 2012 semifinal between the two of the continent's great rivals, German newspaper Bild tempted fate by creating a pithy graphic of the formation they expected Italy to employ.
The diagram showed the Azzurri all taking their seats on the plane home after being sent packing by Germany.
Unfortunately, things didn't quite pan out that way as Mario Balotelli scored twice in a 2-1 victory that sent Italy through to face Spain in the final.
– Zlatan shares secrets… with Galaxy academy kids
– Chelsea stars troll EA over Abraham's FIFA stats
– Table for two! Messi accepts Ronaldo's dinner invite
Ronaldinho among PSG greats honoured in graffiti
Paris Saint-Germain might only turn 50 next year but the French champions have packed many trophies and star players into their comparatively short history compared with many of their European rivals.
A collection of murals outside of PSG's home of Parc des Princes has appeared and it pays tributes to the Ligue 1 giants — ever-presents in Ligue 1 since getting there in 1974 when they also moved into their current stadium — and most emblematic figures.
Well worth your time & a look when near Parc des Princes 🤩 https://t.co/Jb1p4ZfjHl – Via @CulturePSG 👨🏻‍🎨 #PSG

— Jonathan Johnson (@Jon_LeGossip) September 16, 2019
From the likes of Jean-Pierre Dogliani, through Mustapha Dahleb and Safet Susic, David Ginola, George Weah and Rai, Ronaldinho and Pauleta, as well as Zlatan Ibrahimovic, PSG's near-50-year history has been charted in graffiti style.
Ronaldinho, who played for PSG between 2001-03, was particularly touched by his selection for the tribute and publicly thanked the artists responsible via social media.
Muito feliz em fazer parte desta homenagem e estar na história deste clube incrível, @PSG_inside obrigado por tanto carinho e respeito!!! A art grafite ficou linda, parabéns aos artistas que fizeram bonito 👏🏾 🤙🏾 pic.twitter.com/BG6qHDKMvj

— Ronaldinho Gaúcho (@10Ronaldinho) September 14, 2019
"Very happy to be part of this tribute and part of the history of as amazing a club as PSG," the iconic former Brazil international wrote. "Thank you so much for this affection and respect! Graffiti art is beautiful, so congratulations to the artists, who did such an exquisite job."
Ronaldinho only won the 2001 UEFA Intertoto Cup with Les Parisiens but is still held in high regard by the long-standing PSG faithful for his magical spell.
Current Brazilian icon Neymar is battling to restore his reputation among the PSG fans after failing to secure a summer return to Barcelona. The home fans booed him during the match against Strasbourg at the weekend, but Neymar responded in style with a majestic acrobatic winner late in the game. (Jonathan Johnson)