Products You May Like
"If the ball goes in, everything will change," said Valencia president Anil Murthy.
It was 8:45 p.m. on Tuesday night and just under two hours later, the ball did go in. With 17 minutes left at Stamford Bridge, Dani Parejo's clipped free-kick found Rodrigo Moreno dashing across the face of the Chelsea six-yard box. A small touch, turned inside, was enough and then Rodrigo was off, skidding to his knees and shouting, his teammates running after him. As they ran, there was something strange on their faces. It looked suspiciously like a smile. Nobody had seen one of those for six days.
In fact, they hadn't seen much of the players at all.
– Lowe: Bale won't forget Real treatment
– Marcotti: The upside of Chelsea's transfer ban
– ESPN's Ultimate XI: This team would win everything
Six days earlier, Valencia had sacked manager Marcelino García Toral, the man who had led them to the Copa del Rey, their first title in 11 years and had taken them to Stamford Bridge in the first place: after finishing 14th in La Liga twice in a row, going through seven managers in two disastrous years, he had overseen their return to the Champions League, finishing fourth for two consecutive seasons. They hadn't had a manager this good since Rafa Benitez, who was in charge 19 managers ago. But then, four games into the new season, he had been sacked. There was no footballing reason, and no one tried to pretend there was.
The players had been close to Marcelino and were furious. Ezequiel Garay said what many thought in a message of gratitude to his former manager and anger at the sacking, published on Instagram: "Whoever took this decision didn't just drag you down, they dragged down an entire team and all the fans. And I say loud and clear IT'S NOT FAIR," he wrote.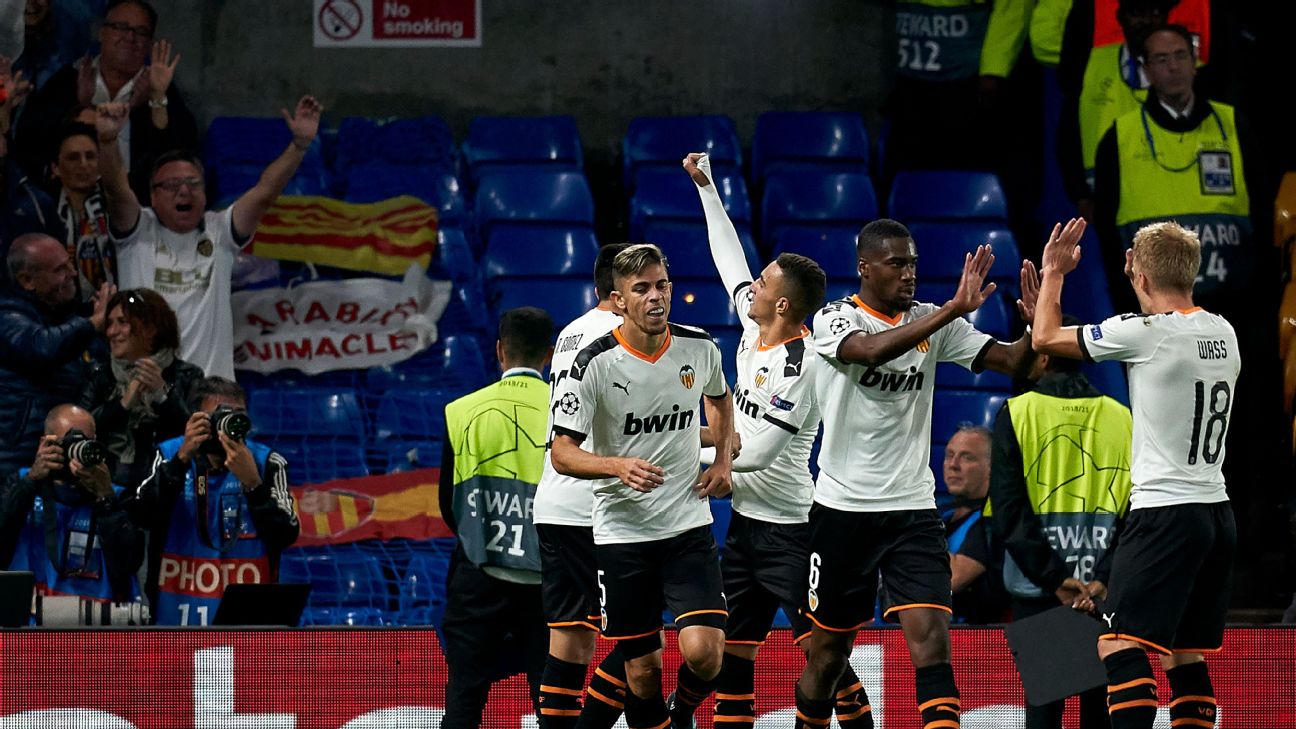 The person who took that decision, they all knew, wasn't the Director General Mateu Alemany or even the president, Anil Murthy, but owner Peter Lim. Murthy had been summoned to Singapore and the announcement followed soon after his arrival. What people didn't know at that point was that Albert Celades had been in Singapore a few days earlier. He was the man chosen to replace Marcelino; it wasn't his fault really, but no-one celebrated his arrival. Not even him: there was little enthusiasm and no joy, not least because it wouldn't have gone down well. Instead, he spoke like a man delivering bad news. Which, in a way, he was.
Celades was also the only one delivering any news at all. Not that he could really say anything that anyone really wanted to hear. Nor was he promising anything new: he couldn't be Marcelino, but nor was he about to renounce Marcelino's way.
On the night that Barcelona played FC Barcelona, eventually losing 5-2 with most of them still trying to come to terms with the sacking, Celades was the only person to appear before the media. The club's president didn't speak, breaking with TV protocol. Nor did any of the players; had they done, they might have said something that only made matters worse, but not saying anything served the same purpose. There was instead a statement that appealed to unity, explained nothing, and really did make things worse, its key message: es lo que hay. That's just the way it is.
In other words: "suck it up."
Five days later, at the prematch news conference ahead of facing Chelsea, there was an empty seat next to Celades, which said much. More, perhaps, than any player occupying it might have dared to do. This time, though, before the game, Anil Murthy did speak. "Let's talk about football," he implored, but most people wanted to know what was really going on. He said that "important things" had happened in the summer, but didn't say what they were. He would do in a few days, he said, but now was not the time… even though it absolutely was the time.
Murthy tried to suggest that the media — the prensa amarilla or "yellow press," he called them, claiming to have just learned the phrase — was partly to blame, using the oldest trick in the book by reaching for the easiest external enemy.
"All the summer the fans have been victims of some members of the press, and it's not new," he said. "I said two years ago that the club wants its own voice to [communicate with] fans. Journalists want to wind up things for their own benefit, not the club's." Because it's the media's job to benefit the club (and for "club" read "its owners"). And because it was the media who just sacked their manager. Of course.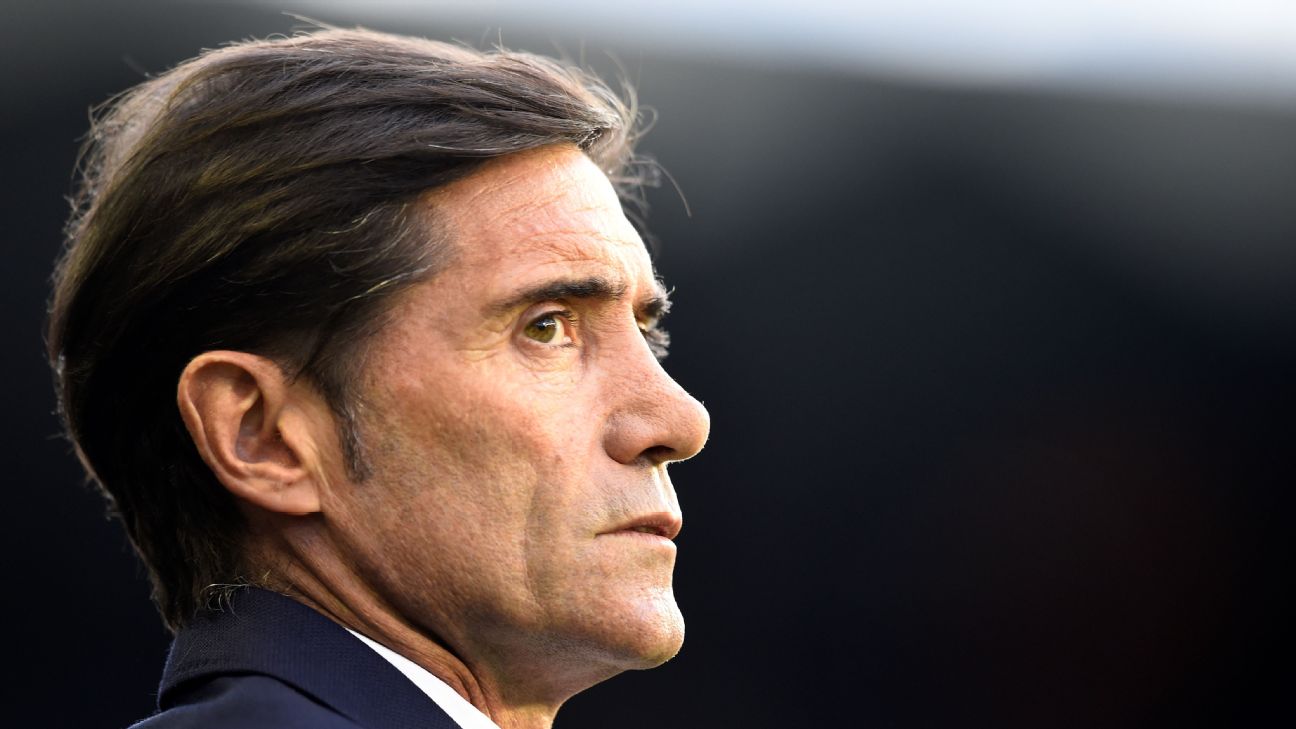 "We want things to go back to normal," said Murthy. "Normal was Marcelino being successful," someone said to him. "We've been here for five years, and there have been protests for two. And we're still here," said Murthy. Es lo que hay.
He also noted, the hint of a threat in there, that this was a World Cup year; the players would want to play well. "If the ball goes in, everything will change," he concluded. That was optimistic on both counts. On one of them, though, it proved to be right.
Valencia won 1-0: a superb, unexpected start to their Champions league campaign. There were smiles. Afterwards, there were words too. Captain Dani Parejo broke the silence by speaking on behalf of all of them, seeking to leave this behind them: a diplomat, he said he wanted a "happy atmosphere back."
But no, not everything had changed. It had been a "difficult situation," he said and it still was. This wasn't normal yet, however normal sacking a manager is — and yes, Murthy really had said "the players are professional, I don't think they have problems with the change of coach; they have seen many changes of coach."
Yeah, especially at Valencia. Marcelino had gone, and they clearly did have a problem with it. Some of his staff have gone too and more will follow: technical secretary Pablo Longoria is likely to be out soon. Mateu Alemany, the director general who neither decided on the sacking of the coach nor his replacement and who didn't even know about either decision, in fact, will soon go. Together, Alemany and Marcelino were credited with bringing stability back to the club. Now there is chaos once more.
At Valencia's presidential level there were doubts about all three men, about the decisions they took and in whose interests, suspicions similar to the ones some fans had about him, curiously enough. There was a hint of that in Murthy's words: "important things happened this summer." A sense that while football did not explain it — no one challenged the results, the reality on the pitch — there was a reason to get rid of him, albeit one that few expect them to publicly explain. It sewed the idea that there was something else beyond the public battle in which Marcelino had increasingly challenged the club's owners, particularly over the construction of the squad. It would not be too much of an exaggeration to say that at times he was effectively challenging them to sack him.
So they did.
There was discomfort there, a battle for jurisdiction that was always going to be won by an owner, all the more so when the battle became framed as "Marcelino good, Lim bad." The success was portrayed as the coach's not the owners. Geography fed into that; Lim was in Singapore, Marcelino and Alemany in Valencia. That made it easier for the media and fans too. For a man who has invested, who is proud, that's galling. For a man who can see insubordination, it requires a response. Peter Lim reasserted his authority, rose to Marcelino's challenge.
When he did, he saw again that most people were on the manager's side. He has few allies. But he does have one thing going for him: he is the owner. Es lo que hay. The players spoke, then fell silent. The window had closed, there was nowhere they could go now, they were stuck. And there might be something in that which explains the timing. They reacted furiously but then weren't prepared to say more and in doing so, they said it all. They let their feelings be known, telling Murthy on the eve of facing Chelsea. They wanted an explanation too. But they also wanted to win; it is what they do, after all: go to games, compete. And the ball did go in. Not everything changed, but that did.
"Let's play football," said Murthy.