Products You May Like
The 2023 Women's World Cup is in full swing, and these daily files give you the latest reporting from around the tournament as well as betting lines, what-to-watch-for information and best reads. Check in with ESPN throughout the tournament as we bring you the latest from Australia and New Zealand.
---
The lead: England too strong as Australia fall short
SYDNEY, Australia — The Matildas captivated a nation during their best run through a Women's World Cup, but against a superior England side, the magic ran out.
Not even the sea of 75,784 fans at Stadium Australia — most of them in yellow shirts and rooting for Australia — could change the tide as England bested the co-hosts 3-1.
Ella Toone put England ahead in the first half, and after Australia's Sam Kerr equalised in the 63rd minute, Lauren Hemp's goal eight minutes later effectively decided the contest, before Alessia Russo added one more just to dash the hopes of the home fans.
England will now face Spain in the final on Sunday in Sydney.
– Women's World Cup: Landing page | Bracket | Schedule | News
As a remix of "Sweet Caroline" played and England stars danced, the Australia players stood on the pitch after the whistle blew, seemingly stunned their magical run was over. The players eventually walked the perimeter of the field, some of them with tears in their eyes, as fans cheered for Australia's best finish in a World Cup, with a third-place game still to come vs. Sweden on Saturday.
From the get-go, Stadium Australia was ready to explode, with loud roars every time Australia beat England's press or Aussie goalkeeper Mackenzie Arnold made a routine catch.
But England, ever the party spoilers, opened the scoring off a Rachel Daly throw-in in the 36th minute. Hemp received the ball and passed to Russo along the endline. Russo moved the ball on to Toone, who blasted it into the far upper corner from 12 yards out — an impossible save for Arnold to try to make.
Kerr, in her first start of the tournament due to a calf injury, breathed life into the Matildas shortly after half-time. She dribbled toward goal, and then from 25 yards out decided to take her chance. It took a slight deflection off England defender Millie Bright, but it was well out of the reach of goalkeeper Mary Earps.
At half-time, surely every pundit and super-fan had prepared their takes that Kerr shouldn't have started, especially as manager Tony Gustavsson had done everything right to get the team to this semifinal without her. The Matildas had an undeniably slow start in this semifinal, with the exception of an early chance that Kerr scuffed. But Kerr is considered one of the best players in the world, and Gustavsson possibly saw an opportunity to surprise his opposite number, Sarina Wiegman.
If Kerr had scored on her breakaway opportunity in the seventh minute, the game could've gone very differently. And perhaps if Kerr had played more and gotten a goal under her belt prior to this semifinal, she would have scored it. Kerr is a player you'd have bet on putting away her chances, and her second-half goal did plenty to justify Gustavsson's selection. That she even had the confidence to try such a shot showed why she is a crucial player for Australia.
The Lionesses retook their lead in the 71st minute. On a long ball from Bright, Hemp got the better of Australia's Ellie Carpenter, muscling her off the ball and shooting on goal. Arnold got a piece of it but couldn't stop it.
It quickly became clear that England — even when missing several players through injury or suspension who would have started — were probably the most complete team Australia had faced up to this point.
On the day before Wednesday's semifinal, Gustavsson said that England were massive favorites — and it can't necessarily be considered excuse-making or expectation-dampening because what he said was undeniably true. But it's not as if Australia didn't have chances to win this game. Up until England's third goal — the final dagger that put the match out of reach for the Matildas — the home side had a flurry of close chances they could have put away.
In the 82nd minute, Mary Fowler delivered a lovely cross into the box on a string, but Kerr put her header wide. A minute later, a Cortnee Vine shot forced Earps to dive and push the ball wide; Emily van Egmond was close to getting to it. A minute after that, Kerr tried a volley from the top of the 6-yard box but knocked it over the bar.
But then Russo scored in the 86th minute, all but putting the game away.
This run will forever be remembered in Australian football history, and it could mark the moment when the Matildas truly arrived as a global power in the sport. But it's over now, and either England or Spain will become a first-time World Cup champion. — Caitlin Murray
---
Sights and sounds
England left with James dilemma after reaching final
England are now preparing for their first appearance in a Women's World Cup final, but Sunday's game against Spain now presents a thorny dilemma for Wiegman.
With Lauren James available again after serving a two-match suspension for stepping on an opponent during England's round-of-16 win against Nigeria, Wiegman must decide whether to change a winning team by restoring a player with a genuine X-factor or sticking with the side that has reached the final in the Chelsea forward's absence.
Toone has stepped in for James and the Manchester United player set England on the way to victory in Stadium Australia with a stunning first-half goal. Toone doesn't possess the same skill-set as James — she is industrious rather than mercurial — but she is a genuine big-game player who delivers in the key moments.
Toone scored in the Euro 2022 final win against Germany, in the Finalissima victory against Brazil earlier this year, and she did it again to break the deadlock against the Matildas.
Wiegman has gone through this tournament making as few changes as possible, so she has a big decision to make about James. Her indiscipline could have ended England's hopes against Nigeria, but the Lionesses held on with 10 players to eventually win on penalties.
Can Wiegman trust James' temperament on the biggest occasion of all? And does Toone really deserve to lose her place? Wiegman is the highest-paid coach in the women's game and making the big calls is why she gets the big bucks. — Mark Ogden
Kerr's genius not enough to carry Australia
The moment that Kerr's long-range piledriver found the back of the net, it felt like Australia would inevitably go on with it. A slight deflection off Bright be damned, for everyone in the stadium, be they in the stands, in the dugout, or on the pitch, Australia's captain had seemingly just decided that as she's one of the best players in the world, she wasn't going to let her country go out of a home World Cup like this.
It was a legendary moment of magic that promised to live through the ages. But then the magic died; a calamitous error at the back from two players that have won so much adoration from Australian fans in Carpenter and Clare Hunt was ruthlessly punished by Hemp. It snuffed out any sense of momentum just eight minutes after Kerr's strike and again put the hosts in a hole.
In a game in which England were again asked questions by their opponents, they had the answers. They adapted, responded and found a way. And that, perhaps, will be one of the lessons that the Matildas and their coach Tony Gustavsson will take from this tournament.
Be it in personnel, formation or approach, Wiegman — in stark contrast to England's run of consistency to Euros success — has shown a constant willingness to adjust throughout this tournament. In contrast, while Gustavsson did perform admirably in accounting for the loss of Kerr at the start of the tournament, his side's ability to thrive was largely dependent upon being able to play with speed and in space. England can counter, but they can also control games with the ball. That, perhaps, is the next evolution for this Australian side. — Joey Lynch
Australia, New Zealand eye men's World Cup after '23 success
New Zealand is ready to partner Australia in a potential Asia-Pacific bid to host a future FIFA Men's World Cup following the success of the Women's World Cup in the two nations.
Auckland's Eden Park hosted a sell-out semifinal between Spain and Sweden on Tuesday, ensuring that New Zealand's four host cities — Auckland, Wellington, Hamilton and Dunedin — broke the 700,000 barrier in total attendances, smashing pre-tournament expectations.
Australia missed out to Qatar in its sole bid for the 2022 World Cup, while the 2030 edition is expected to be hosted in Europe or South America.
The earliest possible date for Australia and New Zealand, possibly in partnership with Singapore and Malaysia, to host a Men's World Cup would be 2034, but New Zealand Football CEO Andrew Pragnell says the past month has sparked an ambition to host the men's tournament.
"From my perspective, it is not a question of if, it's a question of when," Pragnell said. "One of the direct consequences of both the bid and the hosting of the Fifa Women's World Cup is a strengthened relationship between ourselves and Football Australia.
"We are both obviously rapt with how the tournament has gone. FIFA are over the moon and couldn't be happier also. We've shown what we always knew that, we would host the best-ever women's World Cup.
"It's only natural that at some time in the future we would host a men's World Cup. It's likely to be some sort of Asia-Pacific partnership, and I would see Australia and NZ as a foundation of that, for sure." — Ogden
Sydney sold out
Sydney was a vision of Green and Gold for the semifinal, with the official Fan Festival in Tumbalong Park filling with fans three hours before the game, guaranteeing standing room only, colours on show as far as the eye could see.
The two-storeyed fan store was now beginning to look bare, with the bulk of the official Matildas kit gone from the shelves — so too almost all the Australia merch. Those who work in the store were repeatedly forced to tell fans that the only things they have left with AUSTRALIA blazened upon them are generic t-shirts, and even they were beginning to look a little thin on the ground. It doesn't stop fans the though, faces lighting up when they spy brilliant yellow clothing, only to have hopes dashed upon seeing JAMAICA, SOUTH ARICA, SWEDEN or BRAZIL etched across the t-shirts, hats and hoodies.
You don't have to go far in Sydney without finding someone clad in Australian gold, layered over hoodies or peeking out behind open jackets. Then there are the Matildas beanies that dot along tram platforms, and broad Australia scarves that sit relaxed on necks waiting for traffic lights to change. For a tournament remembered for rain across two nations and cold winter nights, the golden glow is represented in shirts and scarves of the co-hosts. — Sophie Lawson
---
News of the day
– An Australian newspaper printed pictures of a private England training session taken from a helicopter on the eve of the teams' Women's World Cup semifinal. Australia's Daily Telegraph printed an article with the headline: "Exclusive photos from England Lionesses' training session ahead of World Cup semifinal." The newspaper added: "If England's Lionesses thought they would happily fly into the World Cup semifinal under the radar they were in for a rude shock. We've sent the chopper up to see how the old enemy are preparing."
---
Final predictions
Spain vs. England: Stadium Australia, Sydney; 8 p.m. local / 6 a.m. ET / 11 a.m. BST
It will be a real clash of styles in the final. European champions England are tough, organised and predictable under Wiegman, and they know how to win. But Spain are the team with the flair and individual brilliance of Salma Paralluelo and Alexia Putellas, who is still searching for top form after a long-term cruciate ligament injury. England have the winning pedigree, but Spain are the developing team and if Paralluelo shines, La Roja will win. Spain 2-1 England. — Ogden
Spain against England. An all-European World Cup final in Sydney to determine the champions of the world. The technical brilliance of Spain against the resourcefulness and adaptability of England. Looking at the way the two teams have played in this tournament, something has got to give with both being ball-dominant sides. I can't see Spain giving up possession and playing on the counter. Wiegman, though, is one of the best managers in the world and I fully believe she'll have a plan ready that can come through. Spain 0-2 England. — Lynch
The team I've wanted to win has lost ever since the knockout rounds started — the United States, Sweden, now Australia. Based on that alone, it seems Spain will win. The players are incredible to watch, but knowing about the issues the players have had with manager Jorge Vilda and the lack of support with their federation makes it hard to fully back them. That said, the Spanish team's ability to dictate play and score at will is undeniable. La Roja has two of the very best players in the world in Aitana Bonmatí and Putellas, and they play like it. I think it'll come down to execution, and the Spanish players are just better. Spain 2-1 England. — Murray
---
Features of the day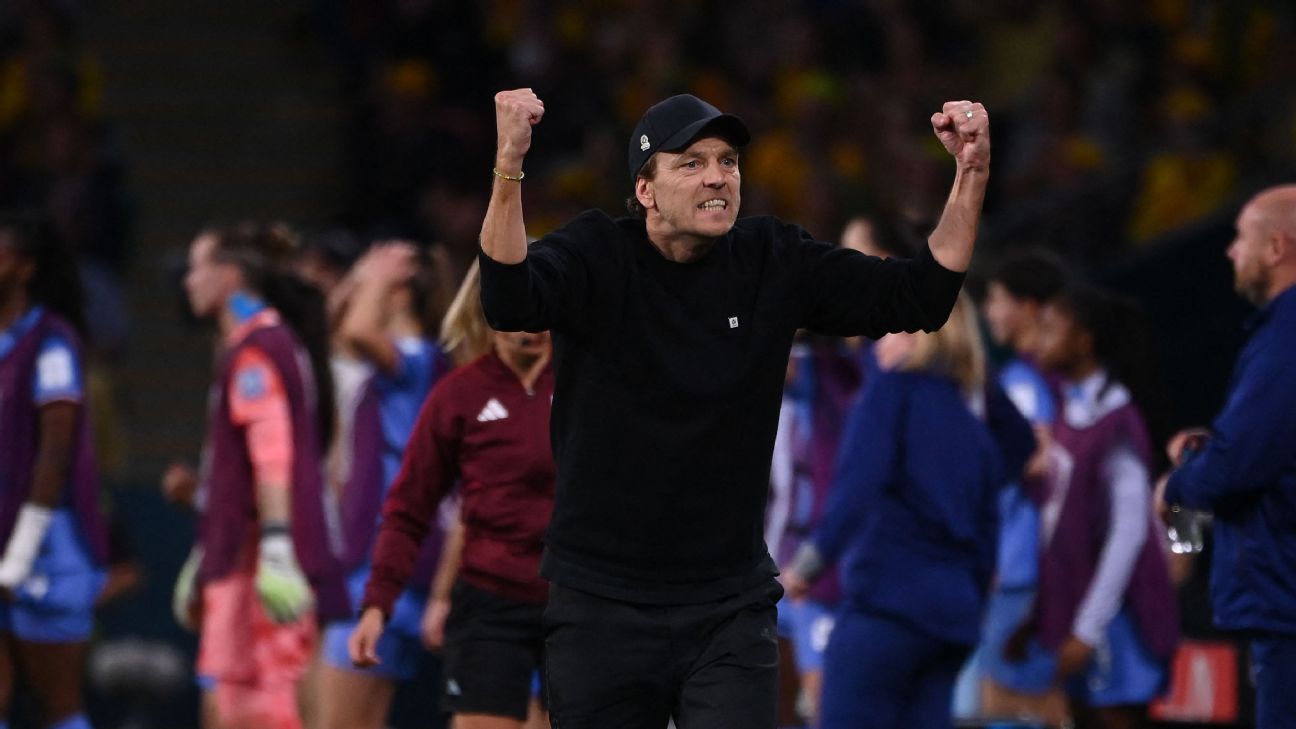 How Gustavsson applied USWNT learnings under Ellis to Australia's World Cup push
Tony Gustavsson's first head-coaching job at the national team level is with Australia, who have focused their energy and been versatile in the face of issues and injuries to stand one game from the World Cup final.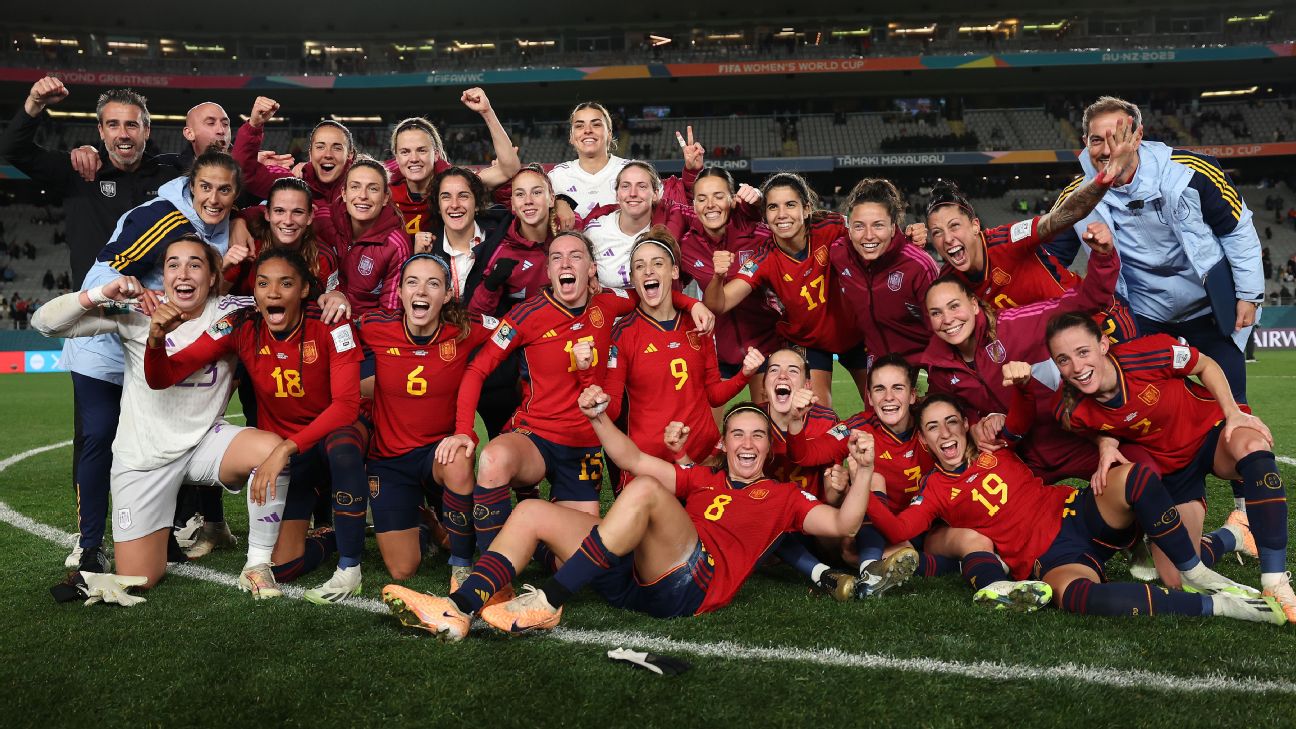 Spain have passed every test to reach Women's World Cup final
Spain had never won a knockout tournament match before this Women's World Cup. Now they're one win from the trophy after withstanding every challenge.
---
And finally …
England supporters flocked to one of the Boxpark fan zones to cheer on their team in the semifinal against Australia.
This time there was no scenes of flying beer glasses as Toone produced her stunning finish to give the Lionesses the lead.
England fans go wild after Toone's stunner
England fans in London celebrate Ella Toone's incredible strike that put her side 1-0 up vs. Australia.