Products You May Like
Missed some of the action around Europe this weekend? Have no fear: Gab Marcotti is here to catch you up with all the talking points in the latest Monday Musings.
Jump to: Bayern reboot without Kovac | Balotelli abused | Liverpool, Man City slipping? | Roma add to Napoli woes | Andre Gomes' serious injury | Barca slump at Levante | Dortmund fight back | No progress at Man United | Sociedad are for real | De Ligt is Juve's hero | What is Emery doing? | No positives for Real | Leipzig score eight! | Berlin derby drama
Kovac era finally ends at Bayern
The fact that Nico Kovac's future was in doubt after a season during which his team won the Double — and knowing that had the right candidate been available, Bayern would have replaced him in June — makes what happened Sunday rather less surprising.
Kovac and Bayern parted ways — sources close to him say he offered his resignation and they did nothing to persuade him other ways — and while it's tempting to point to the 5-1 humiliation they suffered on Saturday at the hands of Eintracht Frankfurt, it goes well beyond that.
This team has struggled both to play well consistently and to develop an kind of identity. When they have won big, it has been often either down to the futility of the opposition or because they simply have far better individuals than the opposition. This is what happens when you're one of the four richest clubs in the world. Plus, of course, this season he's also had the benefit of an out-of-this-world Robert Lewandowski, whose absurd torrid scoring streak continued this weekend: he's up to 20 goals in 16 appearances across all competitions.
That's why you can't simply look at results when judging a manager's work. And the question you should ask isn't "is this guy hitting his targets?" but rather "can we get somebody else to do the job better?"
Did Kovac have mitigating factors? Sure. He spent the summer building a certain type of team and then had Philippe Coutinho dropped in the middle of it, two weeks after the start of the season. Coutinho's a great player, sure, but entirely different from the one who had been earmarked for that role. Injuries didn't help either, especially at the back, where he lost Lucas Hernandez and Niklas Sule for the long term. Handling Thomas Mueller and his "managed decline," whether real or imagined, was also something he probably would happily have done without.
Then there's the long shadow of Pep Guardiola, against whom all subsequent Bayern coaches (including Carlo Ancelotti) have been judged. It's a tough standard to live up to and as often happens, there's a fair amount of rose-tinted spectacles at play here.
Bavarian media make a big deal out of this, how the players supposedly felt Kovac's training sessions and approach were unimaginative and amateurish compared to Guardiola's, though that seems a bit of a cop out, too: Guardiola left in 2016, which means less than a third of the squad actually worked with him. But hey, it's Bayern. You'll always be benchmarked against their illustrious past (and Guardiola is a part of that). It's not supposed to be easy. It's supposed to be hard and Kovac simply didn't show that his work was going in the right direction.
Now the focus shifts to his successor. The usual suspects are out there and, on paper, the most illustrious names don't appear a great fit: Arsene Wenger is used to having near-total control, which is a non-starter at Bayern, Max Allegri is supposedly on sabbatical this season (and his football is hardly Guardiolaesque) while Jose Mourinho (come on now…) is also "available."
Then there's Erik ten Hag, who spent time as a youth coach at Bayern and is a better fit in some ways, but getting him out of Ajax in midseason seems a long shot. Plus, lest we forget, this time 12 months ago there were some in Amsterdam calling for his head.
The other plausible big name is Ralf Rangnick, who has sort of had a long-distance flirtation with Bayern for much of his career and who would, ideologically, match where Bayern want to be. He oversees all the Red Bull clubs right now in a director of football role. Again, you'd be talking about forcing a mid-season move, which is never easy, plus you risk running into a Wenger issue: would you accept lack of total control and big personalities like Uli Hoeness in your grill when you're in your sixties?
Bayern have appointed Hans-Dieter Flick as interim boss. He was Jogi Low's long-time assistant with Germany and has the appropriate level of gravitas. He was on Kovac's staff, albeit only since the summer so he's not necessary tainted either. The best thing Bayern could do right now is leave it in Flick's hands for as long as you can while you find a long-term solution. Which, if results and performances turn around, might end up being Flick himself.
Balotelli abused in Verona. Will proper punishment follow?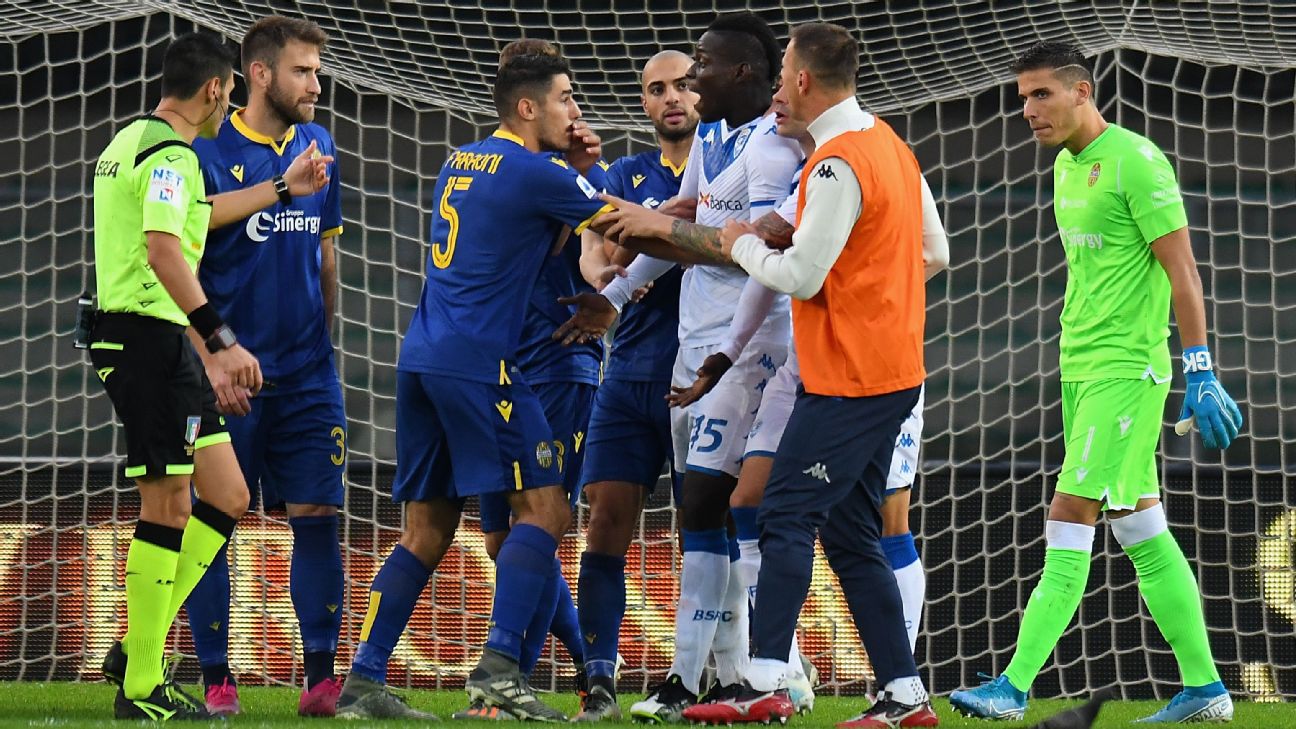 It happened again. Ten minutes or so into the second half of Brescia's match away to Verona on Sunday, Mario Balotelli was subjected to monkey noises while he dribbled close to the corner flag. On television and for most in the ground, the abuse was inaudible. Plenty nearby heard it, however, and it's chronicled on video taken from the stands. He reacted by smashing the ball into the stands and looking as if he was going to walk off the pitch.
The whole incident felt familiar and again, we heard the same arguments.
Verona coach Ivan Juric said "it didn't happen, it's lies and s—." (We'll give him the benefit of the doubt that you didn't hear it — most did not — but maybe next time, since you're not omniscient, simply say "I didn't hear it" rather than instantly blaming the victim.")
Verona president Maurizio Setti said "our fan base isn't racist but if it happened, I apologize to him, we'll take action. But we can't screen 20,000 people."' (Enough with the "if it happened" crap. The laws are pretty clear. You're responsible for the behaviour of the people to whom you sell tickets. If you don't like it, go find something else on which to spend your money.) And because stories like this quickly go global, the counterpunching, via social media and elsewhere soon followed.
Yes, Balotelli did the right thing by addressing the issues and even scoring a goal. (Brescia ultimately lost, 2-1.) But whether or not he scores or plays well is not the "best response" to racist abuse. It's not a response at all. It's a guy doing his job.
If there is a shred of comfort to be taken here, it's that referee Maurizio Mariani did exactly what he was supposed to do. He didn't hear the abuse himself but it was quickly reported to him and he applied the protocol (which, in Serie A, is just two steps rather than three). He suspended the game, he called the players to the middle of the pitch and the loudspeaker announced that if it continued, everybody would walk off and Verona would forfeit the game. It did not happen again.
Too often referees in Serie A have been unwilling to apply the protocol. Which, while not perfect, is the best tool to achieve the immediate goal: ensuring players are not racially abused on the pitch. It's critical that they be supported in this for the simple reason that not every target of abuse has the standing of a Balotelli. And by putting his faith in the protocol he's sending a crucial message: let's trust in this and let's report abuse when it happens because the referees and institutions will back us up.
Now, of course, it's up to the institutions to their part. Legally, responsibility rests with the Italian FA's disciplinary office. That's not encouraging because it means a slow-moving, bureaucratic mess. Given that sanctions are based on the percentage of a particular stand that is involved, it looks unlikely that there will be any partial stadium closure, let alone a full one.
While we wait for them to fix their broken system (or not), it's critical that others step up. The league should exercise its influence over clubs, particularly guys like Juric who spout nonsense. Maybe even take legal action against them for hurting the brand. The FA is rumoured to be working on a plan to install enhanced CCTV, body cameras and drones to identify individuals. That's a start — though again, nobody is holding their breath — but it will be meaningless if it's not followed by action.
These are complex issues without easy fixes. Knee-jerk carpetbaggers swooping in with instant burn-it-all-down solutions (and then swooping out) are almost as damaging as those who perpetually misunderstand the issue, not just in Italy but across Europe. You may want to listen to the podcast we did with FARE's Piara Powar, whose organisations studies the subject. . Or you can sit at your keyboard and tap away angrily.
Are Liverpool, Man City slowing down?
With less than a week to go to the top-of-the table, Jurgen Klopp vs. Guardiola Premier League extravaganza, both Liverpool and Manchester City had to come from behind to seal all three points. And it's not the first time either that they're showing signs of wear.
Manchester City went a goal down at home to Southampton and Sergio Aguero's equaliser 20 minutes from time was their first shot on target before Kyle Walker scored the winner in a 2-1 victory. Liverpool had to wait even longer after conceding to Aston Villa away: Andy Robertson (three minutes from time) and Sadio Mane (in injury time) turned it into a 2-1 win of their own.
There's a tendency to talk about how wonderfully resilient these two teams are in scoring late goals, especially ones that appear "lucky." Some on social media trotted out the old line "the more I practice, the luckier I get," which is another way of saying they outwork teams. Maybe so, but it could also just be a numbers game.
It's true that they score a disproportionate number of goals (one fifth of their league total) after the 75th minute, but so do most teams. It's just the nature of the sport: well, that and the fact that it includes injury time at the end of games. Liverpool and City score more than most and win more than most, therefore it's not surprising they score late. It could be down to some magical mental toughness or it could be down to opponents tiring (which is what happens against more technically gifted sides), but equally it could simply be down to the fact that they're better and more likely to score at any point in the game, including the final 15 minutes.
It's also worth noting that while these turned out to be tight games, they were one-way traffic for most of the match. And in Liverpool's case especially — think Bjorn Engels' handball and Roberto Firmino's disallowed goal — it came down to marginal officiating/VAR calls.
Roll on Sunday's meeting at Anfield.
Drama at Roma overshadows impressive win
Verona wasn't the only Serie A ground where the anti-racism protocol was used. A portion of the Roma support sang offensive songs about Neapolitans during Roma vs. Napoli on Saturday and referee Gianluca Rocchi did what he was supposed to do: halt the game, take the players into the center circle and have the stadium loudspeaker announce the match will be abandoned if it happens again.
The protocol for this is the same as for racism, homophobia and anti-Semitism. In other words, the laws are tougher than elsewhere but it does you no good to have tough laws if you're unwilling or unable to apply them.
On the pitch, Roma's bounce-back continued as they won 2-1. Necessity is the mother of invention and Paulo Fonseca's decision to use Gianluca Mancini in midfield continues to pay dividends. As for Napoli, this was a step back compared to recent outings in which they played well but struggled to capitalize. All of it is catching up with them as they slip out of the top four.
A word on Andre Gomes
Andre Gomes' injury was a chilling reminder in Sunday's 1-1 draw between Everton and Tottenham that this is an athletic pursuit and a contact sport, with the risk of catastrophic injury is ever-present. Careers can end in a blink of an eye, which is why you pray that we'll see him out there again soon.
The horror of the moment and maybe the harsh reminder of the above helps explain the reaction of Son Heung-Min and others immediately after it happened. It's maybe a sign of the times that Son's state of mind received almost as much coverage as Gomes' condition. (On Monday, it was confirmed he'd be out until next season following a successful surgery on his fractured ankle.) Maybe it's because we can all relate to Son to some degree more so than Gomes' plight, which is the sort of horror we'd rather not contemplate.
Barcelona slump at Levante
It looked like Barcelona were on a mini-streak, with seven straight wins across all competitions and just four goals conceded. But it came crashing down away to Levante in the form of a 3-1 defeat that saw them concede three times in seven minutes.
Blame individual errors — mostly from Gerard Pique, who turned in once of his worst outings in recent memory — and blame Ernesto Valverde, who seemed to underestimate the opposition in leaving out Jordi Alba and Sergio Busquets. It's nothing terminal; they have the tools to bounce back right away. But they've now lost as many games (three) as they did in La Liga all season last year. And they'll be without the injured Luis Suarez until after the international break.
Maybe Dortmund aren't finished yet…
It says a lot about the compressed, chaotic nature of the Bundesliga that Borussia Dortmund — who had won once in their last five and, more importantly, had generally been poor for the past six weeks — can win a game and leap into second place. That's the good news: everything is wide open both domestically and in Europe. That, and a second half that saw them turn it around against previously undefeated Wolfsburg and go on to a 3-0 win without Paco Alcacer, Jadon Sancho and Marco Reus (who went off injured within half an hour).
The flip side is that it took them ages to break down a deep-lying Wolfsburg side. And while Thorgan Hazard is showing signs of life, defensively there are still issues. Lucien Favre celebrated his birthday over the weekend: that second half may have been the perfect gift ahead of a massive week which sees them take on Inter in a key Champions League game and then travel to face a Bayern side in flux next Saturday.
Solskjaer's running out of excuses
Ole Gunnar Solskjaer called Manchester United's 1-0 defeat at Bournemouth "a step back." Implied, you'd assume, was that he considered what came before — a home draw with Liverpool and road victories against Partizan, Norwich and Chelsea — to be a step forward. It wasn't. In fact, it wasn't much of anything unless all you judge is the scores.
Man United's draw with Liverpool featured the sort of defend-and-counter football you can play against big teams and nobody else. Beating Norwich away worked because Daniel Farke tries to play like a big team with ordinary players. Winning at Partizan had two guys making their first start and, at best, five regulars. Chelsea away was B-team Carabao Cup nonsense.
Bottom line? Bournemouth away was a far better test. Premier League midtable talent and a manager who will throw curveballs to gain an edge. And United turned in an uninspired performance, losing 1-0. The focus ought to be on days like this rather than the endless excuses about the number of transfer windows Solskjaer needs in order to turn things around. Right now, simply executing and showing a coherent approach would be enough of a turnaround.
Real Sociedad are a legit title contender
It's true: Real Sociedad are for real. And not just because, after winning 2-1 at Granada, they sit atop La Liga alongside Barcelona and Real Madrid (who, of course, have a game in hand due to their rescheduled clasico). More telling is the fact that they play with a delicious blend of energy, toughness and, yes, fun.
They went away to Granada without Martin Odegaard (not just their star player, but arguably the Player of the Year in La Liga thus far) and gritted out a huge 2-1 win. Scan the team and what strikes most is that beyond a genuine gem of a young winger (Mikel Oyarzabal), the side is full of talented guys who failed to make the grade elsewhere and now have a point to prove: Odegaard, Mikel Merino, Willian Jose and Alexander Isak.
They're hungry and, to paraphrase Eagles lineman Jason Kelce, "hungry dogs run faster."
De Ligt in the headlines as Juve win Turin derby
It's becoming a weekly thing. Matthijs de Ligt is a big boy with big arms and, as such, he seems to have a penchant for getting his limbs in the way of shots. It happened for a fifth time in the derby against Torino. Unlike some of the previous calls, the referee was correct not to award a penalty partly because his arm was closer to his body and partly because there was a deflection immediately before.
De Ligt earned his bacon at the attacking end, scoring in a tight 1-0 derby win against an uncompromising opponent. Cristiano Ronaldo was quiet, Juve were patchy and this felt like the sort of victory they would often get under Max Allegri. There's nothing wrong with that, as long as it doesn't become a habit.
What is Emery doing at Arsenal?
Every week that passes, you understand Unai Emery less and less. Against Wolves at home, he gave Mesut Ozil his first league start since mid-September and the German played 90 minutes for the first time in nearly six months. It finished 1-1 and while Emery talked about how the game was "equal" and Arsenal didn't concede much, the numbers say otherwise: they were out-shot 24-10 and the xG favoured Wolves by some margin.
Whether it was an olive branch for Ozil or some sort of restructuring of the side, it's tough to see how this ends. It's also counter-intuitive to add an €80m winger (Nicolas Pepe) and then have no place to play him because Ozil mandates that you line up in a midfield diamond.
Trust in Unai, but still…
Another rough weekend for Real Madrid
A scoreless home draw against Real Betis — who had taken just four of the previous 15 points at stake and whose manager, Rubi, seemed on the verge of the sack — is nothing to write home about and a spurned opportunity to leap to the top of La Liga for Real Madrid.
Then again, in terms of performance, there were plenty of positives. Eden Hazard continues to grow and the much-maligned (by some) Thibaut Courtois pulled off an outstanding save. There's stuff to work on — I'm not sure about the continued insistence on Rodrygo in the front three while Luka Modric, making his second start of the season, isn't yet what he was — but it's by no means a tragedy.
Can Leipzig really win the Bundesliga? (Answer: yes)
Leipzig put eight goals past Mainz just a few days after scoring six (away) to Wolfsburg in the German Cup. Timo Werner scored a hat-trick and set up another three goals in the process. Take it with as much salt as you like, but remind yourself that this is Julian Nagelsmann's first season in charge.
When they turn the screws and ratchet up the intensity, few teams in Europe are as relentless as Leipzig. That's the Rangnick way, though it can also be a double-edged sword over a long season. Keeping them ticking over while playing at this pace all year long will be a challenge, but also, possibly, the key to a Bundesliga title.
Berlin derby full of drama on and off the pitch
There's a rich history to the Berlin derby and a significance that goes way beyond football and into politics, culture and the madness of the cold war. So it's not surprising that the first meeting between Union and Hertha happened this weekend amid massive hype and anticipation.
The game itself was humdrum — Union won 1-0 — the spectacle in the stands showcased some of the best of German fan culture right now, light years from the corporate atmosphere in so many grounds elsewhere. On the flipside, it also features excesses: the game was halted when Hertha supporters fired flares on to the pitch.
Can you strike a balance or are they two sides of the same coin? I don't know, but I sure as heck hope somebody figures out how to do it.