Products You May Like
Hang on a minute, is that … are they whistling Koke?
Koke, the kid in that photo with his idol, Fernando Torres, aged 10? Koke, the boy who joined Atletico Madrid at 6? Koke, who's still there 21 years later? That Koke?
The Koke who's still there because he turned down FC Barcelona? Who says Atletico is "the club of my life?" Koke, who cried when he signed the contract that kept him there for seven more years, to the very end, almost three decades after it started? Who by then will have played more games for the club — his club — than anyone else ever, and who already has only four men ahead of him?
Koke, who laid the Atletico flag in the centre circle at the Santiago Bernabeu and then knelt down and kissed it the night Atletico finally defeated their rivals 14 long, painful years later? Koke, who watched them leave — Diego Costa, Gabi, Torres, Antoine Griezmann, Rodri, Diego Godin and the rest — but stayed? Koke, the captain? Koke, also known as Jorge Resurreccion Merodio?
That Koke?
Yep, that one. Last Tuesday night, with 20 minutes to go and the score still 0-0 against Bayer Leverkusen, Diego Simeone made a change. Alvaro Morata came on and Koke went off. As he went, Simeone clapped. Though Simeone is not just their manager but their ring leader too, a conductor for the crowd, not everyone joined in. There was some applause, but it was timid and there were also whistles — a lot of whistles. Around the stands, some of the comments sent Koke's way were vicious. Off you go, and don't come back. And that was the polite version.
After the match, Simeone was fairly matter of fact. "That's football," he said. "In Luis [Aragones]'s era, people whistled Caminero, Kiko… we've all been whistled." That is true — although the willingness with which managers invariably resort to this old line may be counterproductive, and often feels a little like cowardice in the face of the crowd — and often whistles really are no big thing in Spain, soon forgotten.
The next day, Koke himself said he was "calm" about it. It is football, Simeone said, and it was also true the football suggested that there was some reason for the whistles. The decision to withdraw Koke was swiftly vindicated and perhaps with it, the point they were making.
When Koke was substituted, he had done virtually nothing except get booked; he'd been pretty dreadful, in fact. He hasn't been great this season, in truth. Atletico hadn't scored prior to his exit last week and hadn't looking like scoring either. They'd had a solitary shot. Seven minutes later, they finally got the goal that earned them victory. The player who replaced Koke scored it, with Morata heading past Lukas Hradecky. He had been "Simeone's aspirin," one headline said. Koke had been part of his headache. Another described Morata as playing a peacemaker's role in the middle of a civil war.
Nothing to see here, then. Only there was, and straight away. That headline and the reaction postmatch told you that this time, the whistles were a big deal and that there was something deeper. The opening line of this column is no exaggeration: this really was a hang on a minute moment, the goodbye, good riddance he got from some parts of the stadium baffling. It was a little saddening too, especially at a club like this.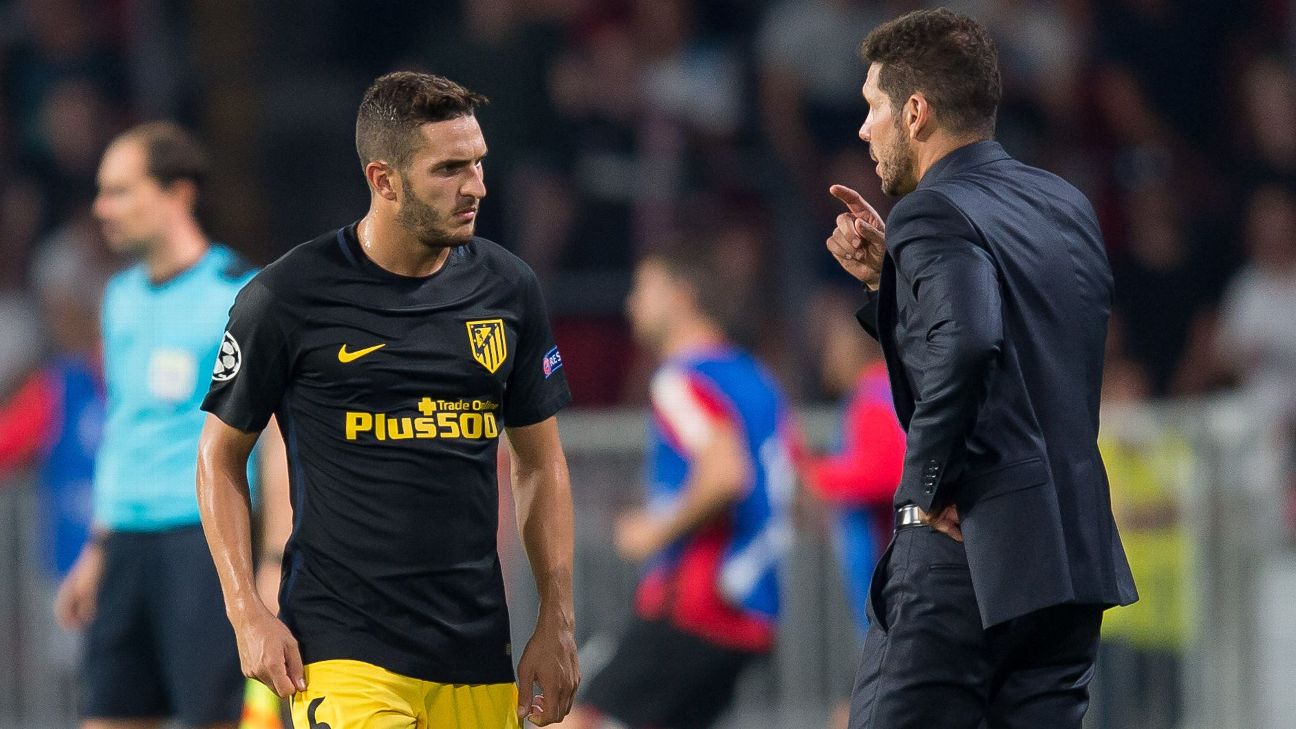 As the ball hit the net and the place erupted, Morata turned and ran up the touchline to the bench. He headed straight for Koke, embracing him. Soon, others did the same. People rushed to defend him, which was telling too. "Koke is undisputed," said AS. In Marca, they were spelling captain with a "K" — Koke was the guy who does everything for everyone else, who takes the bins out in the rain, washes the dishes, takes the dog for a walk.
This season, Koke took the captain's armband: In an interview over the summer, he said that while it wasn't his style, if he had to shout or grab someone by the shirt, he would. He also said that he was looking forward to it; that with the signings they had made, this was one of the (pre)seasons that he was most excited.
It was overlooked in that interview that he also said it would "not be easy," and that is how it has turned out. All of which should not have come as a surprise — however good the rebuild was, and it does look good, they had lost five starters — but it did. Atletico have won only one of their past six in the league. "It is practically a new team and the expectations were high," Koke said. Too high? Against Bayer, Atletico were flat, sluggish and lacking in creativity. Again. Like before, in fact?
It wasn't supposed to be this way. Expectation had exceeded reality, maybe. Over the past two weeks, Simeone has sought to remind everyone of that reality, as results slip away, aware of the impact that this run might have and the frustration it must be causing. He has dropped hints that some players aren't as committed as they should be; a few days ago, he insisted he didn't want people looking for excuses.
That disconnect has emerged again and that debate; all those questions over their identity have resurfaced. Koke himself had talked about a team that would want the ball more, that might be more creative, that was working on a 4-3-3 formation, that sought to be "more offensive." It is what he believes in although he is careful not to say so. But that hasn't happened.
Should Atletico be different? Can their style evolve? Do they truly believe in it? Does Simeone? Momentarily, things looked different, but it has slowed to a halt, at least temporarily, and that has led to frustration. And as captain, Koke has perhaps become the focal point of that.
Koke may never have really been the player he was once tipped to be: even Xavi himself suggested that Koke might be the man to succeed him, which even in those early years always felt doubtful. He hasn't played well so far this season, but he's not the only one and, ugly though it may seem, counterproductive though it always feels, if you are looking for candidates to whistle, he's nowhere near the top of the list.
"I have faith in myself and the club have faith in me," Koke said this week. He has played more minutes than any outfield player other than Saul, playing virtually every game for the past eight years. He has started every match this season and the stats show that he runs more than anyone else. The stats show that he completes more passes, too. Asked once if he might not play a bit better if he didn't run so much and was handed control from the centre, he said: "People tell me that, but I don't feel happy standing still. I might have been fresher, but if I don't do it, the team suffers and that's what I look at."
Koke has played in the middle, the left and the right, sometimes in the same game; he's often the piece that makes the others fit. On Tuesday, he was behind the striker, a role that is not his and never has been; it was a bizarre choice, but one that fits with Simeone constantly moving him. There is an implicit criticism, either of Koke or his coach, that he has maybe never fully convinced as the man in the middle. But with a different approach, he might have done. With continuity and a defined role, he might have too.
Where would he fit at another club? This question reveals another truth hiding in there: Atletico need him. Here, there and everywhere. Somewhere, certainly. Simeone doesn't keep a player who is not useful. He also doesn't play him every single week.
Ask Kieran Trippier, for example, how important Koke is, how different it feels when he's near or far. Ask the midfielders looking for him, or the defenders seeking a way out from deep: Koke is always available. No one is on the ball more. Ask Morata, in fact, as he ran toward his captain Tuesday night trying to right a wrong, make a statement, still barely able to believe what he had heard. "Koke is the most important player we have; if only we were all able to run and work like he does," Morata said. "If we had 11 Kokes, we'd win every game."
Truth be told, 11 Kokes wouldn't work, but having one is not a bad idea. That one.