Products You May Like
In his Dynamo Kiev days alongside Andriy Shevchenko, former Ukraine forward Serhiy Rebrov scored so many vital goals for his team that he earned the nickname of "The Rescuer." By the end of this season, one wonders what the Bayern Munich fans will be calling Robert Lewandowski.
Bayern started the campaign in a rare state of disarray, scrambling to secure the services of Philippe Coutinho and Ivan Perisic just before deadline day, and were threatened by the excellent early form of RB Leipzig and Borussia Monchengladbach. Then there was the loss of Niklas Sule to a long-term injury and the sacking of manager Niko Kovac following a 5-1 thrashing by Eintracht Frankfurt, Kovac's former team. In normal times, such a haphazard few months would see Bayern in mid-table. Yet they are the joint highest scorers in the league, just four points off first place, and that is thanks in large to their exceptional Polish forward, who recently ranked No. 3 striker in the 2019 FC 100.
Lewandowski began this season as if he were personally offended that anyone could think there was a better centre-forward on the planet. At first glance, it's difficult to think of any other reason for his sustained brilliance since August. He has 16 goals in 11 Bundesliga matches, netting in all 11 games (a league record), with 23 in 18 for Bayern across all competitions. The red-hot striker even found time for a hat trick in a 3-0 win over Latvia in a Euro 2020 qualifier.
In current form, he could probably sit out two whole months right now and still end up as the frontman for the UEFA Team of the Year. Lewandowski's outsized contributions to his team's attacking output are reminiscent of Luis Suarez at Liverpool under Brendan Rodgers, or Lionel Messi at Barcelona at, well, any time in the past decade. Lewandowski has eclipsed Harry Kane at Tottenham Hotspur, Sergio Aguero at Manchester City and Cristiano Ronaldo at Juventus, and should arguably stand alone as the world's premier No. 9.
At an age when most forwards begin to slow down, the 31-year-old is getting better, scoring at a rate of more than a goal per game this season, a slight improvement on his rate over the past five seasons. How has he done it? First there is his much-celebrated fitness regime, for which his wife, Anna — a multiple world champion in karate and a nutrition specialist — has provided input. Second, Jonathan Harding, the German football writer and author, has pointed to a prosaic factor: that of relaxation, noting that this was a rare summer when Lewandowski enjoyed a full rest.
At a time where the National Basketball Association is looking anew at the physical demands it places on its players — referred to as "the dirty little secret that everybody knows about" — it is refreshing to be reminded of the benefits of some time off. The conversation about "load management" — or, in the European context, "player rotation" — is a slightly less vexed one in football than in basketball, given that the latter sport has far more games per season. That said, leading pundit Gary Lineker recently noted that a team's leading players tend not to get any significant breaks. Seeing Lewandowski's extraordinary form, perhaps more clubs will go easier on their key players in the preseason.
This year has also been an excellent showcase for the range of Lewandowski's gifts. One photograph from that preseason was a reminder of his superb physical shape, a far cry from the lanky build he boasted in his Borussia Dortmund days. Another video from that period saw him juggling the ball with the dexterity of a leading freestyle footballer.
He also has a considerable change of pace: Watch him sprint away for his team's goal away against RB Leipzig, a side regarded as having the best defence in the division. Look, too, at the breakdown of his 16 league goals; though there's been only one scored with his left, there have been four with his head and the rest with his trusty right. Within those, too, there has been notable variety: one exquisite free kick, two confident penalties, two on the counterattack and one graceful individual goal against Eintracht, which is possibly one of the strikes of the season.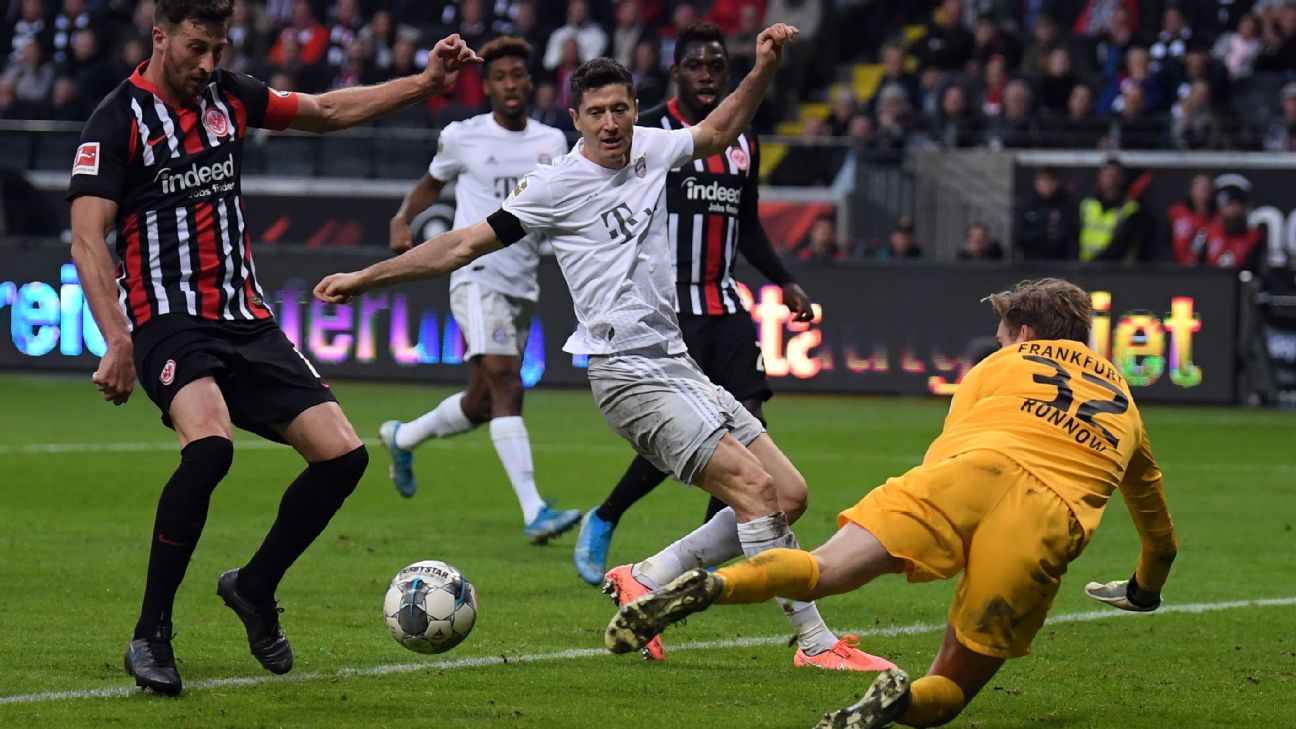 Lewandowski has also played with remarkable freedom at a time when his peers have struggled — Serge Gnabry is second on the team with three goals, while Perisic and Coutinho have two each. However, despite their relative struggles, Lewandowski has carried the burden, to a point where — judging by the recent 4-0 humiliation of Dortmund under interim coach Hansi Flick — his team seems ready to recover.
The German word for "The Rescuer" is "Der Retter," and "Retter Lewandowski" might have a certain ring to it. Given how much he's already salvaged his team's fortunes, his supporters — let alone his teammates — could yet find themselves with little choice. One thing is for sure, though: Many years after Rebrov redeemed Dynamo Kiev, Bayern Munich seem to have found themselves an even greater saviour in the Polish No. 9.