Products You May Like
Before Manchester City played Atalanta in October, Pep Guardiola was asked whether the game, apparently innocuous and unprecedented, had personal significance to him. "It's like an Italian derby for you," the reporter pointed out.
A former Brescia player, Guardiola is more aware than most that there is no love lost between his old club, and his Champions League opponents that night. City's 5-1 win was celebrated in Brescia as if it were one of their own and, as such, he won't have to worry about paying for a Pirlo spritz when he goes back. The drinks are on them.
Brescia's return to Serie A in the summer welcomes the Lombard derby back to the top-flight calendar (11/30 9 am ET on ESPN+) for the first time in 13 years.
"It's a very important thing for Brescia, and I know that Atalanta-Brescia is a match that stirs a lot of emotion," Guardiola said. More like an excess of emotion. Tempers flare. Passions run high. Blood rushes to the head. It calls to mind that Churchillian line about Italians losing football matches as if they were wars. Only this one does actually have its origins around the time of the Crusades and features tanks and fighter jets.
Prince of Thieves
Like all the best football rivalries this one began long before you were born. It predates the foundation of both teams and rather than arise on the pitch it led to sword fights and cavalry charges in the fields around Rudiano.
Unfortunately, the old man in the bar forking through his casoncelli can't help us on this one. Not unless he has a DeLorean in the garage and can take us back to the 12th century when, as legend has it in 1126, one of the oldest families in the area, respecting an oath to join the Second Crusade, decided to put its land up for sale.
Brescia's Curia, of course, had the chance to keep the property in the city's hands. Allies for many years, the family gave the local arm of the Catholic Church first chance for the fiefdoms of Volpino, Qualino and Ceratello. But the monsignors had fallen on hard times and were strapped for cash when the opportunity presented itself.
The family, resolute in its determination to answer the call to arms in the Holy Land, found another buyer on the western side of Lake Oseo instead. Fertile lands of great commercial value and medieval castles of considerable strategic significance passed into Bergamo's possession. Brescia cried scandal, the city's bishop declared war, battles commenced and blood was spilt.
Things escalated quickly and would not simmer for 30 years when the Holy Roman Emperor himself, Frederick — the Red Beard — stepped in as arbiter and came down on Brescia's side. Upon his return to Germany, though, it all kicked off again and his successor Henry VI would have to intervene again in the aftermath of Rudiano — known as the battle of the Malamorte or Bad Death — when Brescia prevailed, seizing their enemies' carroccio — a wagon displaying the standard of the city — the most prized spoil the victors got to parade in triumph back at their cathedral.
Centuries of emotional baggage come with the Lombard Derby. If a pair of medieval kings struggled to separate the two of them, what chance do you give a referee and the police? History would repeat itself throughout the 1990s when each group of ultras daringly took turns stealing each other's banners, breaking into stadium lock-ups or snatching them from right under their noses. In May 1993, the brawls shockingly spilled onto the pitch and caused outrage up and down Italy.
'The Swines'
Everyone knows that scene from "The Lion King" when Rafiki strides to the edge of Pride Rock and holds up Simba to the crowd below. OK, now picture a hooded Atalanta ultra reenacting that with a piglet at a football ground. He is showing it to the opposite end where Brescia's travelling support is standing as if to say: 'This is what you are'.
The squealing, frightened pig was then let loose inside the Atleti Azzurri d'Italia and, on April 3, 2000, entered into history — right beside the Scooter a group of Inter ultras threw from the stands at San Siro — as one of the most bizarre things ever to be smuggled into an Italian football stadium.
Atalanta fans call their Brescia counterparts Suni — local dialect for swine (Brescia has more pigs than people) — and still share pictures of the time they attached a series of balloons to a banner of a pig painted in Brescia's colours and watched it briefly take off before falling back into the stands.
'I'm coming for you'
It's not just Brescia fans who are persone non grata in Bergamo. Roma supporters come pretty close in the hate stakes too after a fall-out between ultras in the late 1980s. It's a curious one not least because one of Atalanta's (fallen) idols, Cristiano Doni, is a Roman who spent a couple of years at Brescia before captaining their fiercest rivals.
But that's another story altogether. Back at the turn of the Millennium Brescia's owner Luigi Corioni appeared acutely aware that appointing the most Roman of coaches (Carlo Mazzone) and signing Roman players (Luigi di Biagio) or just guys who played for Roma (Guardiola) was a sure-fire way of winding Atalanta up. The week Pep was in talks to sign for Brescia — the end of Sept. 2001 — was also derby week.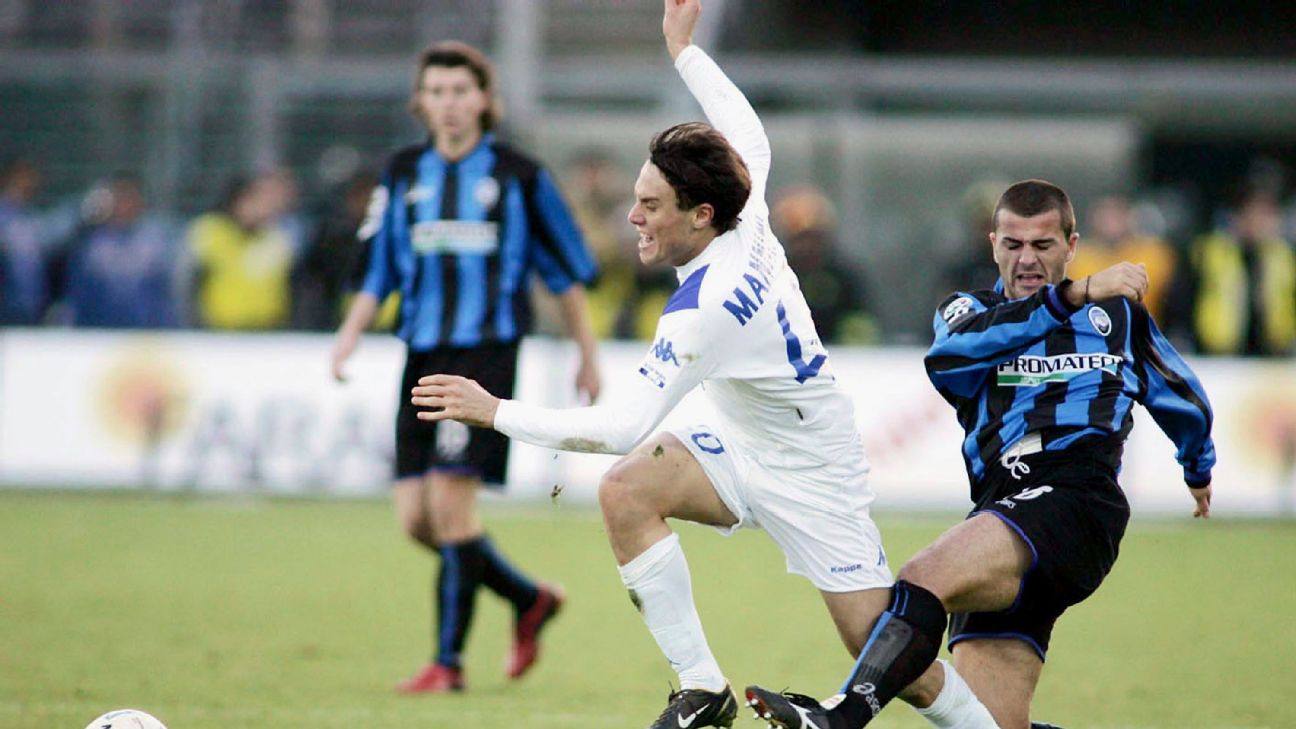 "How can I forget it?" Mazzone recalled in his book A Life on the Pitch. A six-goal rollercoaster, Brescia took the lead as Roberto Baggio stole in at the far post, but come half-time they were 3-1 down. All the while fans in the Atalanta end were serenading Mazzone with insults, calling him a 's— of a Roman' and the son of a whore. Mazzone's mother Iole — "a wonderful woman" — had died in his arms. She was 51. "They hit a nerve," he wrote. "My Achilles heel."
Mazzone could no longer focus on the game. Engaged in a slagging match with the Atalanta ultras, he missed Baggio pulling it back to 3-2 and then aimed a threat at them more than a promise. "Now we're going to get a third," he shouted "and when we do I'm coming for you." Sure enough Brescia levelled in the last minute — Alessandro Rinaldi heading a Baggio free kick into his own net — and the 64-year-old Mazzone was off. "I turned into lightning. I ran like lightning without thinking what might happen when I got there." No one could stop him. "I wanted to settle this once and for all. Man to man, in a rustic fashion, in an old-fashioned duel."
Fortunately there was a net between Mazzone and his abusers. Pierluigi Collina sent him down the tunnel and into the dressing room. "I thanked him" Mazzone said with sincerity. Tense "like a violin", he called Bergamo "racist" before walking back his comments in a news conference a few days later. When the reverse fixture came around the following February, Atalanta fans printed stickers and stuck them all over the city. Each one showed Mazzone with a "no entry" sign superimposed over his face. He wasn't welcome.
Is that a Sherman tank?
Most summers Atalanta hold a big get-together called the Festa della Dea. It has, over the years, become less about football and more about showcasing what military hardware they can find. Five years ago, the owner Antonio Percassi stood up in the cockpit of a MiG fighter as he paraded through a crowd complete with an escort of fans dressed as stormtroopers from "Star Wars." "We will bombard Serie A" promised the accompanying banner.
The MiG did not quite cause the same furore, however, as the Sherman tank he commanded in 2012. On board with new signing Giulio Migliaccio and Glenn Peter Stromberg, the retired Swedish winger who captained Atalanta in the 1980s, they ran over two cars painted in Roma and Brescia's colours. "It was a just for a laugh," Percassi said. But the FIGC didn't see it that way, fining the club and Migliaccio €17,000 a piece.
What can we expect on Saturday?
Atalanta head to the Rigamonti fresh from their first win in the Champions League and hopeful of qualification. Once again Gian Piero Gasperini is making the impossible look possible, and just as few people believed a team of Atalanta's size and resource could reach the competition in this day and age, few thought they could get out of this group after losing their first three games.
Don't underestimate the confidence that derives from that result and the stark contrast in status between them and cellar-dwellers Brescia. If Duvan Zapata returns after a long layoff, then expect Atalanta to finish the year strong.
Brescia have lost eight games in a row and the change of manager from Eugenio Corini to Fabio Grosso has only made the situation worse. Grosso has lost his first two games by an aggregate score of 7-0 and the club has succeeded in isolating its big summer signing and homecoming king Mario Balotelli. While Grosso is entitled to sub the striker at half-time and dismiss him from training for a perceived lack of effort, the ultras' reaction to the racist abuse he suffered in Verona and the awful comments owner Massimo Cellino made, regarding the colour of his skin, make it easy to sympathise with Balotelli.
In the event the 29-year-old is re-called to the squad and picked for the team you wouldn't put it past him to steal the show at the weekend. This game has Balotelli written all over it. If he remains on the margins, though, Brescia will need Sandro Tonali to come to the fore. Teams that play a 4-4-2 diamond have struggled with Atalanta's width, and the majestic form of Papu Gomez coupled with the Bergamaschi's record on the road make it hard to forecast anything other than a first Atalanta win in Brescia for 18 years. But this is a derby. And in a derby, anything can happen.
It's the weekend's must-watch game in Serie A. So much so, Guardiola presumably petitioned for City's away day at Newcastle to be scheduled at lunchtime just so he could tune in, too.