Products You May Like
There's lots to talk about in this week's Monday Musings following a wild weekend. Gab Marcotti is here to recap the big stories around soccer.
Jump to: No crisis yet for Man City | End of Bayern's dominance? | Fati masks Barca's issues | Juventus get lucky | Neymar gets rude welcome | Arsenal woe continues | | Neville harsh on Man United? | Chelsea's youth movement | Dortmund ready for Barca | Odegaard dazzling for Sociedad | Why Firmino's so special | Conte, Inter keep winning | The sad story of #BlueGirl
Sky isn't falling for Man City despite Norwich shock
One of the more odd decisions this past summer was Manchester City not replacing Vincent Kompany. "Replace" is perhaps too strong a word. You can't "replace" him but you can bring in another live body to give offer you an alternative at centre-back and provide some competition for John Stones and Nicolas Otamendi.
– Ogden: Man City might regret inspiring Liverpool
– Miller: Have Norwich shown the league how to beat City?
– ESPN's Ultimate XI: This team would win everything
Many of us pointed this out but hey, it's Pep Guardiola, so you naturally offer the benefit of the doubt. He must know something we don't. Maybe Fernandinho (at 34) can fill in too. Maybe Eric Garcia is ready. Maybe Kyle Walker can slide across. Maybe Aymeric Laporte is Iron Man and will never get injured. (Oops: we already know that's not the case.)
It's not that Otamendi and Stones are bad defenders, it's that the way City play can leave them vulnerable, which is pretty much what happened against Norwich in their 3-2 defeat. There's a price you pay for choosing to play a certain way and evidently, for City it's one worth paying. The problem is this is a low-scoring sport. Scoring goals is difficult and ideally, you want to make conceding them as difficult as possible for the opposition. With those two back there and this set up, it's that much easier for them.
Updated Luck Index: Man City continue to be unfortunate
No, the sky isn't falling. Even in this game, Man City could have grabbed the three points with a bit more luck. Nor will they always face someone as motivated and as intense as Daniel Farke's crew who, severely depleted by injuries, went all out with nothing to lose. But the reality is that the gap separating them from Liverpool is already at five points, and the last time that happened was back in January.
Is time running out on Bayern's Bundesliga dynasty?
Is this the year someone in the Bundesliga topples Galactus (read: Bayern)?
Leipzig had their audition on Saturday, holding the champions to a 1-1 draw. The result keeps Julian Nagelsmann's crew top of the league with Bayern fourth, two points back. But other than the usual drive and running you'd expect from Leipzig — and, after the break, the character that wasn't always there last season — I'm not sure we quite saw enough to predict they'll prevail over the marathon that is a whole season.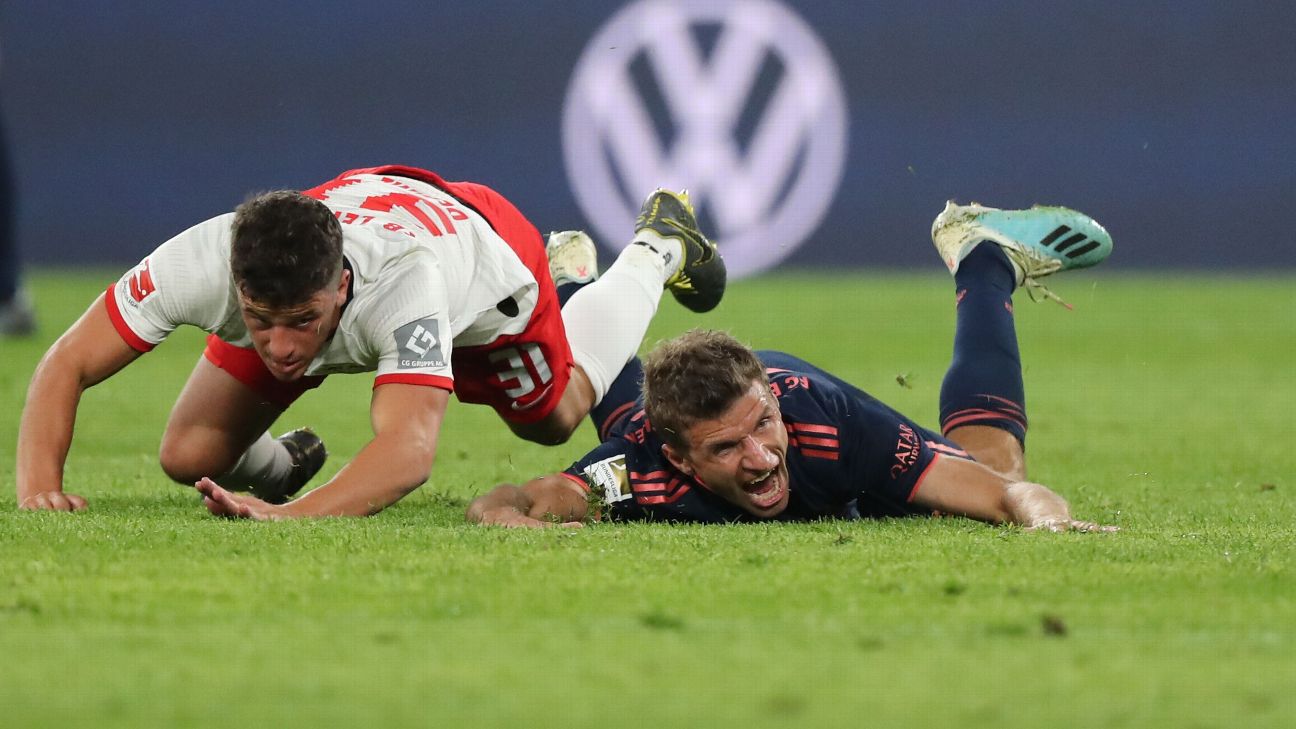 In fact, a lot of it had to do with Bayern's deficiencies. Having gone ahead early thanks to the age-old Thomas Mueller-Robert Lewandowski connection, they failed to capitalise on their lead despite having the upper hand for much of the first half. Joshua Kimmich in central midfield alongside Thiago Alcantara gave them a bit more control against the press, but they were sterile in the final third. Leipzig deserved their equalizer after a bad error from Lucas Hernandez (the sort that prompts you to say "He cost how much?") and while late chances meant it could have gone either way, there wasn't too much separating these two.
The difference? Well, you try to imagine how they can get better and you can see far bigger margins for growth at the Bayern end. Nagelsmann can conjure up some more tactical voodoo, Emil Forsberg might last 90 minutes, Kevin Kampl might be fit again and maybe they'll get something out of Patrik Schick. But it's slim pickings.
As for Bayern, Nico Kovac lost David Alaba to injury in the warm-up. But he still has Philippe Coutinho, who only came on with two minutes to go, and Ivan Perisic, who stayed rooted to the bench: presumably both were signed for a reason. The question, really, is how much faith you have in Kovac.
Fabulous Fati obscures Barca's issues
Ansu Fati, already the third youngest goalscorer in the history of La Liga, got his first start for Barcelona on Saturday against Valencia and set the Camp Nou alight inside 10 minutes. He scored with a confident, accurate finish, set up a goal for Frenkie de Jong and came close to scoring two more times. Oh yeah, in case you didn't know, the kid doesn't turn 17 until Halloween.
His emergence, and that of Carles Perez, mean that Lionel Messi (who was in the stands) and Luis Suarez (who came on and scored twice) can come back into the team in their own time. But equally, despite the gaudy scoreline (5-2) and the excitement over Fati, there is still plenty for Ernesto Valverde to work on.
Valencia are a mess right now (thanks, Peter Lim!) having sacked Marcelino and replaced him with Albert Celades. And they still stayed in the game thanks to Kevin Gameiro, falling apart only after Jasper Cillessen's mistake for the third Barca goal. Suarez, looking sharp and hungry (no, not in that way), later added two to put the game out of reach.
Defensively, Barca looked far from solid, not just at the back but also in midfield; the fact that it was the first choice trio of De Jong, Arthur and Sergio Busquets doesn't bode well.
Juventus get lucky vs. Fiorentina
There's a ton of ancient bad blood between Fiorentina and Juventus. Throw in the enthusiasm that new owner Rocco Commisso has engendered within the Viola organization, the fact that it was Maurizio Sarri's official post-pneumonia debut and especially the fact that the visitors lost Douglas Costa, Miralem Pjanic and Danilo through injury during the match (and the first two are especially key to the way they play) and perhaps Juve should be happy with a point.
Why? They were poor for much of the game against an opponent who treats the match as if it was the Champions League final and Avengers: Endgame rolled into one. Sarri later blamed the heat of a mid-afternoon kickoff, which is a bit hard to stomach since presumably Fiorentina felt just as hot. It might have been better to just take it on the chin, be grateful for the point and move on.
PSG fans will take time to welcome Neymar back
Neymar made his first appearance of the season for Paris Saint-Germain at the weekend and was greeted, predictably, with boos and insults. It's what you expect when, after pledging your loyalty to the club, you go out of your way to force a move back to Barcelona. So what did he do? Easy, he scored a "worldie" deep in injury time to secure the three points against Strasbourg.
– Laurens: The definitive story of the Neymar saga
"I expected it, but in the end I forced them to applaud," he said afterwards adding that every game will now feel like an away match.
He made his bed, he can lie in it now and won't get much sympathy. But at the very least, he deserves recognition for the professionalism he showed Saturday. Whether he'll ever get love from the Ultras given what happened is unclear but that doesn't mean they can't reach some mutually beneficial relationship.
What's obvious is that if you're Thomas Tuchel, you're glad he's back.
Arsenal's issues are self-inflicted
The statistics say Arsenal conceded 23 shots on goal in the second-half against Watford on Sunday. That's one every two minutes and it's frankly hard to do. It's especially tough when you go in at half-time with a two-goal lead, one which, based on what we saw in the first half, was likely more than generous. And yes, they ended up settling for a 2-2 draw.
You can focus on individuals — Matteo Guendouzi, Sokratis Papasthatopoulos, David Luiz — all you like and there's another statistic floating around that says that since the start of last season no team has made more errors leading directly to opposition goals than Arsenal. But this is a team issue.
If you have error-prone players, you design tactical systems that protect them and don't expose them. That's just basic. And that's on Unai Emery.
Real nearly throw it away before PSG trip
It's a sign of Real Madrid's current state that even after playing well, creating plenty of chances and racing to a 3-0 lead at home to Levante, they still required a last-ditch save from Thibaut Courtois to retain their three points. In the cold light of day, you'd look at this performance, note Madrid's domination, the fact that the goals conceded were against the run of play and chalk up the 3-2 scoreline to the randomness of football. And you might even celebrate Eden Hazard's debut and look forward to what is next.
Instead, it's all fraught nerves ahead of the trip to the Parc des Princes to face Paris Saint-Germain in midweek. Context matters, possibly because we're in mid-September and we have no real idea what Zinedine Zidane has in mind.
Neville a bit harsh on Man United?
Manchester United squeezed out a victory over Leicester City, but I was struck by Gary Neville's comments suggesting Ole Gunnar Solskjaer should get at least three more transfer windows "to clean up the trash in the dressing room, because there is trash in there."
I have a lot of time for Neville, but I was wondering to whom he's referring given a summer of significant departures. Of the guys who are most frequently targeted as "trash" (or "weeds" to use another of his terms), Eric Bailly, Phil Jones and Marcos Rojo haven't played this year. Fred has been on the pitch for 24 minutes, Nemanja Matic has started one game. Who does he mean? Paul Pogba? Anthony Martial? Juan Mata?
I'm also not sure about the comparisons with Jurgen Klopp's Liverpool and how it took him time to produce. He reached a Europa League final after taking over in October and finished fourth the following year. Plus, he had a rather more credible resume than Solskjaer did. By all means, give him time, but set credible targets and deadlines too.
Why Chelsea's youth movement feels different
Chelsea's 5-2 away win to Wolves brings their seasonal goals total to 11 and all of them scored by Academy graduates. Fikayo Tomori, Andreas Christensen, Tammy Abraham and Mason Mount all started at Molyneux and all look poised to play a big part in Chelsea's season. With more homegrown players — Ruben Loftus-Cheek and Callum Hudson-Odoi, possibly Reece James too — set to return from injury, there could be as many as seven of them in Frank Lampard's XI at some point.
What sets this group apart though is the fact that apart from Christensen, who joined at 16, the others have all been affiliated with the club since before they were 10 years old. We often play fast and loose with the homegrown label since so many clubs (including Chelsea, of course) cherry pick top talent from elsewhere at 16, stick them in the Academy for a year or two and then count them as "club-trained." Technically, that's true but with these guys, it's different.
Dortmund look ready for Barcelona
"Bouncebackability" isn't a real word, but it applies here. Borussia Dortmund had a whole international break to stew over the humiliating 3-1 defeat to newly promoted Union Berlin and with Kai Havertz and Bayer Leverkusen rolling into town, the potential for after-effects was still high. Instead, we got one of the most dominating Dortmund performances in recent memory. At the attacking end, Marco Reus got his mo-jo back, Jadon Sancho popped up with his usual two assists and Paco Alcacer scored in his eighth consecutive game, including internationals.
Roll on, Barcelona, this Tuesday.
Odegaard continues to dazzle
Martin Odegaard made his international debut for Norway at 15 years of age and moved to Real Madrid six months later. Too much, too soon? It felt that way to many, given he failed to establish himself at youth level and later spent two years on loan. But players develop at different speeds and having rocketed to the international stage, he was due a breather.
This year, he's on loan at Real Sociedad, where he's already scored twice and, on Saturday night against Atletico Madrid, was arguably man of the match. He doesn't even turn 21 until December, but it feels as if this could be the year it all comes together for him. Watch this space.
Meanwhile, for Atletico, the 2-0 defeat reinforces what we already know: losing four or five starters in a summer is tricky to metabolize and there will be days like this when Diego Simeone's tinkering leads nowhere.
Why Roberto Firmino is so unique
My former colleague Matthew Syed, writing in The Times, made the point that Roberto Firmino appears to have 360-degree vision, a bit like those owls, whose heads seem to swivel all the way around. It's not hard to see why, given his performance in Liverpool's 3-1 win over Newcastle.
Some see him as a prototype of a modern center-forward, the "false nine" who is more creator than finisher. That certainly fits with Firmino's strengths though another, equally formidable strength, is the intensity and intelligence of his pressing game. But I'm not sure he's a prototype of anything.
Most of Europe's top teams — from Barcelona to Manchester City, from Tottenham to Real Madrid, from Bayern to Juventus — still have a genuine centerforward rather than a "false nine" (to use another hipsterish term). In other words, Firmino is not a trend as much as he has a nearly unique, extremely rare skill set, which comes a result of his past as an attacking midfielder.
Conte keeping expectations down at Inter
Antonio Conte is playing that age-old game straight out of Sun Tzu's "The Art of War" — "when you are weak, appear strong and when you are strong, appear weak." Following Inter's third win on the bounce (one-nil against Udinese) he said "we know the game. They build us up now to knock us down later. For us to win the title, other clubs would have to have disastrous seasons."
– Schoenfeld: Romelu Lukaku talks about his Inter mission
It's pretty transparent what he's doing. And yes, Inter aren't title favorites but he has the strike force he says he wanted (Romelu Lukaku, Lautaro Martinez, Alexis Sanchez), he has two of the best young midfielders in the league (Stefano Sensi and Nicolo Barella) and arguably the best center-back corps. There's no reason to hide. Own the responsibilty.
What needs to happen beyond #BlueGirl
The harrowing tale of Sahar Khodayari, the 29-year-old Iranian woman who set herself on fire (and later died from severe burns) after being sentenced to six months in prison for disguising herself as a man to attend a football match between her team, Esteghlal, and the UAE's Al-Ain last March, shocked the world.
Like many such stories, it's more complicated than it appears. There is no written law barring women from entering Iranian stadiums, so she was sentenced for not fully adhering to Islamic hijab laws and covering her head. But equally, since the Islamic revolution 40 years ago, women have been unofficially banned from watching men's games with very few exceptions, like last November's Asian Champions League final.
It shouldn't take the tragic death of a vulnerable person for the world to take notice. The hashtag #BlueGirl is great to raise awareness but it can't end there, particularly since there has been so much outrage and support for change, even in Iran.
FIFA President Gianni Infantino has pushed Iran on this matter before and the stock answer has been that the "infrastructure" was not yet in place to allow women in on a regular basis. (What infrastructure? Women's toilets? Surely they have port-a-potties in Iran…) That argument is nonsense as evidenced by the fact that women have been allowed in before. FIFA's statutes are very clear when it comes to equality and access. They have the power to withhold development money and suspend the Iranian FA.
It's time to take action and, given the support such action would have within Iran — from much of the population and virtually the entire football world — it feels like a no-brainer.