Products You May Like
MALPAS, England — Michael Owen laughs a lot. It's one of the first things you notice when you are in the company of the former Liverpool, Real Madrid and Manchester United forward. The common perception of Owen is that he is, and always has been, an extreme version of the modern-day sportsman who has been managed and polished to within an inch of his life, but the reality is very different.
We are chatting in the Owners Lounge at Manor House Stables, a thoroughbred horse racing training complex deep in the Cheshire countryside, which was nothing more than a cattle barn when Owen bought the land in 2007 as a post-football investment. While the camera is being set up in the stables to film Owen's first interview since the publication of extracts of his autobiography, "Reboot," we discuss the fallout from the book, including headlines about his broken relationship with Alan Shearer, controversy surrounding his comments about former club Newcastle United and criticism of David Beckham. (And, of course, two of his former clubs square off this weekend when Liverpool host Newcastle at Anfield.)
There has been widespread surprise at Owen's candour and readiness to be blunt; it's a side of his character he's kept well-hidden since bursting onto the scene as a teenage sensation with Liverpool in 1997. But he laughs again when reminded of the time he scored his first goal for Manchester United. It came at Wigan in August 2009 and after the match, Owen walked past reporters asking for a post-match quote before turning on his heels to tell them to "F— off, because you're always caning me…"
"Yeah, that wouldn't have been a first," he said, laughing. "I was probably right as well!"
– ESPN's Ultimate XI: This team would win everything
– Lukaku's mission: Win at Inter, prove Man United wrong
– Harding: The real reason Bundesliga is king
Owen is surprised that people have been surprised about his true personality, but he hasn't lost any sleep over it.
"I've taken my tin hat off to chat about this!" Owen tells ESPN FC, following the initial reaction to the revelations in his book. "I've written a book that's open and honest, talking about my career. It's been interesting, quite a therapeutic process in the beginning, but now that it's in the mainstream, it's causing quite a lot of opinion.
"But look, to get to the top of any profession, you need unbelievable drive, confidence and the ability to filter out anything that is going to have negative impact on your mind."
Behind the laughter and the smile, it is fairly obvious that Owen is a tough, hard character to the point of appearing cold to outsiders. Perhaps it's a result of being a child prodigy, the son of a former professional footballer (Terry Owen played over 300 games, including a spell at Everton) who spent his young life being groomed for the stardom which came at such an early stage of his career.
By the time he was 18, Owen had become a first-team regular at Liverpool and emerged from the 1998 World Cup as the most-talked about teenager on the planet after scoring his stunning individual goal during the second round defeat against Argentina. He was the Kylian Mbappe of his day, his scorching pace combined with an ability to score goal after goal after goal, but there was always an element of the "brand" being the most precious commodity, with Owen's persona carefully managed to the extent that he never quite connected with supporters at any of his clubs.
Opinions back then were simply not on the agenda.
"A lot of the time when you are playing, you are slightly gagged," Owen says. "You can't be talking about Liverpool if you play for Man United."
He scored 158 goals in 297 games for Liverpool but even at Anfield the affection for Owen is lukewarm, at best, largely because he signed for bitter rivals United after leaving Newcastle in 2009.
"When I left Newcastle, the two real options were Everton — David Moyes wanted to sign me — and Manchester United," said Owen. "You could say that I was doomed to be criticised by Liverpool fans at that time, no matter what I did, because their two biggest rivals were the two biggest moves for me. But that's fine. I'm certainly not sitting here apologising for anything.
"If I had the time again, in that situation, I would do the same again. In no other walk of life would you be criticised for having ambition: people would applaud it. But because I chose to sign for a club at the top, to play in the Champions League, you get castigated for the colour of your shirt. I'm never going to change that 'you wore red, he wore blue, so I hate you,' mentality."
There it is again: that cold, hard honesty. Owen just does not do sentiment or play the game of telling supporters what they want to hear.
In his book, Owen admits that by the time he left Liverpool for Real in 2004, he was earning more from commercial deals than from club wages at Anfield, an admission that underlines not only his global status at the time, but also that sense of Owen the brand being bigger than Owen the footballer. As Sir Alex Ferguson says in the foreword to the book, "another factor in Michael's career was the way he led his life; no arrogance, no partying, a good family life, respect for his parents, his manager and team-mates: all in all, a completely rounded young man."
The problem for Owen, though, is that all of the above conspired to create the image of a footballer who was hard to love. "Over the years, I've inevitably run into a fair amount of criticism about various aspects of my career," he said. "In my case, people complained that I wasn't loyal enough to this or that club, was 'always injured,' boring."
But does it bother him? Does he care?
"A throwaway line from Alex Inglethorpe, the Academy Director at Liverpool, summed up everything for me," Owen writes in his book. "He told me that I had the best s— filter of anyone he'd ever met. To many, all I've ever been is a voice — a not very interesting one at that, some would say — or a face on a television screen.
"This 's— filter' is at the core of it all and I hope everyone enjoys getting a brief glimpse into my head."
---
April 12, 1999. It was certainly the end of the beginning for Michael Owen but the subsequent years also proved it to be the beginning of the end and, in many ways, the root cause of those accusations that he was injury prone.
Liverpool played Leeds United at Elland Road. Steve McManaman split the Leeds defence with a pinpoint pass to Owen, who collected the ball and raced towards goal until he pulled up sharply and collapsed to the ground on the edge of the penalty area. The Leeds crowd cheered, mocking Owen as he rolls around on the turf, clutching his right hamstring, which is torn from the tendon. The YouTube footage is difficult to watch considering the implications of the injury.
Owen was still only 19 at the time. He would go on to win the Ballon d'Or two years later and move to Real in 2004, but he tells ESPN FC that the injury at Leeds changed everything to the point that he could have quit in his mid-20s.
"Yeah, 100 percent," he said. "Back in the day, when I did the injury, they didn't do surgery on muscle [injuries]. If they did, it was extremely rare, so it was an injury that was going to catch up with me later in life, mainly in terms of speed, and this is one of the most frustrating things about what people have accused me of when I have said that, in the last few years of my career, I didn't enjoy it as much as in my early years.
"I think that's a perfectly fine and honest thing to say. I was right at the top of my game and I have countless recollections to prove how high my standing was during the first half of my career, but just think of the mental toll it takes when you've done that but then have to accept that players who are, with all due respect, half as talented as you, almost taking the ball off you.
"At 26, I couldn't even run past them anymore. I was having to tell myself to link the play because I couldn't sprint into channels anymore. It was alien to me, of course I didn't enjoy it as much as I did when I was at my best."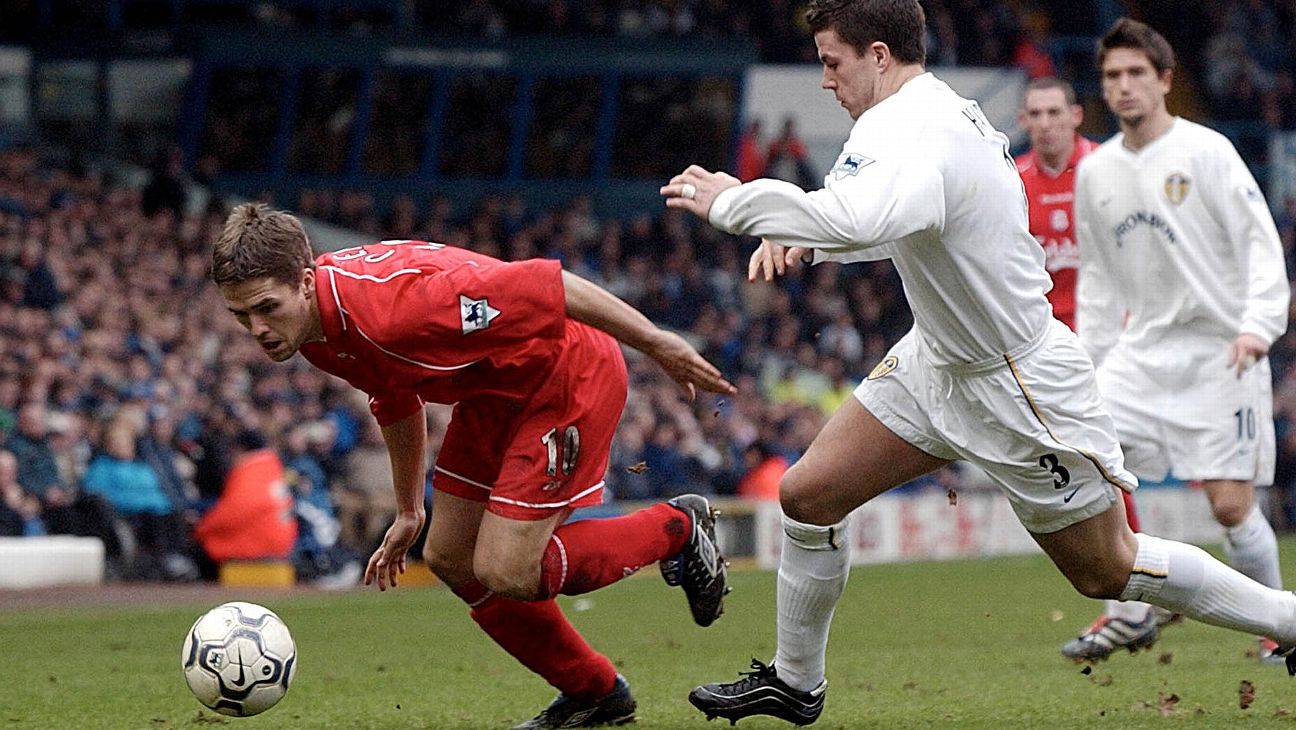 Losing his trademark pace was like a master craftsman being unable to use his tools and Owen could sense his decline. In his book, he admits that the root of his rift with Shearer stemmed from the then-Newcastle manager believing that Owen was refusing to risk his fitness to help save the club from relegation.
Knee, hamstring and foot injuries marred Owen's career at Newcastle, restricting him to just 71 Premier League games in four seasons at St James' Park. He had a similarly injury-affected three seasons at Manchester United, making just 31 league appearances (he only started six league games for the club), but having been one of the biggest stars in world football as a teenager, he claims it was "torture" to have to endure such a painful decline.
"I enjoyed the game throughout," he said. "I'd have stopped playing at 25 if I hated it that much. I love the game now, I loved it at 33, but the mental torture of not being able to do what you could once do — the brain is still telling you to do it — you think, come and get it to feet because you can't expose yourself to sprinting.
"The older I got, the slower and slower I got, but how do you get used to being 'just a player?' My brain, my heart, my everything is about being the best and when I couldn't be, it was just torture in my mind to feel like that. I can't understand how people don't understand that.
"I was almost dying a slow death when I was playing. The last year at Stoke, I hardly played, and it made my mind up. I vividly remember playing away at Crystal Palace. I hadn't played for six months, I was on the bench, hardly getting on, and I played [at Palace] and I just thought, 'I can't do this anymore.' I'm just not as fast or as strong as anyone anymore. Yes, I could still finish as well as anyone in the six-yard box, but I just vividly remember that I wasn't capable anymore."
For a player who achieved so much, Owen has a surprisingly long list of regrets. He smiles about them, and does not project the image of a man weighed down by questions of what might have been, but they are there nonetheless.
Owen left Liverpool a year before Rafael Benitez's team won the Champions League in 2005, spent just one year in Spain with Real Madrid, signed for Manchester United a month after the departures of Cristiano Ronaldo and Carlos Tevez and was part of the so-called "Golden Generation" of Beckham, Ferdinand, Scholes, Terry et al, which failed to win a major tournament with England.
But such is Owen's character, and his pursuit of absolute excellence, that it appears he relishes setting his personal bar so impossibly high.
"I'm wired in a certain way," he said. "I'll regret anything if I can. If I win the league, I regret not winning it twice. If I win the Ballon d'Or, I want to win it two or three times. That's the way you have to think if you are at the top of your profession. But if I had one regret, with all the players we had, nobody will ever convince me that we didn't have an amazing team with England. It was so frustrating that we never won anything.
"Yet my trophy collection is my pride and joy, my memories. Sometimes, you have a little five minutes looking at them, remembering how you did it, because the evidence is there. You just go into a room and see it all shining."
One of those trophies is the Ballon d'Or, which Owen won after helping Liverpool to a Treble of FA Cup, League Cup and UEFA Cup in 2001. No Englishman has won it since and, although he believes the Premier League now possesses the players to produce a winner again, Owen does not expect an English player to emulate him anytime soon.
"I can't see it being in the next few years," he said. "We have some great players, but you'd to think Messi and Ronaldo will be around for a bit yet. There's obviously Virgil van Dijk and other top-class players in the Premier League but yes, it's going to be a while before Englishman does it."
Michael Owen opened his Twitter account in November, 2010 and it is fair to say he has endured a bumpy ride on social media ever since. For a player who generates more negative opinion than positive, it can be a daily grind of abuse and hatred for Owen, especially since going public on his rift with Shearer. He bites back more than most but also believes there is a difference between what happens in daily life and being at a computer screen.
"I think everybody gets [abuse] in my line of work," he said. "I've been used to that since social media started. It was my decision to go on it and interact with fans and, by and large, you do get amazing interaction on it and a lot of support through social media.
"In the street, no-one says anything, so you've got to take social media with a pinch of salt. I was having lunch in Manchester city centre with my wife and kids last week, and this is when I'm in all the headlines, and not one person has a go at you. Not one person says anything. I've never encountered anyone saying anything [face to face] like they do social media.
"But if you're not thick-skinned, there's no point going on it."
And with a shrug and a smile, Owen sums himself up. His skin is thicker than most.