Products You May Like
This should be about the game. About a club, Paris Saint-Germain, taking yet another crack at winning the biggest prize in club football after three straight seasons of controversial exits by wafer-thin margins. And their visitors Real Madrid, the game's ultimate blue-bloods, halfway in rebuild mode as they pursue their 14th European Cup as an antidote to consecutive nightmarish domestic seasons.
But it's not. It's the Dysfunction Derby between two icebergs with far too much going on beneath the surface.
Real Madrid finished third in la Liga last year and the year before, by an average of 19 points: way off the pace of the eventual champions in both seasons, Barcelona. The unprecedented Champions League three-peat alleviated some of the rancour but most expected a revamp, particularly after the departures of Ronaldo and the resignation of Zinedine Zidane in the summer of 2018.
Instead, Zidane is back and rather than a rebuild, we've had a minor tweaking, with Eden Hazard and goalkeeper Thibaut Courtois (who arrived last summer and has been less than stellar at times) the only flashy newcomers. Nine of their 10 most frequently used outfield players thus far were also there for the first of their three straight Champions League titles; the other, Vinicius Jr., doesn't turn 20 until next summer.
– Laurens: Don't expect PSG to succeed in Europe this year
– Summer of unwanted stars: Why Bale, Neymar didn't move
– Ogden: Breaking down the Champions League groups
PSG was supposed to be the rising, Qatar-fuelled force in European football, boasting both the heir apparent to the Cristiano Ronaldo–Lionel Messi duopoly (Neymar) and the next in line (Kylian Mbappe). The former tried every which way to leave, the latter is injured. As for the Qatari cash, it may have moved the needle until two seasons back but now, because of FFP and overly optimistic financial projections, they're forced to break even like any old mom-and-pop operation.
Just this past weekend Neymar, the most expensive player in the history of the game, finally made his return to action for PSG and was met with a cacophony of boos, insults and banners inviting him to get the hell out. Which, of course, he would have been only too happy to do if the club had reached a deal to send him back to Barcelona. Instead, as Neymar himself pointed out, PSG "blocked" the move. (Or, because every story is its own Rashomon with multiple sides, "refused to sell a star player for less than they thought he was worth.")
Neymar, though, is nothing if not a pro. A maddening, infuriating, occasionally liberty-taking pro with a weird tendency to pick up injuries around the time of his sister's birthday, but a pro nonetheless. And one who can conjure magic out of thin air, as he did deep in an injury-time with a highlight-reel buzzer-beater that earned PSG a win over Strasbourg.
He won't be involved on Wednesday — the result of a three-match ban for an expletive-ridden Instagram post berating referees after PSG were eliminated from the Champions League last year — but his shadow will continue to loom large over the club's fortunes this season.
Less than 24 hours later and some 600 miles away, Real Madrid president Florentino Perez faced the club's annual general meeting amid murmurs and discontent. "People say I know about numbers, but if there's something I know about, it's football!" said Perez. "There are clubs who win a league and then don't win anything in Europe for God-knows-how-many-years. And why are we great? Because we've won the European Cup 13 times."
Perez also had to fend off a question from the floor about club captain Sergio Ramos. The Spanish defender contributed greatly to four of those cups, most recently 16 months ago, but to some he's become a distraction and Ramos himself had to call a press conference last May to announce that he was going nowhere. Perez's questioner lamented Ramos' passion for social media, outside projects (like the Amazon fly-on-the-wall documentary about himself) and the fact that he "wore a pink hat that made him look like a Swedish tourist."
Tumultuous doesn't quite do the situation justice at either club. We crossed the "entertainment brand" rubicon years ago, so perhaps the above shouldn't be entirely surprising. But there's the collateral damage that comes (along with, let's face it, collateral revenue via sponsors and brand recognition) from hoarding superstars: both clubs' rosters groan under the weight of hefty veteran contracts they can't shed and the self-inflicted hurt these clubs brought upon themselves.
Then there's the fact that few saw this coming a year ago only make this worse for both clubs.
PSG are on a knife-edge in terms of Financial Fair Play, UEFA rules that regulate each club's spending. This year and last, PSG's roster has been made up of a core of pricey superstars — Angel Di Maria, Thiago Silva, Edinson Cavani, Marquinhos — but also a smattering of youngsters and blue-collar role players. Guys like, say, Colin Dagba, who is 21 and only made his top-flight debut last year, or Eric-Maxim Choupo-Moting, who made 31 appearances last year after joining from Stoke, a side that finished second-bottom in the Premier League the year before. It's also why, after years of free spending, they actually made a profit in the summer transfer window, padding out the squad with free agents (Ander Herrera from Manchester United), swaps (signing goalkeeper Keylor Navas from Real Madrid and sending Alphonse Areola the other way) and loans (Mauro Icardi from Inter).
The definitive story of Neymar's failed Barcelona return
Navas and Herrera were on the bench for most of last season and Icardi was unwanted by Inter to the point that he was suspended for six weeks in the middle of the seaason last year and was told, publicly and repeatedly, his services were no longer needed. All three are pedigreed veterans with a chip on their shoulder and you can see the logic in tapping into their desire to resurrect their careers. But, perhaps most crucially, all three were also cheap.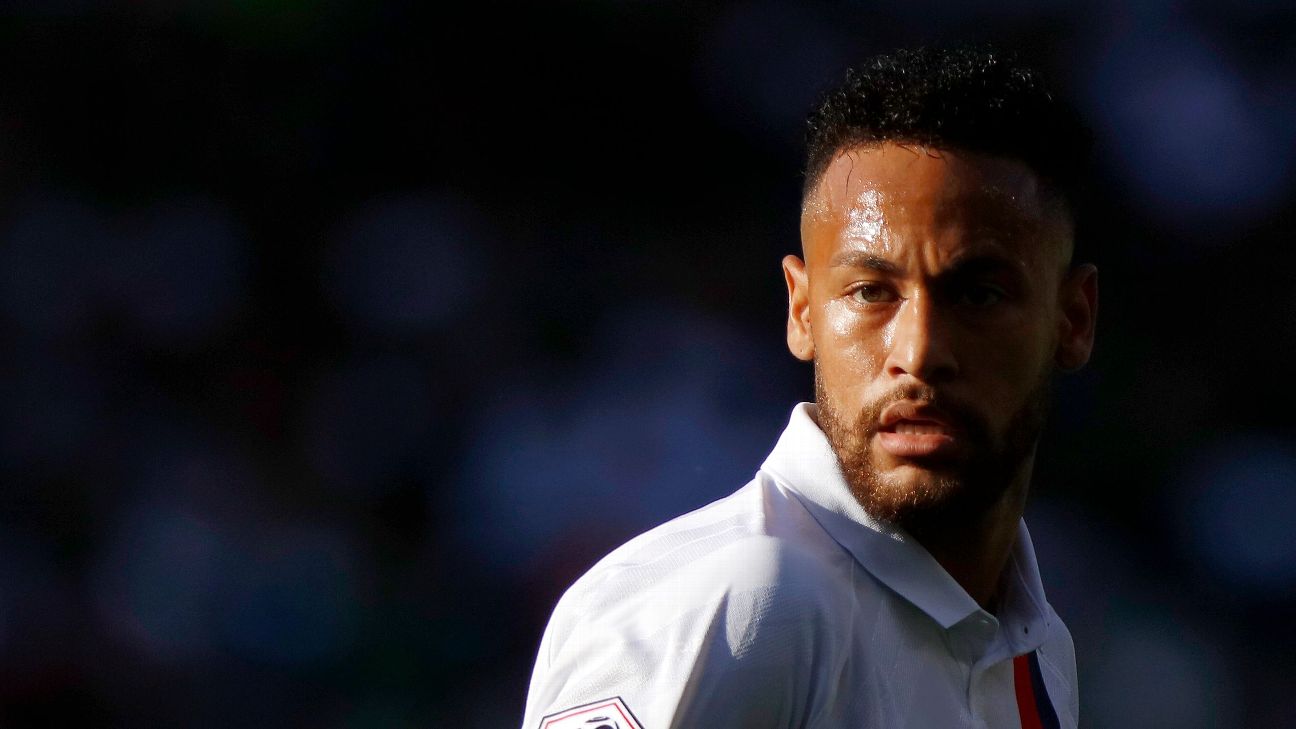 Real Madrid had the opposite sort of summer, lavishing nearly $250 million on four players: defenders Ferland Mendy and Eder Militao, winger Hazard and forward Luka Jovic. The problem is that we haven't seen much of them yet — between them, they've started just one game — which makes it hard to get overly excited. Much of that has to do with injuries (Hazard only made his debut on Saturday) but much of it has to do with the fact that this is a side in flux.
Zidane has rotated systems and personnel and you should expect to see more of the same in Paris: Ramos is suspended while Marcelo, Isco, Marco Asensio and Luka Modric, stalwarts of the previous Champions League run, are all injured.
What Madrid fans have seen plenty of instead this season are Gareth Bale and James Rodriguez, two players they spent most of the summer trying to shed. Bale, one of the highest-paid players in the world, was told flat out by Zidane he was surplus to requirements. But unwilling to take a pay cut — and with nobody wanting to match his $30 million plus a year salary and pay a transfer fee — he went nowhere.
Bale, whose performances have ranged from stellar to anonymous to M.I.A. (due to frequent injuries), was often harangued by fans and media alike for such crimes as failing to learn decent Spanish and being too obsessed with golf. (He has a nine-hole course in his ample backyard and some of his injuries have been blamed on his practice swings.) But when Zidane realized he was stuck with him he took his lemons and made lemonade: Bale started Real Madrid's first three games and he, like James, has been one of the better performers.
Bottom line? Things have not been what either side expected and maybe that's at the heart of the discomfort and restlessness among fans of the two clubs.
In these situations, the Champions League is a respite, albeit a double-edged one. A strong performance and a result and you can start to spin the narrative in your direction. If you're PSG, you remind folks that Mbappe will be back (though not on Wednesday: he's sidelined as are Edinson Cavani and Julian Draxler. And if you're Madrid, you sell the line that you're still the Gold Standard in Europe, that Zidane is still the alchemist Galactico-whisperer and that Hazard is, in fact, a game-changer.
But there's a downside, too. Take a beating and it's more salt in the open sores. Restlessness and discomfort live in the same neighbourhood as frustration and anger.
For both these clubs, it's time to get out of town.