Products You May Like
Jump to: Barcelona | PSG | Juventus | Bayern Munich
In the run-up to the January transfer window, we're ranking some of the best and worst signings by Europe's elite clubs over the past decade – just as we did for the English Premier League.
We looked at every arrival from the 2009-10 season onward — though only permanent deals count, meaning no loans or promotions from the youth team – and whittled down each list to five.
There's no magic formula to decide how they rank; it's purely how we think fans (having asked a few ourselves) would place them. No doubt you will agree with some and disagree with others.
*Goals and appearance data is for all competitions
REAL MADRID'S BEST
5. Karim Benzema, 2009-
Bought for: €35m from Lyon
Appearances: 483; Goals: 236
Benzema was unveiled at Real Madrid in the same week as a certain Cristiano Ronaldo in 2009, so comparisons were always going to be made. But the Frenchman has scored over 200 goals and made nearly 500 appearances for the club: given Madrid paid Lyon just €35m for him, that's quite a return.
4. Casemiro, 2013-
Bought for: €6m from Porto
Appearances: 213; Goals: 20
Every great team needs a player to do the dirty work, and the Brazilian is that man for Real. He wasn't a natural defensive midfielder but took his chance, and his work at the base of their midfield has won him four Champions League trophies.
3. Raphael Varane, 2011-
Bought for: €10m from Lens
Appearances: 292; Goals: 12
One of the most highly-rated young defenders around when he joined Real at age 18, Varane has made good on his potential. A classy player who has won almost everything there is to win, he's still only 26.
2. Luka Modric, 2012-
Bought for: €35m from Tottenham
Appearances: 315; Goals: 19
It seems incredible that a player of Modric's class was available for such a cheap fee, but it was clear he had outgrown Tottenham after four fine years in the Premier League. The Croatian midfielder has improved with age, and his 2018 Ballon d'Or and FIFA the Best awards (helped by his wonderful performances at the World Cup) were a fitting honour.
1. Cristiano Ronaldo, 2009-18
Bought for: €94m from Manchester United
Sold for: €100m to Juventus
Appearances: 438; Goals: 450
What more can you say about Ronaldo? The fact that he was sold for more than he was bought for, even at age 32, says a lot. So too does his record of better than a goal a game at Real. A legend. One of the best of all time.
REAL MADRID'S WORST
5. Kaka, 2009-13
Bought for: €67m from AC Milan
Sold for: Free, to AC Milan
Appearances: 120; Goals: 29
A host of personal honours in 2007, including the Ballon d'Or, saw the Brazilian arrive as one of the best players in the world. But things didn't work out and he returned to Milan for nothing at age 31. He was never quite the same again and ended his career in MLS with Orlando City SC.
4. James Rodriguez, 2014
Bought for: €75m from Monaco
Appearances: 120; Goals: 37
It just goes to show that you should never buy a player purely based on their World Cup performances. Yes, James was incredible for Colombia in 2014, but he struggled to replicate that form in Madrid, and even Bayern didn't fancy signing him after a two-year loan spell.
3. Pedro Leon, 2010-13
Bought for: €10m from Getafe
Sold for: €6m to Getafe
Appearances: 14; Goals: 2
It's fair to say Jose Mourinho won't be signing Pedro Leon ever again. Asked at a news conference why the new midfielder wasn't playing in 2010 he replied: "You talk of Pedro Leon as if he was [Zinedine] Zidane or [Diego] Maradona or [Alfredo] Di Stefano. He was playing for Getafe two days ago." Those comments hurt the winger and he later told Cadena SER: "I felt humiliated at Madrid." It's no wonder it didn't work out.
2. Asier Illarramendi, 2013-15
Bought for: €32.2m from Real Sociedad
Sold for: €16m to Real Sociedad
Appearances: 90; Goals: 3
Incredibly, after the Galacticos era, Illarramendi's fee was the most Real Madrid had ever paid for a Spanish player. However, despite playing in plenty of games over his two seasons, he was allowed to rejoin his former club for around half what they signed him for. In their quest for a replacement defensive midfielder, the club then spent €20m on Lucas Silva and that really didn't work out either.
1. Nuri Sahin, 2011-14
Bought for: €10m from Borussia Dortmund
Sold for: €7m to Borussia Dortmund
Appearances: 10; Goals: 1
If only we could include Julien Faubert (who joined on loan from West Ham in 2009), we would — mainly because of this photo of club legend Alfredo Di Stefano being utterly bemused who he was. But instead, Real's worst is a Turkey midfielder who went from being on top of the world to the scrapheap in just a few short years.
Having starred for Dortmund, Sahin was barely given a kick of the ball in Madrid after struggling with fitness issues and spent two years on loan at Liverpool and then back at his former club before they made the move permanent. 
---

BARCELONA'S BEST
5. Javier Mascherano, 2011-18
Bought for: €24m from Liverpool
Sold for: Free, to Hebei China Fortune
Appearances: 334; Goals: 1
After five years in England with West Ham and then Liverpool, Mascherano had to reinvent himself when he joined Barcelona. The Argentine midfielder suddenly became a tremendous centre-back and won five major trophies in his first season. As committed a player as you will find in the game.
4. Neymar, 2013-17
Bought for: €86.2m from Santos
Sold for: €222m to PSG
Appearances: 186; Goals: 105
The initial deal to bring the Brazilian in from Santos was shrouded in controversy and court cases that have dragged on for years, but his impact on the pitch was undoubted. Goals, assists and a "MSN" partnership with Lionel Messi and Luis Suarez that brought him eight trophies in four years. It all turned sour when he bought out his massive release clause to join PSG for a world-record fee, but he almost went back this summer and still harbours a desire to return.
3. Marc-Andre ter Stegen, 2014-
Bought for: €12m from Borussia Monchengladbach
Appearances: 209
It seemed a bit of a gamble when the 22-year-old ball-playing goalkeeper moved to Camp Nou to take over from Victor Valdes. It seemed a downright silly move when Chile star Claudio Bravo was signed that same summer to take the No. 1 spot. However, Ter Stegen won his place in 2016 and hasn't let it go since, becoming one of the best around. (He ranked as the No. 3 goalkeeper in the 2019 FC 100.)
2. Jordi Alba, 2012-
Bought for: €14m from Valencia
Appearances: 309; Goals: 16
Barcelona don't let too many youth team talents slip away, but Alba was one who made his name at Valencia and then returned to Camp Nou later in his career. Now one of the world's best left-backs, his understanding with Messi and relentless workrate makes a mockery of the paltry fee the Catalan club parted with in 2012.
1. Luis Suarez, 2014-
Bought for: €65m from Liverpool
Appearances: 263; Goals: 187
It wasn't the best of starts to his Barcelona career as Suarez arrived having been banned for four months for biting Italy defender Giorgio Chiellini at the 2014 World Cup. The Uruguayan has often courted controversy in his career, to put it mildly, but there's no arguing that he has blossomed into one of the best strikers around.

BARCELONA'S WORST
5. Douglas, 2014-19
Bought for: €4m from Sao Paulo
Sold for: Free to Besiktas
Appearances: 8; Goals: 0
You'd be forgiven for missing the career of the Brazilian full-back at Camp Nou given he spent most of his five years out on loan. He just wasn't good enough to play for the club: sometimes it's that simple.
4. Philippe Coutinho, 2018-
Bought for: €120m from Liverpool
Appearances: 76; Goals: 21
Having splashed out so much money on a seemingly perfect player for the Barcelona style, it's baffling that things didn't work out for the Brazilian. Coutinho just didn't settle and, after 18 months, opted to join Bayern Munich on loan. He has a buyout fee of €120m which at least means Barca wouldn't lose money.
3. Zlatan Ibrahimovic, 2009-11
Bought for: €47m plus Samuel Eto'o from Inter Milan
Sold for: €24m to AC Milan
Appearances: 46; Goals: 22
It was one of the world's most expensive transfers, but Ibrahimovic lasted only one season before moving to AC Milan on loan. His record of 22 goals in 46 games is pretty decent, but it was the nasty fallout with coach Pep Guardiola that made this such a bad deal. "When you buy me, you are buying a Ferrari. If you drive a Ferrari, you put premium fuel in the tank, you drive onto the motorway and you floor the accelerator. Guardiola filled up with diesel and went for a spin in the countryside. If that's what he wanted, he should have bought himself a Fiat from the start" was the famous quote from his autobiography.
2. Dmytro Chygrynskiy, 2009-10
Bought for: €25m from Shakhtar Donetsk
Sold for: €15m to Shakhtar Donetsk
Appearances: 12; Goals: 0
Spot the odd one out in this list of clubs: Shakhtar Donetsk, Barcelona, Dnipro Dnipropetrovsk, AEK Athens. Chygrynskiy arrived at Camp Nou with a reputation as a ball-playing centre-back; he left a year later with that reputation in tatters.
1. Arda Turan, 2015-
Bought for: €34m from Atletico Madrid
Appearances: 55; Goals: 15
Amazingly, Turan is still a Barcelona player despite having not played for the club since 2017. Falling out of favour, he didn't play a minute in 2017-18 and was sent on a lengthy loan spell to Istanbul Basaksehir, where he recently received a suspended jail sentence of nearly three years for firing a gun in a hospital. His Barcelona contract ends next summer and you can safely assume it won't be renewed.
---
PSG'S BEST
5. Thiago Silva, 2012-
Bought for: €42m from AC Milan
Appearances: 284; Goals: 16
A real class act of a centre-back, Thiago Silva has given everything to PSG and is a leader both in the dressing room and on the pitch. Arguably one of the greatest Brazilian defenders of all time, his absence from the famous 7-1 defeat by Germany at the 2014 World Cup speaks to his importance.
4. Nene, 2010-13
Bought for: €5.5m from Monaco
Sold for: Free, to Al-Gharafa
Appearances: 112; Goals: 48
It's easy to forget players who were around before the QSI takeover in 2011, but Nene was the best of the lot. The Brazilian winger could teach Neymar a thing or two about settling in Paris, as his goal record shows, but when the money and big-name players starting coming in, he left for Al-Gharafa.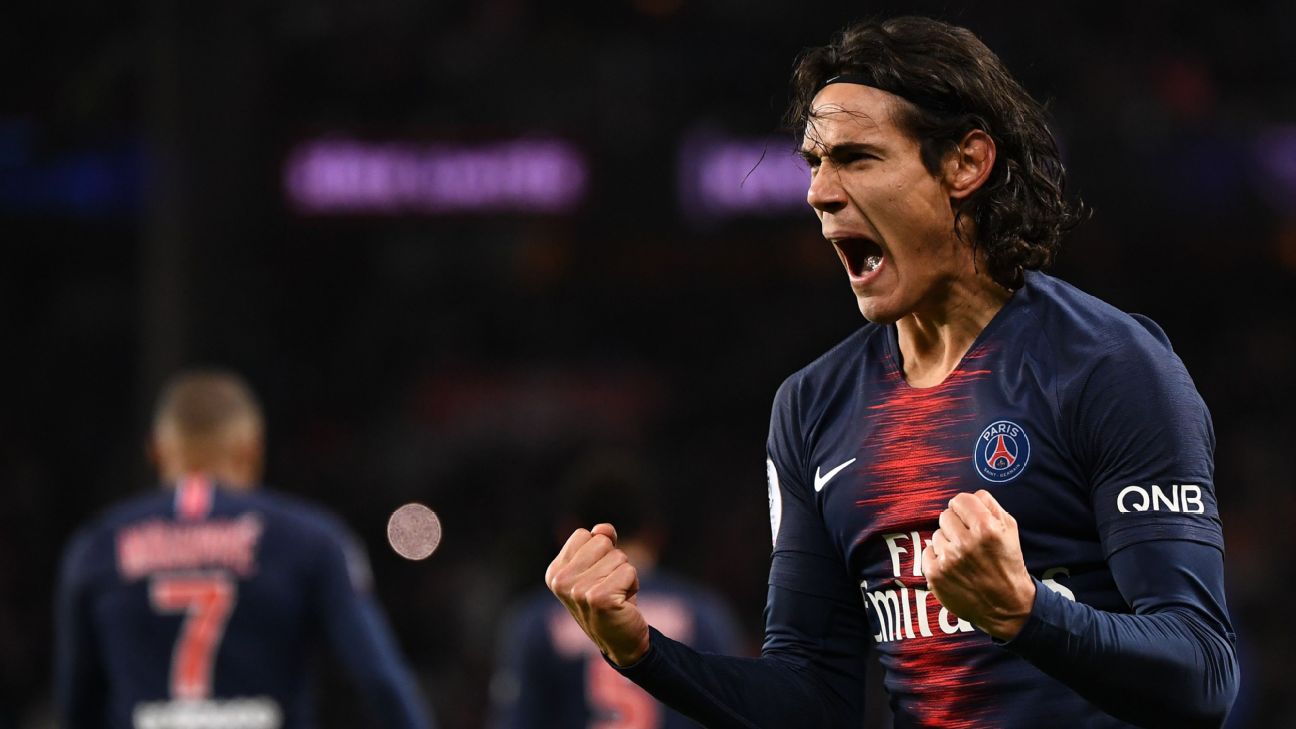 3. Edinson Cavani, 2013-
Bought for: €64m from Napoli
Appearances: 288, Goals: 195
When you become the all-time leading scorer at a club, you know it has gone well. Cavani arrived having scored over 100 goals in three seasons at Napoli and just kept scoring in Paris, even though he was asked to play out wide by various coaches over the years. 
2. Zlatan Ibrahimovic, 2012-2016
Bought for: €20m from AC Milan
Sold for: Free, to Manchester United
Appearances: 180, Goals: 156
Cavani might have eventually scored more goals, Ibrahimovic was "king" of Paris and if he'd had another 100 games at the club then the record would easily be his. The Swede brought more than just goals to PSG. He helped turned them into the force they are today.
1. Kylian Mbappe, 2017-
Bought for: €180m from Monaco
Appearances: 101; Goals: 71
Not yet 21, Mbappe has already won three league titles (one with Monaco) and a World Cup with France. He is the future. He is the heir to Lionel Messi and Cristiano Ronaldo at the pinnacle of the sport, and if he continues his level of scoring, he will one day be considered one of the best of all time.
PSG'S WORST
5. David Luiz, 2014-17
Bought for: €55m from Chelsea
Sold for: €35m to Chelsea
Appearances: 89; Goals: 8
What worked for Thiago Silva did not quite work the same for David Luiz. PSG paid a world-record transfer for a defender at a time when FFP was at its height of strictness, which is why this one makes the list. Even though the Brazilian picked up plenty of silverware in the French capital, it wasn't a massive surprise to see him move on within a few years.
4. Diego Lugano, 2011-13
Bought for: €3m from Fenerbahce
Sold for: Free, to West Brom
Appearances: 34; Goals: 4
Hype is a terrible thing. Winger Lucas Moura suffered when he signed from Sao Paulo in 2013, but at least he made over 150 appearances for the club in total. Lugano arrived in 2011 as one of the most highly-rated defenders in the world and yet made only 12 league appearances.
3. Mateja Kezman, 2009-10
Bought for: €4m from Fenerbahce
Sold for: Free, to South China
Appearances: 53; Goals: 10
An unmitigated disaster that was probably on the cards after the striker had already flopped at Chelsea. Kezman spent most of his time at the club as a substitute, or on loan to Zenit where he also failed to impress. He's now an agent and represents Serbia midfielder Sergej Milinkovic-Savic among others.
2. Jese, 2016-
Bought for: €25m from Real Madrid
Sold for: 
Appearances: 16; Goals: 2
Usually you could expect a player bought from Real Madrid to be something of a coup for PSG. But the signs were there as he struggled with injury and form at the Bernabeu. That carried on in Paris and loan spells to Las Palmas, Stoke, Real Betis and now Sporting CP make it clear he has no future at the club.
1. Neymar, 2017-
Bought for: €222m from Barcelona
Appearances: 66; Goals: 56
This is bound to upset people but when you spend that amount of money on one player, you expect them to play. Neymar made headlines in October for missing as many games as he has played for the club in two years, and that's to say nothing for his off-pitch distractions and public courting of a move back to Barcelona. PSG fans would miss his goals, but they wouldn't miss him too much if the club signed a decent replacement.
---
JUVENTUS' BEST
5. Miralem Pjanic, 2016-
Bought for: €32m from Roma
Appearances: 153; Goals: 22
Getting a midfielder of Pjanic's class, just as he was reaching his peak, was incredible business. The Bosnian controls games and committed his future to the club with a five-year deal in 2018.
4. Leonardo Bonucci, 2010-17, 2018-
Bought for: €15.5m from Bari; €35m plus Mattia Caldara from AC Milan
Sold for: €42m to AC Milan
Appearances: 379; Goals: 24
First time or second time? Both, probably. Bonucci is one of the finest Italian defenders around and spent seven years in Turin before opting to move to Milan in 2017. That didn't work out and he returned a year later for less that he was sold for.
3. Andrea Pirlo, 2011-15
Bought for: Free, from AC MIlan
Sold for: Free, to New York City FC
Appearances: 164; Goals: 19
It's incredible to think that one of the best midfielders of his generation moved for nothing to one of the biggest clubs in Europe … but he did. After a decade at Milan, Pirlo moved on and promptly won four straight Scudetto titles. Easily one of the best free transfers ever.
2. Paul Pogba, 2012-16
Bought for: €1m, from Man United
Sold for: €105m to Man United
Appearances: 178; Goals: 34
The only thing more incredible might be that Manchester United let Pogba leave for a measly £800,000 fee (set by a tribunal) back in 2012, then bought him back for a then-world record four years later. The France midfielder isn't everyone's favourite player, but he's one of the best around and helped himself to four titles before making Juve a massive profit.
1. Cristiano Ronaldo, 2018-
Bought for: €100m from Real Madrid
Appearances: 59; Goals: 35
This list isn't just about a player's performances on the pitch, it's about the impact of the signing, and Ronaldo landing in Turin was huge. One of the two world's best players with Lionel Messi, and arguably of all-time, Ronaldo's arrival was a game-changer. Still in his early-mid 30s, CR7 is a goal machine, a marketing machine and continues to set records whatever he does.
JUVENTUS' WORST
5. Gianluigi Buffon, 2019-
Bought for: Free, from PSG
Appearances: 656
How do you reward a club legend with over 650 appearances and 17 seasons under his belt? With a place on this list apparently. Sorry. But this is more about the decision to bring the goalkeeper back to the club for free after letting him leave for PSG. It was silly and emotional, with the 41-year-old a shadow of his former self as he closes on the all-time Serie A appearance record of Paolo Maldini.
4. Angelo Ogbonna, 2013-15
Bought for: €13m from Torino
Sold for: €11m to West Ham
Appearances: 55; Goals: 0
When Juventus already boast the likes of Andrea Barzagli, Leonardo Bonucci and Giorgio Chiellini in defence, Ogbonna's arrival was always going to pale in comparison. The fact he moved on to West Ham inside two years proved he couldn't hack it in Turin.
3. Emre Can, 2018-
Bought for: Free, from Liverpool
Appearances: 43; Goals: 4
It seemed quite a coup when Can joined Juventus for nothing from Liverpool. Still in his mid-20s, the Germany midfielder's versatility should have seen him feature regularly, but he was left out of new coach Maurizio Sarri's 22-man Champions League squad. "On Tuesday they phoned me and told me, in a conversation that didn't even last a minute, that I was not on the list and they didn't give an explanation. That does make me angry and furious because I think that I played well last season, above all in the Champions League," he said.
2. Diego, 2009-11
Bought for: €24.5m from Werder Bremen
Sold for: €15.5m to Wolfsburg
Appearances: 47; Goals: 7
Having come through the same Santos side that saw the likes of Robinho, Elano and Alex star, Diego arrived in Turin with some serious hype after shining for Werder Bremen. But one year was all it took for the Brazilian to quit and he headed back to the Bundesliga.
1. Felipe Melo, 2009-2011
Bought for: €25m from Fiorentina
Sold for: €13m to Galatasaray
Appearances: 78; Goals: 4
The fiery Brazilian midfielder never seemed to be able to keep a lid on his temperament and was sent off in a key match against Inter for elbowing Mario Balotelli, while he also committed the cardinal sin of insulting his own club's fans after some disappointing results. He wasn't the same after he cost Brazil a semifinal spot by getting sent off against Netherlands at the 2010 World Cup for a stamp on Arjen Robben and was quickly allowed to depart by Juve.
---
BAYERN MUNICH'S BEST
5. Jerome Boateng, 2011-
Bought for: €13.5m from Man City
Appearances: 297; Goals: 8
You have to feel sorry for the multiple trophy winning defender that all people remember is when Lionel Messi made him fall over with a swivel of the hips in the Champions League. But Boateng has been a class act at Bayern and has given his all even when falling out of favour in recent seasons.
4. Serge Gnabry, 2017-
Bought for: €8m from Werder Bremen
Appearances: 60; Goals: 22
It seemed unlikely that the winger would make the grade at Bayern, having failed to do so at Arsenal, but his year at Werder and spell on loan at Hoffenheim convinced the German giants to give him a go and he's rewarded them. Always full of potential, the 24-year-old is starting to show his true worth and his four-goal performance against Tottenham in the 2019-20 Champions League group stage is proof of what he can do.
3. Arjen Robben, 2009-2019
Bought for: €25m from Real Madrid
Sold for: Retired
Appearances: 309; Goals: 144
Football hasn't seemed the same since there has been no Dutch winger cutting in from the right to curl a left-footed shot into the corner of the net. Robben made himself a legend at Bayern, alongside Franck Ribery who signed in 2007, and goes down as one of the great wingers to have played the game.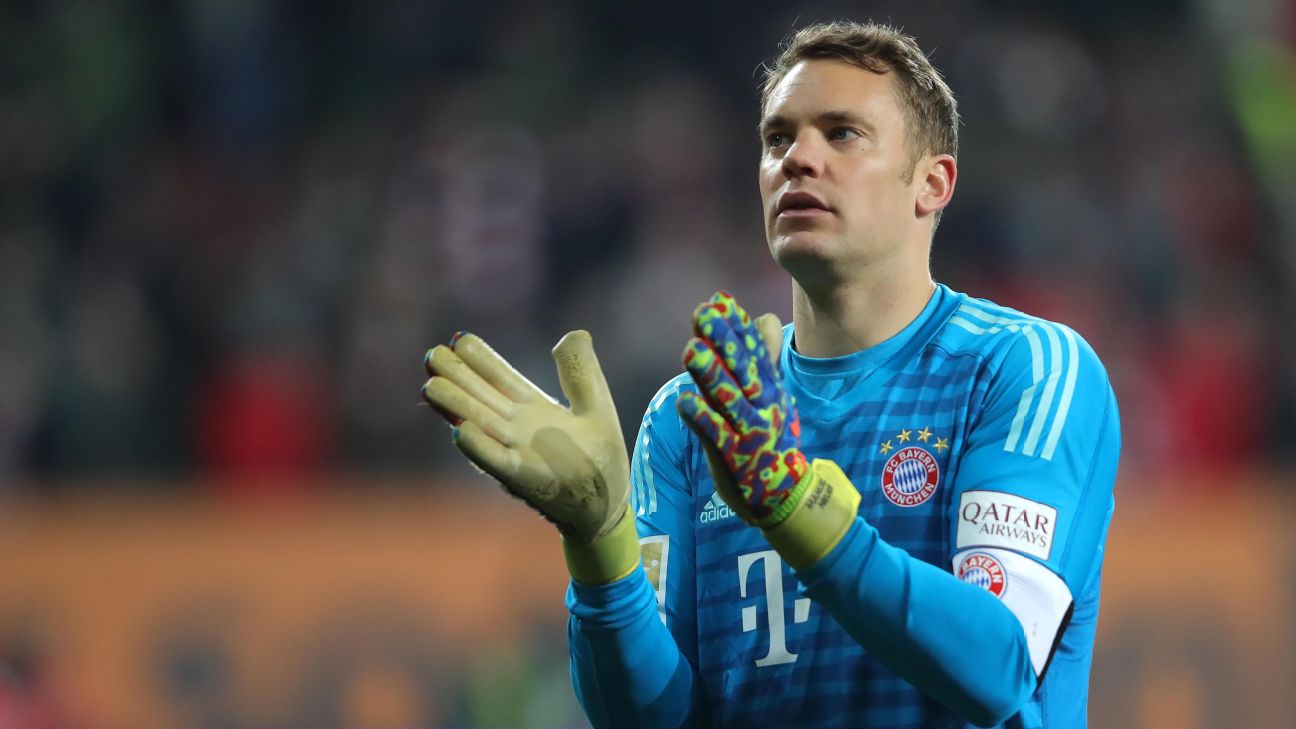 2. Manuel Neuer, 2011
Bought for: €30m from Schalke
Appearances: 358
An incredible deal for Bayern to land the Germany No. 1 for such a small fee. Neuer redefined the art of his chosen position, playing as a sweeper-keeper and helping himself to seven titles, a Champions League and World Cup. One of the greatest goalkeepers ever and a committed club servant.
1. Robert Lewandowski, 2014-
Bought for: Free, from Dortmund
Appearances: 263; Goals: 218
A goal-scoring machine who has netted almost 400 in nearly 600 games during his career, Lewandowski joined Bayern on a free transfer. A FREE TRANSFER! Arguably the best Bosman move of all time as the Poland striker has rewarded the club with buckets of goals and silverware aplenty. Just an incredible player and Bayern have done well to keep him out of the clutches of Europe's other top clubs.
BAYERN MUNICH'S WORST
5. Luiz Gustavo, 2011-2013
Bought for: €17m from Hoffenheim
Sold for: €16m to Wolfsburg
Appearances: 100; Goals: 6
If Pep Guardiola doesn't think you're worth playing, then you have issues. Thiago Alcantara and Mario Gotze's arrivals pushed the Brazilian down the pecking order, and he moved on in search of regular football after failing to impress during two-and-a-half years at the club.
4. Douglas Costa, 2015-18
Bought for: €30m from Shakhtar Donetsk
Sold for: €40m to Juventus
Appearances: 77; Goals: 14
The Brazilian winger would probably have been a success if it wasn't for the fact that Ribery and Robben occupied the wide positions at Bayern. Badly timed injuries didn't help but then neither did his public criticism of boss Carlo Ancelotti for not playing him. A lot of money to spend on a player who did very little, but at least they made a profit.
3. Sandro Wagner, 2017-2019
Bought for: €13m from Hoffenheim
Sold for: €5m to TJ Teda
Appearances: 30; Goals: 10
Having begun his career at Bayern before leaving for a journeyman existence, it made some sense that Sandro would want to come back to act as backup to Lewandowski. But he barely played and it wasn't long before he grew tired of life on the bench and opted to move to China.
2. Mario Gotze, 2013-2016
Bought for: €37m from Borussia Dortmund
Sold for: €22m to Borussia Dortmund
Appearances: 114; Goals: 36
He won three straight Bundesliga titles, two German cups and a World Cup (with Germany) during his time at Bayern, but the move was a disaster and the forward admitted that he'd made a mistake in moving there. Criticised by club legend Franz Beckenbauer for behaving like "a child" on the pitch, Gotze went back to Dortmund with his tail between his legs.
1. Renato Sanches, 2016-2019
Bought for: €35m from Benfica
Sold for: €25m to Lille
Appearances: 53; Goals: 2
Having won the 2016 Golden Boy award for his performances for Benfica and Portugal, the 18-year-old was on top of the world. A year later he was on loan at Swansea. The young midfielder's star fell quickly at Bayern and he was sold without making much of an impact on the team. The good news for Bayern is that there could have been an additional €45m to pay, based on objectives, but they certainly never had to part with a penny there.