Products You May Like
Real Madrid had their annual Christmas party on Wednesday night and Gareth Bale showed up for the first time. Thankfully he got prankster Marcelo on the club's list of secret Santa presents.
The Toe Poke Daily is here every day to bring you all the weirdest stories, quirkiest viral content and top trolling that the internet has to offer, all in one place.
Jump to: Mourinho-watch at Old Trafford | Terry almost breaks Kovacic's hand
Golf. Wales. Real Madrid. In that order.
Gareth Bale admitted this week that he's been shocked by the reaction to his celebration with a flag that spelled out his obvious distaste for playing in the Real Madrid shirt of late. But it seems like the joke is still ongoing for his teammates as golf has seemingly taken over lead spot.
Last month, striker Mariano appeared to tease Bale with a golf swing after he messed up a rondo in training and now Marcelo has got in on the act, having drawn the Welshman in Real's secret Santa.
Real captain Sergio Ramos posted a lovely photo of the team at their dinner at El Filandon (minus Karim Benzema and Toni Kroos for some reason), with the focus in the media afterwards all about the gifts that were awarded on the night.
According to Marca, the list of presents went like this:
– Bale: A golf club, evidently brought by Marcelo judging by the pictures below.
🤣🤣¡NO ES BROMA! Un jugador del Real MADRID le REGALÓ un PALO de GOLF a BALE por el 'amigo invisible'. #ChiringuitoBale 🏌️‍♂️⛳️ pic.twitter.com/IVS6ENhkI8

— El Chiringuito TV (@elchiringuitotv) December 4, 2019
– Lucas Vazquez: Weights, after a freak gym accident saw him break his toe by dropping some on it.
– Marco Asensio: A baby walker (having injured his knee this year.)
– Luka Jovic: A Spanish dictionary (as he's reportedly struggling with the language.)
– Brahim Diaz: Some kids' toys (presumably because he's still young.)
– Vinicius Jr.: A cuddly toy (see above.)
– Ferland Mendy: A brick (we literally have no idea.)
Spanish outlet AS reports that Bale left the team dinner at least 30 minutes before everyone else and you'd have to imagine that the only reason was because he wanted to go and try out his new present. Now that's commitment for you.
Mourinho-watch at Old Trafford
It wasn't the best homecoming for Jose Mourinho as he brought his new Tottenham team to his old Manchester United side in the Premier League on Wednesday. Tottenham lost 2-1 thanks to two goals from Marcus Rashford and Mourinho didn't look like he was enjoying himself very much.
His arrival
📍 Jose checks in at Old Trafford.#THFC ⚪️ #COYS pic.twitter.com/VQ5NHJhvTK

— Tottenham Hotspur (@SpursOfficial) December 4, 2019
No fanfare. No red carpet. Just a man who knows his way around Old Trafford well.
Daniel James clatters into him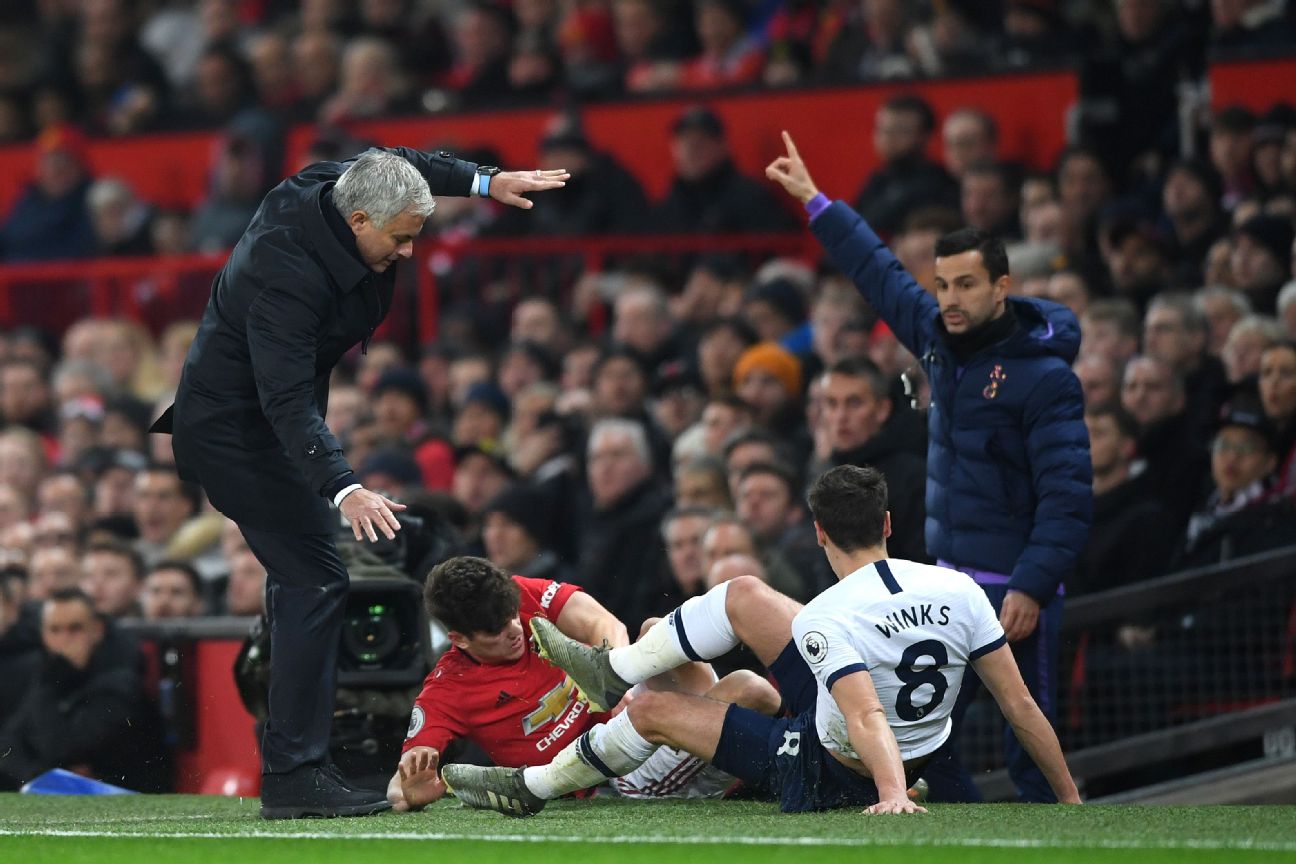 Caught in the wrong place at the wrong time, Mourinho — who was stood on the edge of his technical area — was caught by James who unintentionally hit the visiting manager by headbutting his knee.
Solskjaer pats him on the head
Caption this 👀 pic.twitter.com/rl6ifZLhKo

— ESPN FC (@ESPNFC) December 4, 2019
There's nothing worse than someone patronising you, is there?
p="">
Rashford's brother trolls him
Rashford's brother on Instagram 😭 pic.twitter.com/qqMArPnbLD

— utdreport (@utdreport) December 4, 2019
While Marcus was busy scoring goals to win the game, his brother Dwaine was posting pictures of a sad looking Jose.
At least someone loves him …
Mourinho superfan Viv Bodycote, 62, who has 38 Jose tattoos gets new body art for Special Onehttps://t.co/j2rBHQpGRC

— The Sun Football ⚽ (@TheSunFootball) December 4, 2019
Jose super fan Viv Bodycote showed off her new tattoo of the Portuguese manager. Her passion for Jose clearly runs deeper than which club he represents.
Terry almost breaks Kovacic's hand 
John Terry was always known as an uncompromising and tough defender during his years at Chelsea and that doesn't seem to have changed.
Now assistant manager at Aston Villa, Terry is bringing his unique brand of aggression to the touchline too.
I think Terry just broke Kovacic's hand giving him a high five pic.twitter.com/QG1rM2pp5D

— Sam (@Sam_Hamlet) December 4, 2019
John Terry crushed Matteo Kovacic's hand at full time pic.twitter.com/0oB1JO5jSU

— Troll Football (@TrollFootball) December 5, 2019
Chelsea's win over Aston Villa saw him shake (we say shake…) hands with Blues' midfielder Mateo Kovacic and, judging from the footage, the Croatian was lucky to escape with his hand still intact.