Products You May Like
LAS ROZAS DE MADRID, Spain — The handle turns, the door opens and Saul Niguez bursts into the room. There's just enough space to slip quietly past, out towards the training pitch and up to the players' residence for lunch, but he's not about to do that. He's been listening in from a small office covered with hundreds of old portraits of footballers at the Spanish national team's Las Rozas HQ, 25km northwest of Madrid, and he's grinning.
"¡Joder, que ingles, loco!" he shouts as he bounds through, giggling. Roughly, it means: Bloody hell, what English, man! It's loud; it's also true.
When that's put to him, Rodrigo Hernandez — who was halfway through saying something about football players being humans too when his former Atletico Madrid teammate interrupts — says softly: "Well, I try."
Rodri is from around here, playing just down the road at Rayo Majadahonda before joining Atletico at the age of 11. He has no English family and has never lived in England until this summer, when he became the most expensive player in Manchester City's history, but he learned the language.
– Euro 2020 qualifying: Stream Norway vs. Spain, 10/12, 2.45 p.m. ET, ESPN+ (U.S. only)
– Ogden: England's problem with traveling fans
– O'Hanlon: Who are the best finishers in soccer?
There's something in that fact that, while simple, does feel like it says something about him. In fact, it's probably the thing that comes through most clearly as he talks; only twice does he check a word, not once asking for a clarification. When the tape rolls and the transcript is written up an hour or so later, "learn" appears over a dozen times: way more than any other word, apart from "play" (and things like "the," "and" or "at" of course).
Every time he mentions learning, it feels genuine. Rodri has learned. Always has, always will. He once admitted that when he was a kid, he was more interested in understanding football than enjoying it. Even then, at 11 or 12 years old, coaches recall having tactical discussions with Rodri in a way that they didn't with anyone else. He wanted to know how it all worked. He didn't just watch players; he studied them. The way he plays reflects that; in his position he's the only player, he says at one point, with time to think. Even if in England that time shrinks, even if the cerebral doesn't negate the need for the physical. He is, he says, like a big sponge, soaking everything up.
It shows, too.
Atletico released Rodri at 17 and so he went to Villarreal, learning from Bruno Soriano, the thinking man's midfielder. While he was there, Rodri studied business at university and lived in a students' residence. When he left to return to Atletico for €25m, by then a Spain international, it didn't seem to make a huge amount of sense. He wasn't a great fit for the club stylistically but, he said, that was precisely why he went: he wanted to learn from a manager who would teach the things he didn't have, not the things he did. Someone who would show him something different, give him something else to soak up. He wanted to play in a team that would challenge him, complete him, forcing him to rethink and develop.
A year later and Rodri was off to England, a new league, ready to play in a team seemingly made for him. He was hailed as the footballer Man City's manager most needed (and for whom he paid £62.8m) but a place where, Rodri would find, there was (and is) still a lot to learn. Which is exactly the way he wanted it.
ESPN: Manchester City paid your €70m (£62.8m) buy-out clause. You did business studies: was €70m for you good business?
Rodri: Haha, you know the market is a bit crazy now. I don't know what the value of players is. I am young, I have a lot of things to learn: I am only 23. The only thing I can say is that I will give everything to my team. I am always a guy that wants to improve all the time and I think I have a long career [ahead of me]. The good thing is that I have a lot to learn and I am in a great place, with a great coach and great parents to become a player.
Paris Saint-Germain's most expensive signing ever is Neymar; at Atlético it's Joao Felix; at Barcelona it's Ousmane Dembele; at Real Madrid, it's Gareth Bale; at Juventus, it's Cristiano Ronaldo. All of them are attackers. At City, it's you: a defensive midfielder. What does that say about your importance, about the significance of the role?
I'm very young. I know I have a lot to learn but it's a big pleasure to be compared with these players, top level players. But I don't look at the amount. In modern football, my position is very important and all the great teams have a great player there: clubs are looking for that kind of player. We're a very offensive team and we need someone who does that other, defensive side of the game. I look back on my first matches and I think, 'OK, I have a lot of space to cover here.' I have to be aware of other players going up the pitch, taking up [advanced] positions. You're the first to step in to steal the ball so that the team can keep attacking.
I think it's the most important, well, one of the most important positions in the team. You have to keep control of the game, always.
Control is the key?
Yeah, control. More than 90% of the games you play you have control of the match, the possession. Normally, the other team is pushed backwards and you're attacking all the time. It's important to control what's going to happen after the attack [breaks down], controlling and ready for what happens when you have to defend.
Is yours the most difficult job in the team, then?
I think it's a big challenge for me because I never used to play this particular position. I didn't have this exact role in the team. We have lots of offensive players and many other teams try to counter-attack you and a lot of the time you're alone [in midfield] but it's good for me. I am learning new things: when to go, when to stay, when I have to do a tactical foul, when I have to move. It's good for me to learn these things. And for the team it's good because we need those offensive players to be able to play our game.
If anyone knows how important your role is, it is your manager. Your position is the same one Guardiola played. You're learning from someone who changed that role, who made it his own and made it about thinking, positioning, playing, not just athleticism…
I was very, very little; I was born when he was finish[ing], in 1996, [so] I don't know about in previous years, but now in the midfield position in modern football, in the Premier League, you have to be aggressive, you have to be strong, you have to be good with the ball, you have to control, you have to be able to play all types of pass: long pass, short pass, inside, outside. So I think you need to be very complete as a player because the way we play you're always going to be the man who decides [the move] with the ball because the players you have in front of you always have players on top of them so you're the one with some time to think.
If you choose well, the team will do good things.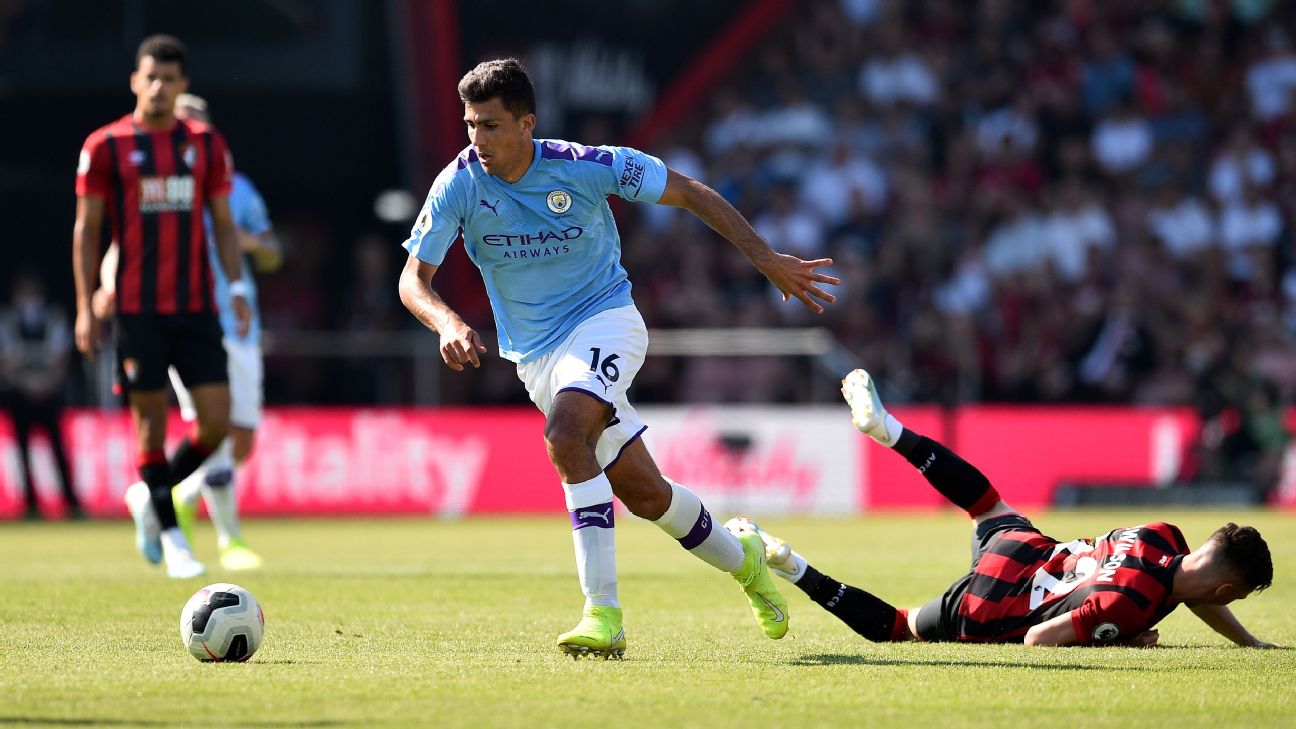 In your last season at Villarreal, you were the player who made the most passes in La Liga. In your last season at Atlético Madrid, you were the player who made the most tackles in La Liga. They're different roles, but you're a hybrid…
Yeah, of course, because I understand that in my position you need to be the best at both sides of the game. You have good players offensively, you have good players defensively, but great players are the ones that can do both things well. That's my challenge. Years ago, I was just a guy who could play well, and that was it. But when I became a professional, they said: 'if you want to play here, you have to be strong, you have to be defensive, you have to do both' and so I started learning that. And now I think I have these things, but I have to improve. I realised that in my position you had to do that.
"Learning" — is that the key to it all?
Yes. When I was 18 or 19, I wasn't the player I am today. It's a progression, you learn from your coaches. You are like a sponge. They give you things. If you take it, good. If you don't take it, it's going to be worse for you. I think I am good at that; I am like a big sponge. I am learning; they give you things and I take them [on]. From Diego Simeone, Villarreal and now Pep.
On the face of it, Guardiola and Simeone give you very different things.
I think they're very similar in the way that they always want to win. They always want the players to be ready, focused, and they never let up, not even for one second: they're always putting pressure on and that is the only way to be successful. Of course, they have different things, different ways of working, of seeing the game, interpreting it, but that's the good thing about football: there are so many ways of looking at the game. If you keep winning, you are a good coach.
What about the difference between England and Spain?
You never know what the difference will be. I needed the first few weeks to adapt; I realised that you don't have a second to think. The way the referees [officiate] is a bit different, too. It's always a question of learning, playing, seeing. The first few games I would play with my body, falling [if an opponent clashed with me], but the referee doesn't [give it]. So you don't do it again. That's important. You learn.
In terms of quality, they're the best two leagues in the world and I need to adapt.
Is it physically harder in England?
It's not so much physical as the rhythm, the pace. The play is more physical in that sense; it's more box-to-box, you never stop and play the game, it's always run. It's a new type of football and you have to adapt.
Was going to City an easy decision?
No. It wasn't easy because I was really, really happy in Atletico. I was here, home with my family, at the team that's in my heart. I was playing well. It wasn't easy but I thought it was the right moment to take this challenge and I am really happy that I took that decision.
City's season hasn't started as well as we might have expected: you've lost twice in the league already. Is there an explanation?
I won my first title as soon as I arrived [Community Shield], so that [start] was good. I think people have to be aware that there is a lot happening: we have had a lot of players out, it is difficult because we play every three days in three competitions and we are playing with more or less the same players. What's done is done.
We have to realise that we are doing things wrong and we have to fix it. We have to be calm: it's the start of the season, we have recognised that we have had our problems and we improve. Also, in football there are many things you can't control. We hope we can get important players [back from injury] and when they do, that will be good for the team.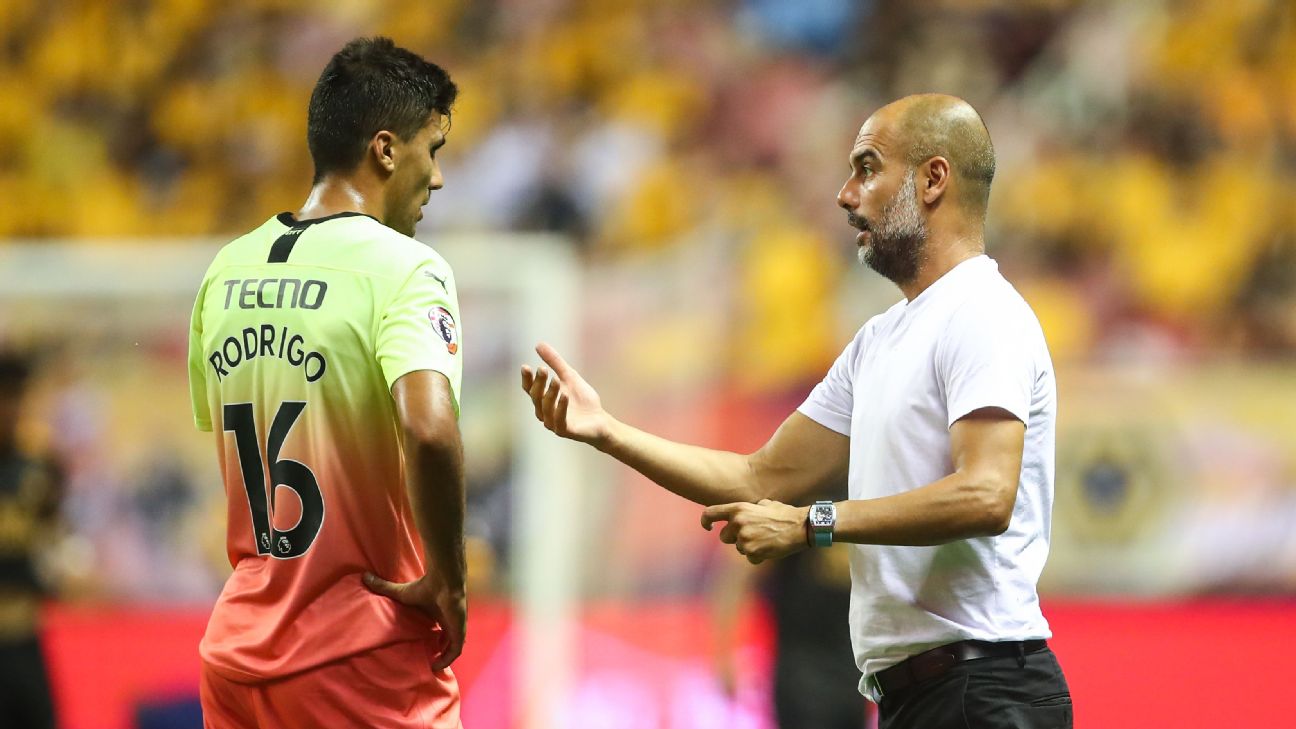 You mention things you can't control, which of course includes the results that Liverpool are getting. The points totals they, and you, are racking up is off the scale.
It doesn't happen in the rest of Europe. Liverpool is eight [wins] from eight [games]. No one in any other country has that. If they had lost the last game, or others, the difference wouldn't be so big, but now they have [that advantage]. They are strong, they have beaten everyone. We saw last year it was 98-97, so we know it will be like that. We have to take a step forward, keep going.
Every team has bad moments, so we have to do everything we can do for [if] that [happens to Liverpool].
Historically, your rival is Manchester United. Is it Liverpool now?
I don't know, I had never been in the city before, I don't know how people in the city feel. But the team to beat is Liverpool now and that has been seen the last two seasons. They're a great team, they have improved a lot of things, they're a very good team, and [by results] they're the best team in England and in Europe. They're the champions of Europe so everyone wants to beat them, not just us.