Products You May Like
The Toe Poke Daily is here every day to bring you all the weirdest stories, quirkiest viral content and top trolling that the internet has to offer, all in one place.
Jump to: Barcelona's new kit inspired by Ronaldo — no, not that one | Kevin-Prince Boateng admits to buying three cars in one day
Barcelona star Lionel Messi has accepted an invitation to dinner from his great rival, Juventus forward Cristiano Ronaldo.
While the pair were sat next to each other in the front row at last month's UEFA Champions League draw in Monaco, Ronaldo revealed that, despite sharing the stage at many gala events for over a decade, they had never broken bread together.
"We have a good relationship, we have not had a dinner together yet, but I hope in the future," Ronaldo said, to much applause from the star-studded audience.
Well, it could happen. In a rare interview with Sport this week, Messi was pressed on his relationship with Ronaldo after his eternal rival extended an olive branch across the divide.
"We're not friends because we have never shared the same dressing room, but we always meet up at the galas, we speak and there is absolutely no problem between us," the Argentina captain said. "That last one [the UEFA Champions League draw gala] was the one where we spoke the most because we spent the most time together.
"I don't know if we will eat together because both of us have busy lives and I'm not sure if we will be able to make them coincide, but I have no problem accepting his invite to dinner."
Nice try, Leo, but you're not wriggling out of this social commitment that easily.
– Marcotti Why do Messi and Ronaldo fans always fight?
It makes you wonder what would be on the menu when they finally make it to their table for two — La Pulga wheat? "Siiiiuu!!" bass? Jamaican curry GOAT?
Messi was also asked by Sport if he ever gets tired of being, well, Lionel Messi. The five-time Ballon d'Or winner refuses to grumble about any aspect of his life, even when he's being routinely approached by fans while not exactly looking his best on the early morning school run.
"No, I don't get tired. Thankfully, I experience many strange and impressive things and that is very nice," came the reply. "It's true that I would like to be unnoticed. Especially when I'm with my children at school or on the streets.
"At times I take them to school at 8:30 am and I'm asked [by fans] if they can have an autograph or take a picture with me and I'm looking very sleepy. But anyway, I cannot complain about anything."
– ESPN fantasy soccer: Sign up now!
– Luck Index: Could City have won title by more?
– ESPN Ultimate XI: Our dream team would win it all!
Barcelona's new kit inspired by Ronaldo — no, not that one
Barcelona have turned to one of their former greats as inspiration for their new third kit.
– All the new 2019-20 kits for Europe's top clubs
While his time at the Camp Nou was brief, Ronaldo scored 47 goals in 49 appearances for Barca during the 1997-98 season to secure himself a place among the club's myriad legends.
As a nod to O Fenomeno, the Catalans have brought back the iconic teal strip that became synonymous with the World Cup-winning Brazil forward.
– Can you guess XI on Kompany's City debut?
– 'Disrespectful!': Stars angry at FIFA 20 ratings
– Maradona's unveiling at new club got pretty wild
Kevin-Prince Boateng admits to buying three cars in one day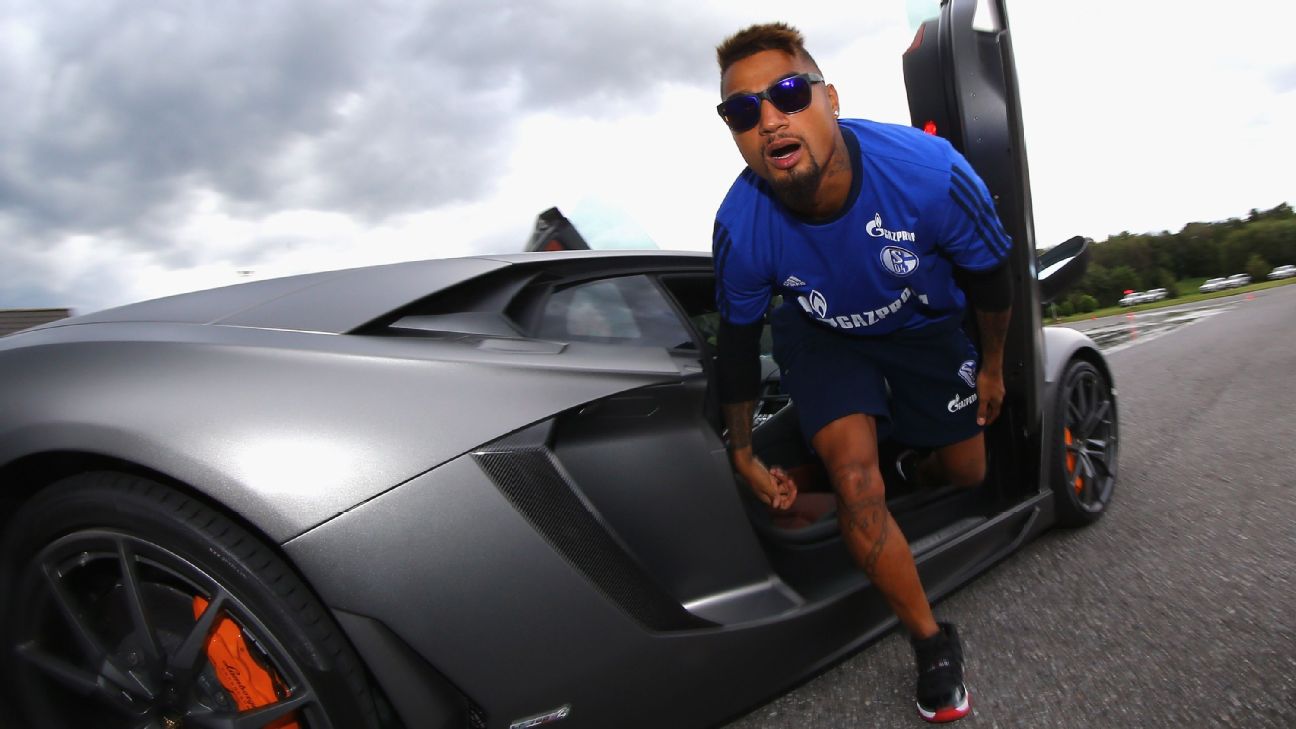 Kevin-Prince Boateng has revealed he once bought three cars in one day during his largely ill-fated stint at Tottenham early in his career. The Ghana international endured two turbulent seasons at White Hart Lane which culminated in him being sold on to Portsmouth at a loss in 2009.
Looking back, Boateng admits that his behaviour was "idiotic" but that it was a result of him being a lonely young footballer with large amounts of disposable income and lots of free time to spend it as he pleased.
"I was an idiot. I didn't treat football as a job," the 32-year-old told La Repubblica. "I had talent, but I trained the bare minimum, an hour on the field. I was the last to arrive and the first to leave. I'd be out with friends.
"I had money, I lived like a king. I'd never been to the gym. That changes your later career. I bought three cars in one day when I was at Tottenham: a Lamborghini, a Hummer and a Cadillac."
Boateng — who counts Barcelona, AC Milan and Borussia Dortmund among his 11 clubs — offered a few choice words of warning for young players today who find themselves in danger of drifting off course.
The midfielder, now at Fiorentina, said: "To the youngsters, I tell them: 'You cannot buy happiness.' I didn't play, I had family problems, I was out of the squad.
"I was looking for happiness in material things: a car makes you happy for a week. I bought three to be happy for three weeks."