Products You May Like
The Toe Poke Daily is here every day to bring you all the weirdest stories, quirkiest viral content and top trolling that the internet has to offer, all in one place.
Jump to: Man United make a signing | Ex-Liverpool player top of Fantasy League | Pique loves Nutella
If reports are to be believed, Thomas Muller could soon be nearing the end of his time at Bayern Munich after two decades at the club.
After joining the club aged 10, it has been claimed in the German press that the 30-year-old Muller has asked to leave Bayern this January after becoming frustrated by his lack of first-team involvement.
- Almost naked Ibrahimovic statue unveiled at Malmo
- Dani Alves and Sao Paulo teammates attacked by bees
- Bayern Munich drown their sorrows at Oktoberfest
The striker's departure would definitely signal the end of an era at the Bavarian club, but what a wild ride it's been in the meantime.
He's one of the funniest, weirdest, and downright interesting players in the game. Here's just a glimpse into Muller's wonderful life.
Man United make a signing
Manchester United have reached into their wallet for yet another big name signing though, as usual, it's unlikely that he'll make any lasting impact on the pitch.
The club have brought in celebrity chef Tom Kerridge to provide "award-winning food and unique dining experiences" at their stadium for the remainder of the 2019-20 season.
"This exciting collaboration will see Tom's food served across a range of areas at Old Trafford, including his signature pies, which will be available to fans at a selection of kiosks on a matchday," United announced via their official website. "Tom's trademark modern British dishes will also be served in the newly refurbished International suite, for guests to enjoy pre- and post-match throughout the season."
Their team may be wallowing down in 12th place at the moment, not far from the relegation battle, but United fans need not worry — Kerridge is at the wheel (of cheese).
Ex-Liverpool player stars in Fantasy League
Any player of the official Premier League Fantasy Football game knows that guiding a team to an overall ranking in the high thousands takes serious levels of concentration and dedication.
However, former Liverpool defender Nick Tanner is heading into this international break as the top-rated Fantasy Premier League (FPL) player in the entire world — and in only his second season playing the game.
– ESPN Premier League fantasy: Sign up now!
Tanner, who made almost 60 appearances for the Reds in the late 1980s and early 90s, has already amassed an impressive 568 points after eight gameweeks, putting him 10 points ahead of his nearest global rival.
The current #FPL leader worldwide…

It's former @LFC player Nick Tanner! pic.twitter.com/m0659Iukb0

— Fantasy Premier League (@OfficialFPL) October 9, 2019
Tanner's team, "winorloseonthebooze," boasts two Liverpool stars in Sadio Mane and Mohamed Salah, as well as Raheem Sterling, Todd Cantwell and Mason Mount.
After falling so far behind last season that he simply gave up halfway through, the 54-year-old decided to make a proper go of it this year.
"This time around 25 of us stuck a tenner in each, so I decided to take it more seriously," he told The Athletic.
It's still early days, but you certainly can't argue with the results so far. Just his choice of team name…
Pique guzzles Nutella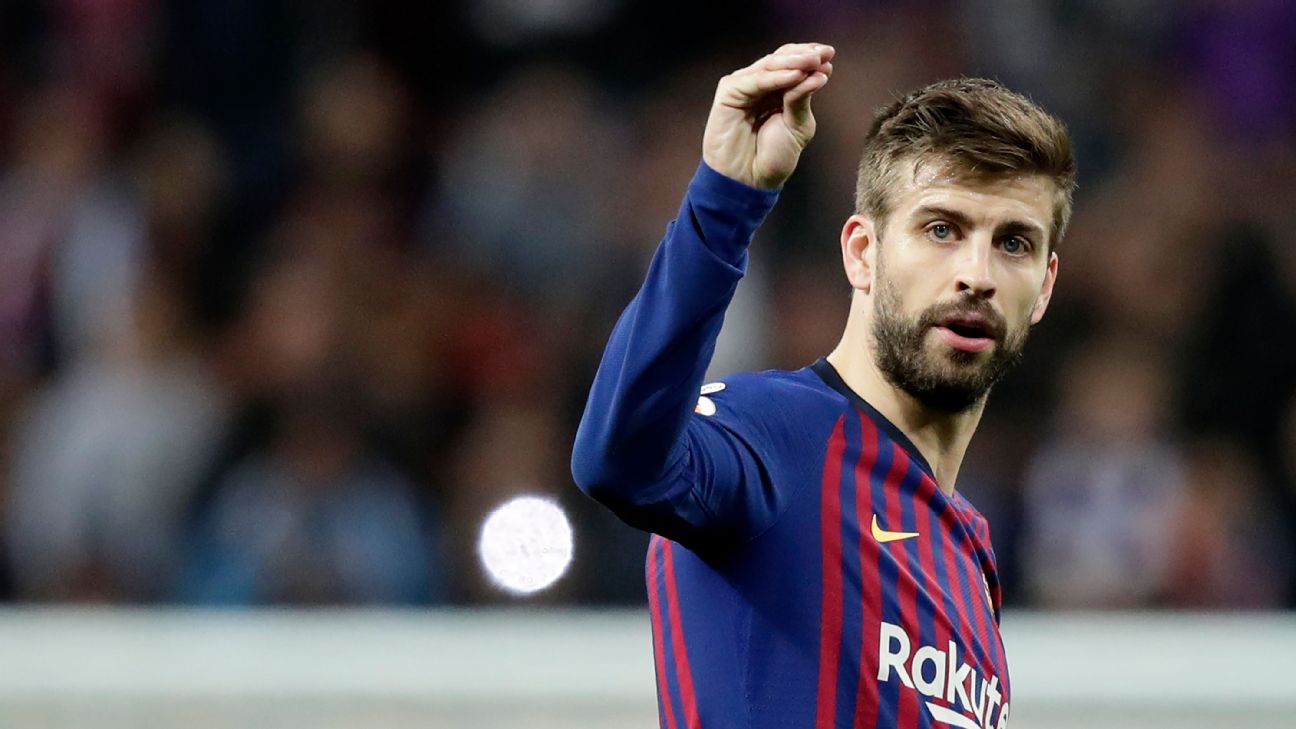 The life of a professional footballer is meant to all be about honing your physique to perfection in pursuit of the beautiful game, right?
Not so, for Barcelona and Spain defender Gerard Pique, who has revealed a rather interesting habit.
"I don't like to do promotions but Nutella drives me crazy," he said. "It is wrong to say because I am an elite athlete, but I would say that I eat half jar a day. Then I burn it off, eh."
Married to Colombia popstar Shakira, he'll need to take care with this obvious addiction once he retires. Hips don't lie.
Anderson to train at Manchester City
England cricket star James Anderson is set to swap Old Trafford for the Etihad, after arranging to train at Manchester City in a bid to recover from the calf injury that wrecked his Ashes campaign.
The agreement with City means that Anderson will be able to use the facilities at their Etihad campus for the next two months, accompanied by England's head of strength and conditioning Rob Ahmun.
The pair met with City's head of sports science, Sam Erith, on Tuesday to discuss the arrangement. Anderson has previously trained in the off-season at Burnley, his home club, at the invitation of the manager, Sam Dyche.
With 575 Test wickets from 149 matches to date, Anderson is already the leading wicket-taker in England's Test history, and recently overtook Australia's Glenn McGrath to become the most prolific seam bowler of all time.
However, he has no plans to retire just yet, and recently said that he wanted to emulate Ryan Giggs, who played for Manchester United until he was 40.